Living
The Refillery
New Shop Offers Refills on Everyday Items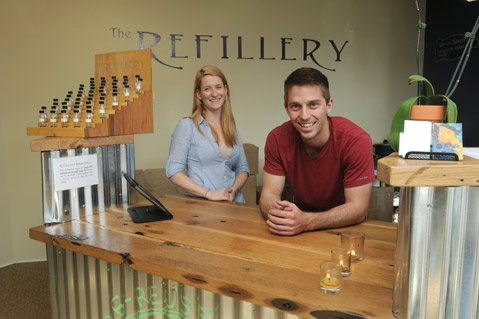 Within the last five years, the term Great Pacific Garbage Patch has become part of the common lexicon. The name, of course, refers to the umpteen square miles of plastic flotsam bobbing around in the north Pacific, poisoning the waters and killing marine life. But you don't have to sail the seas to find piles of plastics. It was a walk on a beach that made Santa Barbarans Lacey Grevious and Chris Reeder change their life course.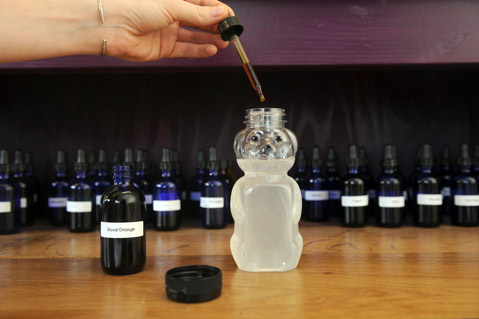 During a vacation to Costa Rica the pair took before moving to Colorado (where Grevious had been accepted to nursing school), Grevious and Reeder discovered a slew of nonbiodegradable debris — toothbrushes, bottles, diapers — all washed ashore by storms. The pristine vistas marred with pollutants made Grevious decide to postpone school and launch a business that would help folks reduce their reliance on disposable plastics. "Seeing that [mess] confirmed to me that it was time to do something to help the planet," she said. One year and lots of research later, The Refillery was born.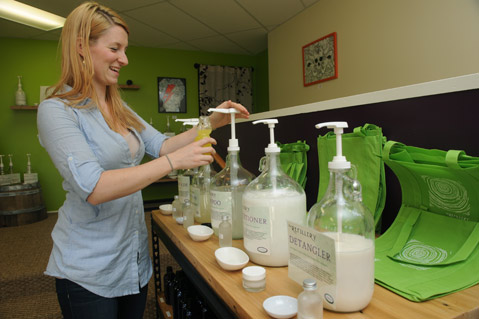 The Refillery takes the packaging concept and turns it on its head. The shop provides the products — cleaning items for home and self such as shampoos, soaps, detergents, dog wash, etc. — in large jugs (think moonshine), and you provide your own containers. "The basic idea is to offer goods you use every day in bulk so you can refill your already-purchased bottles," Grevious confirmed. "Our goal is to refill 2,000 bottles this year."
The goods they sell are free of harsh chemicals, aren't tested on animals, and are biodegradable. "All of the products are sulfate-, paraben-, and phthalate-free," said Grevious. "Most are unscented, too, so that you can combine essential oils and fragrance of your own design to scent your household supplies." If you want to start fresh, The Refillery offers lovely shaped, sparkling glass bottles for purchase.
Launching The Refillery has been a labor of love and a vision realized for the duo, who met years ago in Tahoe. "I don't know how people started businesses before the Internet," Grevious said, explaining how she found all the goods for The Refillery on the web. She ordered samples from various green-minded companies on the West Coast and then selected her favorites for the store.
In addition to weaning consumers off plastics, Grevious and Reeder take eco-friendly a few steps further. The Refillery donates 5 percent of proceeds from different products to S.B. Channelkeeper, World Wildlife Foundation, and S.B. Community Environmental Council.
4•1•1
The Refillery is located at 3016 De la Vina Street. For more, call (805) 364-2919 or visit facebook.com/therefillery.