Briefs
Seven New Officers Join SBPD's Ranks
Will Now Begin Six-Month Training Course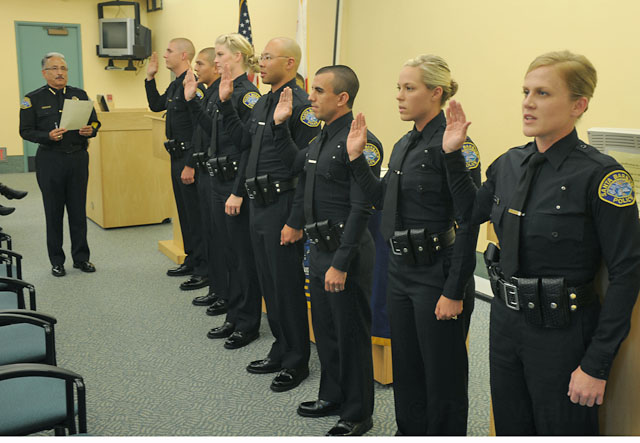 With badges pinned to their chests and handguns buckled in their belts, seven new officers officially joined the Santa Barbara Police Department during a ceremony this Wednesday.
They are: Ryan Aijian of Santa Barbara; John Barriga of El Segundo; Cynthia Carter of Corona; Michael Chung of Fullerton; Dominic Flores of San Carlos; Kaitlyn Heinz of Santa Paula; and Kendall Russell of Simi Valley. All but one of the new officers graduated college with bachelor's degrees in subjects ranging from criminal justice and political science to social work to philosophy. The ceremony took place at the downtown Jury Assembly Room on Santa Barbara Street.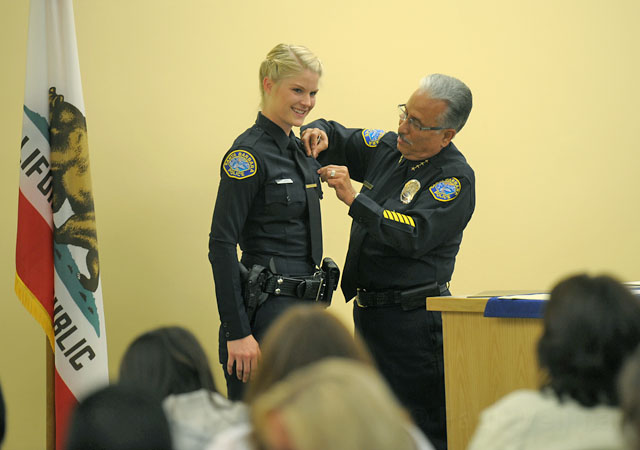 The group will now begin a six-month training course that will cover criminal law and investigation, traffic enforcement and defense tactics, as well as cultural sensitivity, ethics, and some Spanish-language skills. SBPD spokesperson Sgt. Riley Harwood said its unusual for the department to swear in so many officers at once. Two or three is the typical number, he said. Police work is becoming a very competitive field, he went on, so candidates have more often than not completed a college education.