Voices
Feminist Movement Marches On
Santa Barbara Women's Political Committee Celebrates 25 Years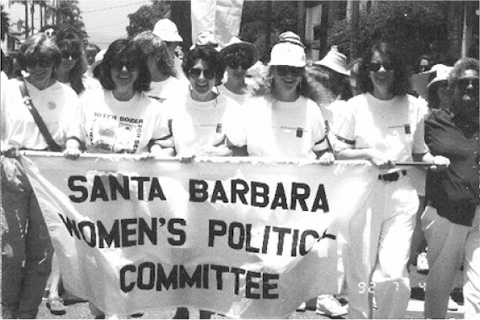 The years 2012 and 2013 have been times of celebration and political victory for the feminist movement.
Ms. magazine recently published its 40th anniversary edition.
January 22, 2013 marked the 40th year since Roe v. Wade, the landmark Supreme Court decision that established the fundamental right to abortion.
The 2012 election resulted in some formidable firsts for women. Although the percentage of women in the U.S. Congress still remains low, at 18%, women broke several glass ceilings in both the U.S Senate and House.
And on the central coast, the Santa Barbara Women's Political Committee is celebrating its 25th anniversary with a year-long series of events.
However, in today's political climate, there is not only unfinished business for the feminist agenda but an imperative need to secure the gains that have been made. To do that, more women must run for national office, starting with local and statewide candidacies. But the political process can be daunting – how can women candidates get started in politics? Is there a pipeline? And if not, can one be created?
In the late 1980s, a small group of women met for several months over dinner to discuss the lack of women in public office in Santa Barbara County. Over time, the group expanded to include a who's who list of woman activists in the community: Ruth Ackerman, Gayle Binion, Marty Blum, Margaret Connell, Anita Perez Ferguson, Nancy Franco, Hannah-Beth Jackson, Barbara Lindemann, Lois Phillips, Mary Rose, Selma Rubin, Ruth Rodriguez Schaffer, Naomi Schwartz, Sarah Shoresman and Deb Sills. (In the interests of full disclosure, the author was a founding mother also.) We asked whether women could have a significant impact at the local level. Reflecting on 25 years of political activities, the answer is an unqualified yes. Using an activist model, these feminists created a pipeline to elective office.
The Santa Barbara Women's Political Committee (SBWPC) was born in January of 1988, with a raucous reception at a popular watering hole called Zelo's that brought out 250 women and men. Betty Friedan was the keynote speaker that evening and anti-choice opponents picketed the event.
Each of the founding boardmembers brought her Rolodex to the outreach effort. Sharing these contacts helped get the word out across sectors and disciplines, increased attendance at events, and quickly built a membership base that today includes both women and men. The time was right to organize!
From the beginning, the SBWPC defined itself as a feminist organization. Its mission states:
"The Santa Barbara Women's Political Committee is dedicated to furthering gender equality and other feminist values through political and social action, and educational activities. As a political action committee, we endorse the candidacies of women and men who actively support our goals and promote a feminist agenda."
During these last 25 years, the SBWPC has pursued gender equity, through many avenues but with the goal of creating social change through public policy. Their belief that female elected officials would do more to make a difference in the lives of women has since been documented by academic institutes like the Center for American Women and Politics at Rutgers University. Additional research from Stanford has demonstrated that female legislators perform better than their male counterparts once in office.
The organization has supported many women for school boards, city councils, boards of supervisors, the state legislature, California statewide offices, Congress, and the Presidency.
In 1988, the SBWPC endorsed the candidacies of Dianne Owens and Gloria Ochoa, the first women to serve on the County Board of Supervisors. The smell of victory was sweet! During the 1990s, more women began to run for office.
Santa Barbara County has been represented by a woman in Congress since 1999. Women have comprised as much as 80% of the County Board of Supervisors, been elected as mayors, and served in both houses of the state legislature, and a women now serves as district attorney. They also hold many positions on school boards and local commissions.
During its 25 years, the SBWPC has endorsed and contributed financial support to 95 candidates. A total of 56 of those were women (59%). Only four of the women lost. All candidates supported the feminist agenda.
The Santa Barbara Women's Political Committee has created a culture where women in public office are the norm, not the exception.
Success is best demonstrated by their impact on public policy and governance. Issues and legislation introduced by women elected to office in Santa Barbara have covered a broad range of topics. Note the wide-ranging accomplishments of women who have been supported by the SBWPC:
• Congresswoman Lois Capps has been committed to women and families by supporting legislation on health care, the environment and education including the Affordable Health Care Act;
• State Senator Hannah-Beth Jackson has emphasized domestic violence and reproductive rights. Jackson's legislation assisted victims of abuse and created access to affordable reproductive care;
• District Attorney Joyce Dudley has worked to expand rape laws, eliminate rape-kit backlogs and increase timely testing of all kits. Dudley is a strong advocate for truancy programs;
• The late County Supervisor Naomi Schwartz chaired both the local First Five Children's Commission and the California Coastal Commission, making children and the environment her hallmark issues;
• County Supervisor Janet Wolf has focused on health care and gender balance in public appointments. Wolf has worked to expand breast-cancer digital mammography services for underserved women;
• As Mayor of the City of Santa Barbara, Helene Schneider has established a focus on living wage, housing, homelessness, human services, and education.
In its early days, the SBWPC founding board of directors created a set of tools that enabled them to ensure the election of feminist women to office. They included:
• Position papers;
• Recruitment strategies;
• Campaign skills workshops;
• Candidate assessment teams;
• Endorsements;
• State and federal PAC money;
• Media support;
These tools are still in place today and guide the board in their decision-making.
Many of the first candidates to be endorsed by the PAC were founding board members. As they left to run for office, others took their place. The board itself became a source for candidates, creating an early pipeline, joining public boards and commissions, and becoming staff members to the newly elected women.
As part of its current organizational structure, the SBWPC has a standing pipeline-committee that focuses on recruiting women for future elections.
The question of supporting male candidates arose in the early years. On the occasions when they did not have women candidates, the SBWPC endorsed men who, in turn, supported their agenda. As a result of this policy, today the endorsement of the SBWPC is highly sought after by all candidates in Santa Barbara.
While other feminist organizations have declined or disbanded, the SBWPC has been able to sustain itself over 25 years because of a diverse board of women and a membership committed to addressing issues that are current and compelling.
With a board of directors of 19 women, the 2013 organization is led by President Jane Gray and an executive committee that includes Lisa Guravitz, Yesenia Curiel, Carol Keator, and Kate Silsbury. This new generation of activists has increased the visibility of the organization and is adept at using social media. They are also reaching out to women in northern Santa Barbara County.
In Santa Barbara County, women have achieved political and electoral success by grass-roots organizing, marching, mentoring, advocating, and campaigning. The organizational model developed by the SBWPC has been tried and tested over the years and can be replicated in other communities. The SBWPC has worked on a local level, why not nationally?
4•1•1
The Santa Barbara Women's Political Committee will host a reception to celebrate the 1st Female Mayors of Guadalupe & Santa Maria on Thursday, April 11, 5:30-7:30 p.m., Café Noir, 1555 S. Broadway, Santa Maria. For more info, visit sbwpc.org.