Announcement
Sarah & Roger Chrisman Give $1 Million to Endow Executive Directorship of The Granada Theatre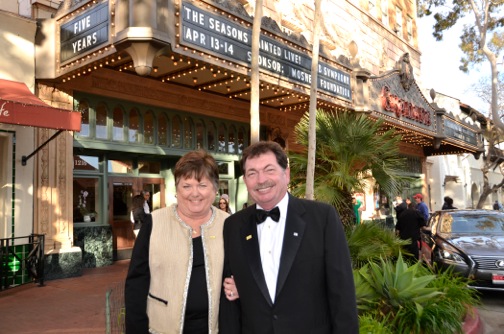 The Chrisman's continuing gifts will, in time, establish a permanent endowment to support the Executive Director position, making it possible for the SBCPA to forevermore attract the highest level of non-profit arts management talent to this important cultural centerpiece of Santa Barbara's vibrant arts community. This million-dollar endowment is an extraordinary leadership gift that will not only ensure the best leadership possible for The Granada Theatre, but will reinforce and ensure the continuity of partnerships and alliances within the Santa Barbara performing arts community.
"Over the last ten years Sarah and Roger have been among the most generous supporters of the SBCPA and The Granada Theatre," says Dr. Craig Springer, the inaugural Chrisman Executive Director. "They have done this through their financial support as well as through their personal dedication to ensuring that our organization is well run and on the cutting edge of non-profit management. Sarah, through her five years as President of our Board of Directors, has worked tirelessly to create a unique collaborative community of arts organizations that work together for their common good rather than at odds for individual glory. I am deeply grateful for their support and pleased beyond measure to be the initial holder of this prestigious appointment."
Sarah and Roger Chrisman co-founded a Silicon Valley telecommunications company, Network Equipment Technologies (NWK), in 1982 with Sarah serving as CFO and Treasurer until her retirement. Sarah and Roger moved to Santa Barbara in 1999 from Tiburon with their daughter, Carolyn, who is a recent graduate of the nationally recognized USC School of Cinematic Arts and is an award-winning animator now living and working in Burbank.
Sarah has been President of the Board of the SBCPA since 2009, and as a founding board member, she has served the organization for more than a decade in various roles, including acting as vice president and treasurer. She also serves on the Board of Opera Santa Barbara and is the Chief Financial Officer of the Warren and Katharine Schlinger Foundation.
Roger served as a Director of Santa Barbara Yacht Club for three years and was subsequently elected Rear Commodore, Vice Commodore, and, in 2010, Commodore. He served for several years as the Treasurer of the Santa Barbara Maritime Museum, where he still serves as a Director. Together with Sarah, they are the sole trustees of the Schlinger Chrisman Foundation.
The Chrismans are well known throughout the Central Coast region for their philanthropy, and particularly for their support of the Granada Theatre, Opera Santa Barbara, State Street Ballet, the Santa Barbara Symphony and the Maritime Museum. They share a deeply held belief that art and culture bring people together, and that this connectedness is a very important part of what makes Santa Barbara such a uniquely vibrant community in which to live and work.
"Sarah and Roger are both true visionaries," says Kristi Newton, Director of Development for the Granada Theatre. "Their gift will help ensure the long-term sustainability and vitality of the Granada Theatre for the benefit of current and future generations. This endowment gift is a testament to their belief in the value of performing arts in our community and represents an important investment in the future of our theater."
Roger and Sarah Chrisman offered this inspiring thought about what ultimately motivates their giving, saying "The performing arts remind us of our humanity."
In addition to this visionary endowment, the Chrismans have played a pivotal role in obtaining The Granada Theatre's new Digital Cinema. This outstanding state-of-the-art digital cinema projection system and 4K film experience is the first of its kind on California's central coast. Following the commitment of a generous lead gift of $100,000 from the Chrismans, together with an additional $100,000 pledge from the Audrey Hillman Fisher Foundation, the SBCPA is actively making the vision of The Granada Theatre as a first-class theater, as well as a first-class venue for live performances, a reality. Exciting programming for the new Digital Cinema will be announced in the fall, so stay tuned!