Living
The Adult-Strength Story Hour
Novelist Max Schott Brings Lit to Life at the Library
Our story begins with Max Schott losing his volunteer job. Don't worry; our tale has a happy ending that strangely enough has to do with a question some fine Santa Barbara librarian thought out loud just about the same time Schott's slight demise occurred. Wouldn't it be fun, the librarian wondered, if somebody cool read stories to grown-ups at the library, maybe at lunchtime?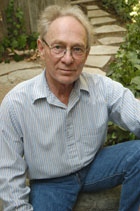 But who? This was senior reference librarian Jace Turner's quandary. A few days later, Turner was eating his regular lunch with Schott—friend, former UCSB College of Creative Studies (CCS) English professor, and well-known Santa Barbara novelist—when, over sandwiches, Schott informed Turner that his longtime stint reading at Recording for the Blind ended when they shut down their offices.
"I lost my nonpaying volunteer job," Schott said.
Turner, a young, stylish, non-stereotypical librarian, right away replied, "Would you like another nonpaying volunteer job?"
"Yes," Schott immediately answered.
Two weeks ago, Turner and Schott had a dry run of the proposed noontime program in the Faulkner Gallery with about eight shills — library staff there to satisfy curiosity and to fill out the room, but also seven general-public folk gathered in a half-circle of chairs around the microphoned Schott, who pretended that he didn't remember why he was doing this.
"I just hung around the library a lot," said Schott, grandchild of the folk who endowed the city with its namesake Alice F. Schott Continuing Education Center. "And I guess if they don't lock you up for it, maybe they give you a job."
The hour was blissfully filled with Schott's soft, clear voice reading two stories by William Carlos Williams, both surprisingly racy and truncated at the ends, artfully inconclusive. This abruptness, aided by Schott's professorial mode, prompted lively discussion like a great English lit class, without a paper or final exam hanging over it.
"I was happy with the way it went, but I was too nervous," confessed Schott at home later. Even after 30 years teaching, Schott admitted that classroom situations, which he likes, present themselves each in a different way. "My first years of teaching were terrifying," he said. One of the original crops of CCS prof, Schott did come to love schoolrooms, exploring everything from Freud to Chaucer. In the meantime, Schott, whose first job was Santa Ynez cowboy, managed to write Murphy's Romance, a successful novel that was made into a beloved movie starring Sally Field and James Garner. He also had a column in The Santa Barbara Independent in the 1990s.
"I'm going to play it by ear," he promised, author-wise — though much as he loves William Faulkner, he doesn't think it will play at lunchtime (hard to follow). On the first meeting, Schott talked feelingly about the history of reading out loud and plans to return to that meta-topic. But if the first meeting is any indication, he will be generously open to opinions and comments from rapt listeners who are urged to bring their brown bags in for nosh with a side of belles lettres. There is something even better, too, hearing dulcet voices not far from the utter silence of the stacks. Reading great stories is cool, Schott explained, "but hearing these words come out of your mouth or out of somebody else's mouth is an entirely different experience."
4·1·1
Lunchtime Stories for Grown-Ups with Max Schott. Every Wednesday, 12:10-12:50 p.m., beginning May 29. Faulkner Gallery, S.B. Public Library, 40 E. Anapamu St. Info: (805) 564-5611; sbplibrary.org.