Living
The Art of Quilting
Debra Blake Uses an Old Medium to Create New Visions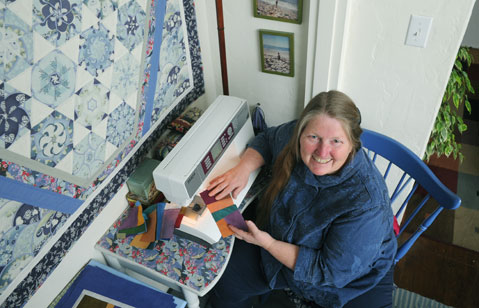 "Grandma's quilts have love in every stitch" is a popular saying in sewing circles; for Santa Barbaran Debra Blake, the sentiment rings true. When she was a child, Blake's grandmother would while away her time making patchwork quilts. Though Blake always liked sewing, as an adult she didn't invest much time into it until a friend invited her to a quilting class more than a decade ago. Since then, quilting has become an integral part of her life, and she often spends time studying art books for concepts to use in her own creations. "Once I learned how to make quilts quicker and have them turn out better, I just really loved it," she said.
Blake is a serious quilter, and she was a finalist in the 2013 Road to California Quilters Conference and Showcase last January. Held in Ontario, California, it is one of the largest quilting shows in the nation, offering a total of $37,000 in cash prizes in a show of hundreds of quilts. The seven-day conference also features quilting classes and materials to purchase. "Many people make a vacation out of this conference," said Blake. Though she did not win this year, she did receive a ribbon in 2012 at this same competition and has won ribbons at other competitions in which she has participated.
Heavily tied to the quilting scene in the Santa Barbara community, Blake is a member of two groups of quilters — Fiber Vision and ab-strakt-ed, the latter a small, intimate group of four women who began meeting a couple of years ago. The camaraderie within the groups helps support the painstaking and time-consuming art of quilting. "It's a common thing for quilters to be in groups," Blake said. The women in ab-strackt-ed have even showcased their wares at the Sisters Outdoor Quilt Show, the largest show in the world — more than 1,000 quilts are displayed — which is held in Sisters, Oregon, every July.
Blake often hand-dyes the fabrics she uses to create her unique quilts, as she did for her 2013 Road to California entry. "There are a couple of different kinds of quilting … but what I'm involved in is what's known as making [abstract] art quilts. The way that art quilters proceed to make a quilt is very different from the way that traditional quilters proceed," Blake explained. "[In art quilting], people don't worry about whether it's a straight line; they actually go out of their way to break out of the mold of traditional quilting and create something that is all their own."