Arts & Entertainment
Ghost Tiger Starts Fresh with Birdfeeder 7-Inch
Santa Barbara Folkies Release New Single at SOhO Restaurant & Music Club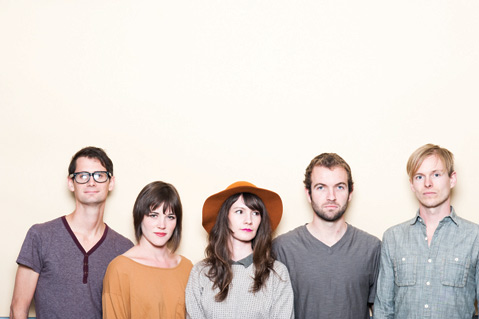 A lot can happen in a year. Last June, Santa Barbara singer/songwriter Alixandra Macmillan-Fiedel was preparing to throw in the towel on music indefinitely. At 25, the Ghost Tiger frontwoman was faced with a reality she had known was inevitable for years: a extensive surgery to correct temporomandibular joint dysfunction, commonly marked by degrading joints in the jaw. The procedures would leave her mouth rubber-banded shut for eight weeks. After that, it would take four-plus months for her singing voice to get back to where it was pre-op — if it went back at all.
"I didn't know if I'd ever be able to sing like I did before the surgery," she told me over coffee last week. "It's funny: It's only been a year, but it's one of those things where I almost forget how difficult it was."
In the weeks before her surgery, Ghost Tiger announced its indefinite hiatus and decided that if this was the end, the band would want to go out with a bang. So, they gathered their friends, curated a stellar lineup of area talent, and took their good-bye party to SOhO for one jam-packed night of music and bittersweet celebration.
Flash forward 12 months, though, and Ghost Tiger is singing a wholly different tune. This Thursday, June 6, the band returns to SOhO for the first time since that good-bye show to unveil its Birdfeeder 7-inch. The vinyl-only single (don't worry, guys, there's a digital download, too) is the band's first physical release, and its big reveal is coming with a night's worth of live music and festivities. The band will be joined onstage by Islay Street, Dante Elephante, and Torches and will have Birdfeeder available for purchase for the first time ever.
As for the tracks, Birdfeeder provides a vibrant little slice of what Ghost Tiger does best. The title track is a lively newer offering that features Macmillan-Fiedel laying down some frank lyrical truths alongside a bright, loping guitar line.
"I wrote that songs right after my surgery," Macmilan-Fiedel recalled. "My mouth was still rubber-banded shut, and I sang the idea into my phone. It was inspired by that whole process and time, and from a specific experience that happened during those first few weeks I was recovering."
Flip the disc, and you'll find "Madeline," a slow, somber ballad that waltzes along gently, sweet harmonies and folksy trappings firmly in place. "'Madeline' I wrote before the band started," she explained. "I'd been singing it in different projects before Ghost Tiger even existed, but it didn't have a lot of the details and the harmonies it has now."
In many ways, it's easy to see Birdfeeder as a cross-section of Ghost Tiger's past and present. Over the course of the last few months, the group has written a handful of new tracks, with Macmillan-Fiedel trading in her signature Fender Jazzmaster guitar for a hollow-body Gretsch. They've also spent a great deal of time together in and out of the studio and achieved a level of comfort in their songwriting that they say is far more fluid than it used to be.
"The stuff that we've written since Alix came back from her surgery is different from everything we wrote before," said bassist Kevin Evans. "It's a lot happier, in some ways. It's still the same band; there are still four-part harmonies and the lyrics are still dark, but the guitar tones are brighter and it's definitely less brooding."
"I think we're all happier people now than we were before," offered Macmillan-Fiedel with a smile.
In discussing Birdfeeder's making (the album was recorded and mixed by friend Joel Mankey in his Thousand Oaks studio), both Macmillan-Fiedel and Evans agree that the 7-inch is just the beginning. The band plans on spending the coming months playing more shows and writing and recording more demos. They also hope to use Birdfeeder as a means of courting a producer for a future Ghost Tiger full-length album.
"Finding a producer is like finding a mate, so we're looking for our lover currently," laughed Macmillan-Fiedel. "But we've got a couple of leads. We're going on some dates."
Future plans aside, though, it's all eyes on this Thursday, a milestone that Macmillan-Fiedel asserted was a long time in the making and a thrill to be a part of. "It's been a whirlwind of a year, but I'm so proud of this band," she said. "I think we've come a long way in the last 12 months. And releasing this 7-inch is a big deal for us."
4•1•1
Ghost Tiger celebrates the release of the Birdfeeder 7-inch with an all-ages show at SOhO Restaurant & Music Club (1221 State St.) on Thursday, June 6, at 8 p.m. Islay Street, Dante Elephante, and Torches will open. For tickets and info, call (805) 962-7776 or visit coolsummerrecords.com/cool-summer-presents.