Voices
Golden Years Are for Changing the World
It's TIme
Our sympathy should be with the millions of graduates forced to endure commencement addresses at this time of year. They must wish they had a set of noise-eliminating ear phones for each time someone over 50 tells them it's now up to them to clear up the mess left by previous generations.
"It's your turn" is a useful cliché trotted out by those letting themselves off the hook. Instead of being inquisitive lambs, they embrace sheep-like passivity, heading out to the golf course or the early bird special when they should still be fighting for their values, utilizing a life-time of experience and wisdom. It isn't good enough to pass on the baton while you are still capable of running, even if your failing health means you are "running" at your computer.
Take Sister Megan Rice, the 83-year old nun arrested last week for breaking into a nuclear facility. Whether or not you agree with her politics is irrelevant. She has better things to do than bore people about the state of her bowels.
Bill Felstiner has set up the Chad Relief Foundation in one of the more dangerous and grim parts of Africa, helping refugees escaping war. Felstiner, who is also 83, has visited Chad nine times, and he puts three hours a day into organizational and fundraising work when he's back home in Santa Barbara, California, as well as all day Saturday and Sunday. Last year he gave himself a break from Chad, working for eleven weeks on the Obama campaign in New Mexico. "I worked 12 hours a day there, seven days a week. It was something I believe in. I never took my golf clubs out of the trunk of my car."
Before founding the Chad Relief Foundation, Felstiner helped the Red Cross in Louisiana after Katrina.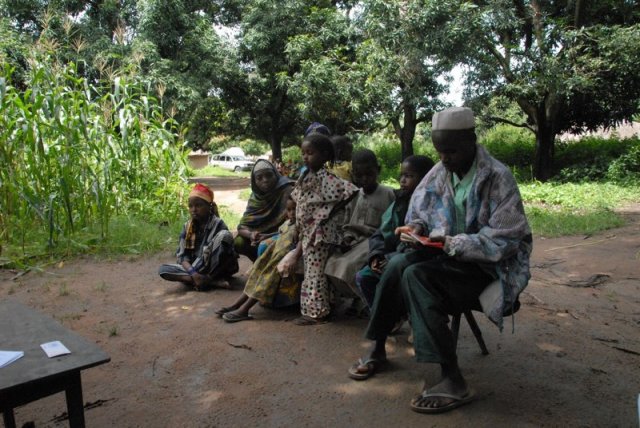 "My last paying job was in 2003. I've never really stopped working, and now I have the benefit of years of administrative experience and working in poor countries. I also have a willingness to take risks that someone who is expected to live 60 more years might shy away from.
Betsy Kain is known as "the Silverback" by the Rwandan genocide survivors she helps, an indication that maturity and experience are respected in African cultures perhaps more than it is at home. Kain, 72, provides emotional and practical support to poor and vulnerable communities. Instead of taking it easy when she retired from her psychotherapy practice in Pittsburgh, her Goats for Life not-for-profit enables Rwandan survivors to start a goat or cow breeding business.
"Looking back, I realize I've been equipped to do this all my life," she said. Reaching one's mature years is exactly the moment when people should engage in the pressing issues facing the human race." Friends suggested she was "a little crazy" going to Rwanda, "But how can one dismiss the sight of someone dying of starvation? Or young women unable to pull themselves up because of malnutrition?"
Marv Steinberg, a retired California school administrator, found his new calling on a hospital operating table. In 2006 he was facing his third heart procedure, but when he was told the problem was not life-threatening, there and then he committed to giving thanks in the most appropriate way he could: campaigning to stop the genocide in Sudan's remote Darfur region. Now he works at least 20 hours a week on Darfur, lobbying elected officials, informing others about the plight of Sudan's targeted population, and leading interfaith prayer vigils on Redding's Sundial Bridge on the last Friday evening of each month.
Dr. Barbara Bauer leads Network for Africa's pioneering project in Uganda, helping survivors of Joseph Kony's notorious Lord's Resistance Army manage their post-traumatic stress. In this forgotten corner of Africa, highlights include finding rats in your sleeping bag, and living for weeks without running water or power. But Bauer, 65, sees the direct results of her work each day. "When someone tells you they've had the first decent night's sleep in 20 years, thanks to your help, you know you're using a lifetime's worth of talent and experience in a profound manner."
"Marriage, kids, grad school all occupied me for the first 25 years of adulthood," says Bauer, who lives in Columbia, Missouri. "Post-50 is the ideal time to be out there. The kids have left home and hopefully have their education, you've likely reached some form of financial security. And then comes the awareness that the clock is ticking. How many years of good health are left? It's time."