News
Defense Attorney Claims City Cop Threatened Him
Judge Rejects Obstruction of Justice Charge Against SBPD Officer
Judge Jean Dandona rejected claims by criminal defense attorney Ron Bamieh that he and his investigator Mark Volpei had been physically threatened by Santa Barbara police officer Jaycee Hunter — the lead investigator in the vehicular manslaughter trial now unfolding against Bamieh's client Francisco Rodriguez. The judge likewise rejected Bamieh's demand that a mistrial be declared because of prosecutorial misconduct on Hunter's part.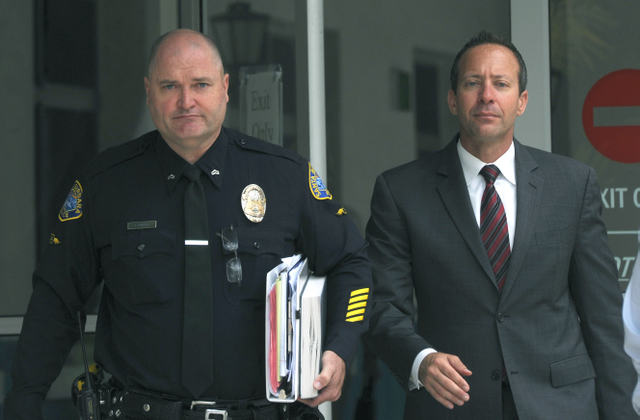 In a sworn declaration submitted to Dandona last week, Bamieh had stated that threats made against him in court by Hunter made him feel compelled to take "precautions to ensure my safety," adding, "I do not feel safe driving in the City of Santa Barbara, and I am apprehensive at any approaching police cars." Judge Dandona flatly rejected Bamieh's petition for a mistrial, stating, "I have not believed at any time that Mr. Bamieh has felt threatened." In response to the judge's ruling, Bamieh replied, "I move for a mistrial; the court has called me a liar." Later, he would make a similar motion on the ground that the judge accused him of being "unethical." The result would be the same.
Bamieh, a former prosecutor from Ventura County who's carved out a successful career as an effective, combative defense attorney, represents one of two men charged with manslaughter for causing the death of their mutual friend — Raul Ibarra — who died when the three were riding their motorcycles near the Santa Barbara Tennis Club this March. Prosecuting attorney Sandy Horowitz contends Rodriguez, Ibarra, and Jonathon Leon were racing one another — at speeds in excess of 70 miles an hour — when Ibarra crossed the double yellow lines and crashed into an oncoming Lexus. The Lexus was totaled, and two of its three occupants sustained minor injuries. Prosecutors explain that "but for" the act of racing, Ibarra would not have been killed; as a result charges, were filed against Rodriguez and Leon. Rodriguez insists he and his friends were not, in fact, racing and that he was about 150 feet away from them at the time of the accident.
Before the trial, Bamieh suggested that had the defendants been white — they're Latino — no charges would have been filed. Friction boiled over during the trial last week when Bamieh's investigator, Volpei, sought to serve a subpoena on Heidi Hullander — who had just testified — right outside Dandona's courtroom. The subpoena was intended for Hullander's 13-year-old son. Hullander, by all accounts distraught, desperately did not want her son dragged into the proceedings. According to Volpei, Hunter inserted himself into the discussion uninvited — red faced and raging — and grabbed the subpoena from Volpei's hand as Volpei sought to serve Hullander. Hunter countered that Volpei had been hollering at Hullander, whose husband had asked him to intervene. Hunter claimed Volpei had been intimidating a witness and that the investigator had struck him with his arm when seeking to hand Hullander the document. Hunter termed that contact an "assault." Volpei countered the Santa Barbara cop all but invited him to strike.
When the two took their beef into the courtroom, things got worse. A pushing-and-shoving incident with Hunter's chair ensued with the chair crashing into Volpei's leg. Bamieh upbraided Hunter, calling him a bully, a disgrace to the department, and asserting that he was not afraid of him. "[Hunter] responded that I should be scared of him, as he was touching his gun," Bamieh wrote. Prosecuting attorney Sandy Horowitz stated he had no recollection of hearing such a threat. Chad Nichols, who'd been observing the trial, submitted a declaration stating he'd heard Bamieh say he was not afraid of Hunter and Hunter replying, "You should be."
Hunter submitted a lengthy recital detailing his suspicions that Volpei had abused his position as investigator to plant misleading or false impressions — via his questions — in the minds of potential witnesses. But he was silent on the question of his alleged threat, neither denying, confirming, or even mentioning it. Hunter did acknowledge that Bamieh had told Judge Dandona he was afraid to sit next to Hunter — for fear of being assaulted. He also described how Horowitz agreed to swap places with Hunter so Hunter and Bamieh would no longer be sitting next to one another in front of the judge.
The trial of Rodriguez and Leon will continue through the week. Bamieh contended — given the lack of credibility his sworn statements have with the judge — he cannot render effective counsel for his client. Dandona pointed out only that Bamieh's client had received the benefit of many rulings on his behalf.