Environment
Ocean 101 for Kids
NOAA's "Ocean for Life" Program Changes Attitudes and the Environment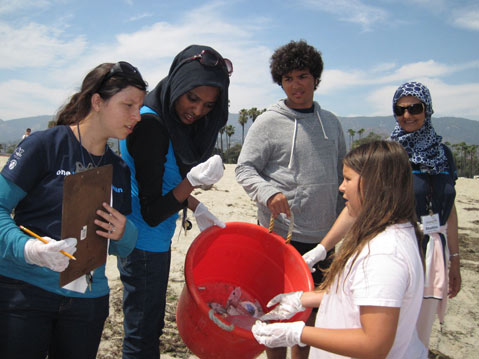 As the three o'clock sun peaked through the overcast shores of Santa Barbara's Stearns Wharf, the faces on a group of blue t-shirt-clad students lit up like the summer skies. Equipped with digital cameras, white latex gloves, and a desire for change, the National Oceanic and Atmospheric Administration's "Ocean for Life" bi-annual field study was under way.
Hosting students from all across America and the Middle East, Ocean for Life hopes to build solidarity through culture and conservation while also encouraging students to turn their passion for oceanography into something applicable. "The ocean is a global feature," explained director Claire Fackler. "It connects everyone no matter where you live." The ocean means something different to everyone, be it food and survival, a spiritual connection, or in the case of these high schoolers, unity. Ocean for Life teaches students about the unifying effects of the ocean, helping them to combat stereotypes and promote environmentalism. The program strives to ensure each student leaves with more than just a few new Facebook friends.
The program consists carefully selected high school students ages 14 to 17 with a passion for the marine sciences. Each has proven their capabilities through an interview process that includes everything from an essay and biology portion to a swimming test. "Luckily I am a very good swimmer!" exclaimed Mohammed Ageeli, 16, of Saudi Arabia.
Hosted by the NOAA's Channel Islands National Marine Sanctuary, this field study brings a multi-layered approach to underwater discovery. The program combines cultural understanding, ocean science, and modern media to give students the tools they need to make a difference. At the end of the roughly two-week long program, each student will work to create a short film about some aspect of their experience, with the help of Jean-Michel Cousteau's Ocean Futures Society Media Camp mentors. They will use this as a basis for their "action plan" once they leave the program.
Said Ageeli, "The program taught me personal responsibility and helped give me tools for sharing my ideas." For students like Mohammed AlMuhannadi, 15, of Qatar, this program empowers him to make a difference. "I don't think they don't care," he explained of his country's prevailing mentality. "I think they don't know."
This year marks the fourth expedition for a new generation of young environmental leaders. As they swarm the coastline, I see a boy, about 15, hold up a worn-out shoe in dismay. He runs to discard it, shaking his head. Just then a girl, wide-eyed, lifts up a dead stingray and I see her friends eagerly hone in to scope out her lucky find. The beach is an array of blue dots gathering around kelp beds, examining what life might be lurking inside. Fackler points out that, while it all might look like casual curiosity, the educational process is at work. She explained, "Through this field study the students are learning about plastic pollution, marine debris, and the sensitive kelp forest eco-system."
As the team wrapped up their day at the beach, I caught up with 17-year-old Hannah MacDonald of Michigan playing catch with one of her group-mates. For her, the ocean has always been a passion. "I love the mystery of the ocean," she said, "and the sense of freedom it can bring." I ask her if there is anything she wants to add as I wrap up our impromptu interview and head back to town. "Yes!" she bursts out. "This is a life changing program!" And as I look around at this diverse group of future ambassadors for oceanic change, I see the light.
For more information about "Ocean for Life" and other NOAA programs and to find out how you can get involved, see sanctuaries.noaa.gov or sanctuaries.noaa.gov/education/ofl.