Cover Story
Where Santa Barbara Shoots Guns for Fun
Recreational Firearm Usage in Santa Barbara
Almost everyone laughs the first time.
Your finger rests on the trigger lightly, slowly applying more pressure ​— ​you keep expecting it to go off, and it does not, and so you squeeze a little harder ​— ​BANG! You flinch, head snapping back, chin toward chest.
There's a puff of dust in front of you ​— ​you've almost invariably missed whatever your teacher told you to aim at. Then you laugh, a short burst, letting out the breath you didn't realize you were holding as the endorphins hit. It's a little stressful, a little frightening, and, by most accounts, incredibly fun.
The difference between shooting a gun and any other pleasure activity is that the equipment required, used in the wrong way, could easily kill or injure any participant or spectator. So it's governed by permits and permissions, limited to designated areas, and comes with a strict set of rules and responsibilities everyone involved must adhere to.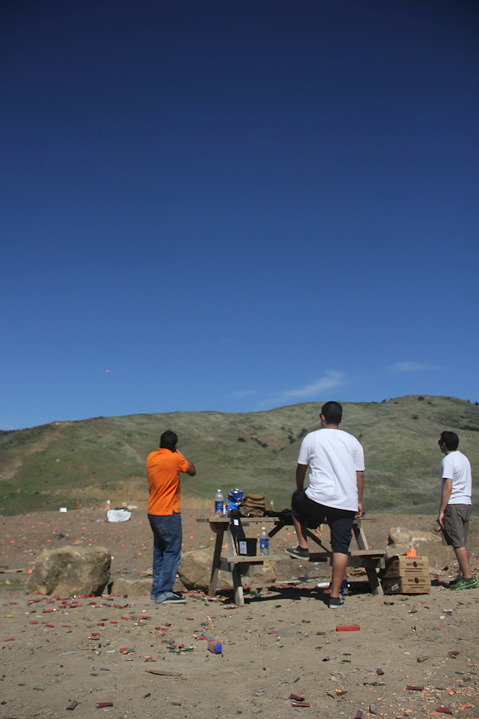 In the greater Santa Barbara area, recreational shooting is largely confined to two areas: Winchester Canyon Gun Club and the Arroyo Burro Recreational Shooting Area, informally known as the "Glass Factory" for the carpet of glass shards usually littering the ground downrange.
Target shooting is allowed everywhere except for in the Los Padres National Forest, unless specifically prohibited, but the Arroyo Burro range along East Camino Cielo is a designated area for the sport. Since the Forest Service only occasionally makes appearances at the range, the recreational shooters maintain safety standards in an easygoing, communal fashion. It's popular for families, who can bring up an assortment of guns and stake out a place to shoot and relax along the line of picnic tables and rocks. Matt Struven, a mid-twenties S.B. local, recently said he had been coming to the range since his teens, often shooting with his parents, and that he "never had any problems" with safety or other shooters.
Unfortunately, the Glass Factory's laid-back atmosphere comes with a price. The open range inspires some people to sling lead at anything they can haul up: glass bottles, televisions, empty air tanks, or even larger home appliances. This is a significant environmental problem ​— ​the "biggest problem," said Jeff Bensen, the Los Padres National Forest assistant forest recreation officer. Cade Wilson, a former servicemember in both the Army and Navy from Texas, said the waste at Glass Factory is often an issue conscientious shooters can't prevent. "The trash was here when I got here; the trash will be here when I leave," he explained. "I try to pick up my shells and targets, but you can't control everything."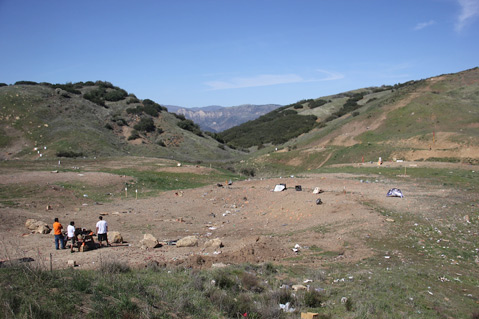 Though Forest Ranger enforcement and individual conscience can't always stop the problem as it happens, the shooting community does its best to deal with the debris. Members of the community, largely organized by members of the CALGUNS.net forums, all pitch in to clean up the range every handful of months. Bensen said programs like these, together with a general consciousness of waste and conservation, could save the Forest Service significant amounts of time and money. Although he said the Service would like to move toward consolidating recreational shooting in designated areas like the Arroyo Burro range, target shooting was a "viable use" of the land and "not something the Forest Service was interested in curtailing."
On the other side of Highway 154 near the end of the pavement on West Camino Cielo, the Winchester Canyon Gun Club might as well be a golf course. The shooting range is like a driving range, with individual stations provided in a line underneath a shaded structure. Shooters can use a bench and table, topped with green Astroturf, to steady their weapons as they fire at cardboard and paper targets set up neatly at 50 or 100 meter intervals downrange. Winchester boasts separate rifle, pistol, and shotgun ranges, and has at least one range master on duty at all times when it's open.
But it comes at a price: Memberships run around $125 a year, with deals for active military servicemembers and students. On weekends, the range is open to the public for a flat fee of $20. Range masters oversee the shooters, offering tips and making sure that safety protocols are observed while shooters are setting up targets and handling weapons.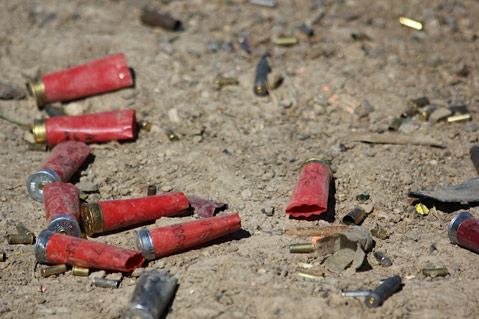 The range operates on an annual year-to-year lease, the conditions of which are periodically evaluated by the Forest Service, which takes into account public comments and opinions. Winchester seems to be amenable to discourse with various groups, as well ​— ​Gun Club President Bill Tanner said the club voluntarily abandoned its 500-yard rifle range after some Chumash groups raised concerns that the range conflicted with spiritual areas. But even with these concessions, many shooters see Winchester as a safer and more desirable alternative to Arroyo Burro.
Matt Nordin, one of Winchester's range officers, said he "won't go up [to Glass Factory] between 11 a.m. and 3 p.m.," peak hours for weekend recreational shooters. Other shooters choose to forego the Arroyo Burro Range for similar reasons. Jim Sloan and his son Thomas chose the organized, clean range to sight in a pair of .30-06 rifles for boar hunting. "I think these ranges are good, especially for kids because you learn the rules," said Jim. "You need to be responsible [with guns], which takes education." Sloan's son Thomas had just passed the hunters safety exam and was preparing for his first trip.