News
Cat Haters
Why Is There Such Contempt for Cats?
Recently, a friend of mine posted a picture on Facebook of a cat sitting on his front porch, staring angrily at the doormat. My friend was flipping the cat the middle finger in the picture, and the caption read: "This is the stray cat that chews our doormat every day." Within minutes, his post generated more than 70 "likes" and over a dozen comments. My comment: "Maybe you should feed him," along with one other remark: "Your mat does look like a chew toy," were the only two positive responses. I was shocked at some of the negative comments that other people made. One person suggested putting Tabasco sauce on the mat, which was followed up by a comment: "Forget the mat, put the Tabasco straight on the cat." The worst comment of all: "Dump hot water on that cat."
While I know my friend's post was meant to be funny, many of the comments his friends made were definitely not making me laugh. And it got me thinking, if this had been a picture of a dog and these comments were made in reference to that dog, the animal cops would be called before I even finish this sentence. But for some reason, when it comes to cats, there are so many people who are full of hate. It made me wonder, why is there so much hatred toward cats?
One thing I've realized from working in animal shelters for the past 20 years, is that if someone has a bad experience with a dog, they chalk it up to poor temperament, behavior, etc., of that particular dog. However, if someone has a bad experience with a cat, they write off the entire species. I've known people who've been attacked by a dog, and still have a scar to prove it, but they continue loving dogs. And then there are those who don't like cats and don't even have a reason why. I've heard people say they don't like cats, and when you ask them why, they respond: "I don't know, I just don't like them."
One person I know who dislikes cats told me that he didn't believe cats are intelligent, especially when compared to dogs. A recent study in New Scientist magazine created 11 categories to pit dogs and cats against each other. Cats beat out dogs only on vocalization; dogs won most of the other categories, including problem solving and utility. According to the New Scientist: "Other than being easy on the eyes and relaxing to pet, the only real utility that cats provide, besides companionship, is the ability to protect a home from vermin." Although that might sound a little harsh, it is true that dogs can perform many vital tasks that cats cannot, including sniffing out land mines, search and rescue, leading the blind, and even sniffing out bed bugs.
Don't get me wrong, I love both cats AND dogs. There just seem to be more cat haters out there, and I'm not sure why. Not only will owning a cat reduce your blood pressure and help prevent heart disease, but their playful antics keep you entertained for hours. Another good feature about cats is that they are independent and can be left alone while you are at work (especially if you have multiple cats). Cats are very low maintenance — they litter box train themselves and they stay clean since they bathe themselves. Cats are also not picky about where they live; they are just as content in a one-bedroom apartment as they are in a four-bedroom house. Contrary to the opinion of some, cats are social and affectionate creatures. I've never owned a cat that didn't want to cuddle and sleep in bed with me. As for the intelligence issue — for anyone who has ever had the privilege of sharing the company of a cat, you've probably heard the saying: "Dogs have an owner, cats have a staff." Now who's the smarter one?
Announcement
Join CARE4Paws on Saturday, July 13, at the Pacific Pride Festival. CARE4Paws will be at Leadbetter Beach with a booth and shelter dogs for adoption. For more information, visit care4paws.org
Adoptable Pet of the Week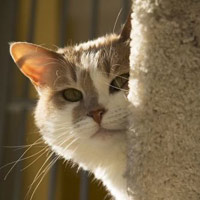 Butters is a very soft-spoken gal who is looking for her forever home. She is soft and sweet and would love to snuggle on the couch with you in the evenings. Take her home, and she will fill your home with love.
For more information, visit the Santa Barbara Humane Society at 5399 Overpass Road, or call (805) 964-4777. Shelter hours are Monday-Saturday, 10 a.m.-4:30 p.m. You can also visit sbhumanesociety.org.