Film & TV
Ground Operations Screens at Fairview Gardens
New Documentary Looks at War Vets and Farming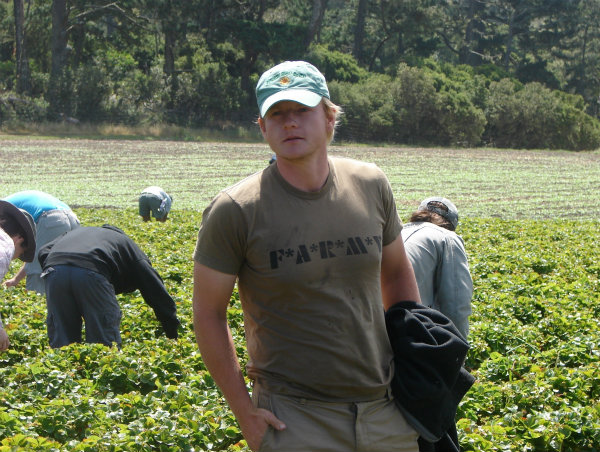 Twenty years ago, a Hollywood script supervisor commuting from Ventura to Los Angeles was admiring the Oxnard Plain. As the vast landscape sprawled out before her, she found herself grinning and breathing deeply, thinking, "Who is going to protect this land … so it doesn't go the way of L.A.?" Now, Dulanie Ellis has become that person. Her fifth documentary about sustainable agriculture, titled Ground Operations: Battlefields to Farmfields, came out last year and will screen this Saturday, July 13 at Fairview Gardens. The film reports on veterans who find that farming suits their transition back into American life. The donations-based event will also feature local veterans speaking about their agricultural journeys.
Ellis stumbled upon her subject in 2008 at a conference called Eco-Con, where she learned about the then-fledgling Farmer Veteran Coalition. "I saw these hats that said, 'Farms Not Arms,'" she said, "and I went, 'Huh, that's exactly what I've always said.'" Then she heard the group's leader, Michael O'Gorman, give his spiel about agriculture complementing veterans' need for jobs — and said she knew this was a solution to several of the world's problems.
Statistics regarding the food situation in this country are harrowing. The world population will approach 9 billion by 2050, and "resources for producing food are dwindling as we're developing areas and taking them out of agriculture," said Oran B. Hesterman, CEO of Fair Food Network, who appears in Ground Operations. To up the stakes, one percent of Americans grow the food we eat, and 50 percent of those farmers are at retirement age.
Veterans are realizing that food security is a form of national security and that they can fill the growing gap of farmers, said Ellis. "[We] have this huge workforce who's looking for another meaningful thing to do for this country." She cites military skills, including self-discipline, risk management, and strategic planning, as translatable to the field.
However, transitioning back into American civilization is a known hardship for veterans. While the government glorifies the ideology of serving our country, veterans often are not given proper treatment. Nearly 30 percent of those treated by the Department of Veteran's Affairs have post-traumatic stress disorder. The doc also reports that 100,000 veterans are homeless. The government spent $944 billion to fight the War on Terror, but next to nothing to help soldiers reenter back into civilian life, Ellis said.
In part, the doc aims to display the healing effects of farming on veterans. Over the three-year course of filming, Ellis witnessed differences in vets like Phil Northcutt, "who is really sullen and shut down at the beginning of the film, but by the end of it he's laughing." His Northcutt Ranch houses horses and other livestock, and he calls his newfound career a "spiritual journey."
Ellis could empathize with veterans on that level. She owns a half-acre in Ojai, where she grows food like carrots, squash, and tomatoes. During filming, she had four eye surgeries and three foot surgeries, and she couldn't follow the Ground Operations story for almost a year and a half. Although she qualified her situation as mild, her inability to work on the film created a temporary void in her life. "I've observed in my own life what working the land does for mental stress."
4•1•1:
Ground Operations: Battlefields to Farmfields screens outdoors at Fairview Gardens (598 N. Fairview Ave.) this Saturday, July 13 at 7 p.m. A Q&A with the filmmakers will follow the screening. Visit fairviewgardens.org to reserve a seat.