News
Farmers Market Lawsuit Fizzles
Plaintiffs Withdraw in Big Victory for Market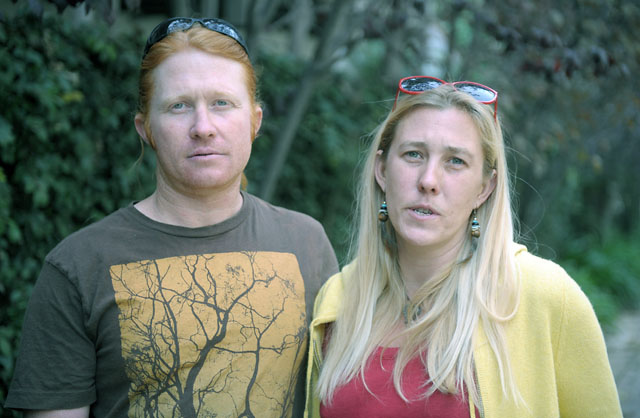 Three growers playing poker with Santa Barbara Certified Farmers Market Association in the form of an antitrust lawsuit decided it was time to end their bluff. They all withdrew from the suit, explaining that, win or lose, following through on the legal action they initiated would not achieve their intended goals — gaining entrée into preferred market days and effecting some reforms in the association. The defendants — including several boardmembers — refused to make a deal, worried that it would set a precedent leading to more potential lawsuits.
The plaintiffs — owners of Santa Rita Flower Farm near Lompoc, Dey Dey's Best Beef Ever in Buellton, and Wellington Farm in Goleta — could not afford the cost of a loss, and a win, they all said, would bankrupt the Farmers Market, which has no antitrust insurance. That would also mean their lawyer would lose out on a payday. Destroying the market, the plaintiffs said, was never their goal.
Although he was upset that the board was willing to "gamble" the future of the association, said Jeff Hendrickson of Santa Rita Flower Farm, "we love the market, and we love our customers." He added, "I want to be a member of the association for decades to come."
Board President Mollie Gean countered, via a statement, "The harm has already been done. The defendants have been accused of being unfair and taking actions for personal gain. They have been forced to spend money to defend themselves …. This is a volunteer organization …. But [the] plaintiffs' suit has caused members to not stand for election as a director." In the same statement, Gean said that if the plaintiffs were that concerned about the financial wherewithal of member farmers, they could have dropped their suit much earlier.
For their part, the plaintiffs felt like they were being unfairly characterized as greedy by the board leadership. Cat Wellington of Wellington Farm wrote in an email to The Santa Barbara Independent: "President of the Board, Molly Gean, has convinced many of the farmers that we are money mongers. This is not true. She kicked me out of the markets and is determined to never let me back in. She is willing to spend $300,000 of the farmers' money to keep me out of the markets. Why? Because my mother voiced her opinion against Molly making changes to well-established rules and favoring outside corporate farmers." Wellington sells jams and jellies as does Gean, who owns Harry's Berries in Oxnard. (Wellington claims that her mother taught Gean how to make jam.) Gean did not respond to calls from The Independent.
A claim made by the plaintiffs is that the nine-member board is composed of large, out-of-town farmers who are more concerned about their own profits than the good of the community. Only two boardmembers — including the daughter of Independent Editor in Chief Marianne Partridge — reside within the county. Both Hendrickson and John de Bruin of Dey Dey's felt like the most expedient remedy would be to include representatives on the board from Santa Barbara who are not farmers and therefore have no personal financial interest in association policy. Hendrickson suggested the city demand such a community representative in exchange for the use of its property.
As compelling as their arguments may or may not have been, the disgruntled growers faced an uphill battle proving that the Farmers Market violates antitrust law. In his tentative ruling, Superior Court Judge Thomas Anderle urged the plaintiffs to define the relevant market being monopolized by association members. In his demurrer for the defendants, attorney Tim Trager of Reicker, Pfau, Pyle & McRoy argued that the market for fruits, vegetables, and meats includes supermarkets, farm stands, and grocery stores. Selling direct to consumers at farmers' markets is a method of distribution that does not, he maintained, come close to constituting a marketplace in terms of the wider economy. "Typically, only large companies have enough market power to really affect a market," he said.
It is possible that Trager's opposition found him convincing because, according to legal filings, it seems attorney Matthew Da Vega did not want to take the case with him when he and another associate left the firm Christman Kelley & Clarke (CKC) to start their own partnership. In a motion to be relieved as counsel, attorney Matthew Clarke wrote, "Unlike all other cases he handled through CKC, Mr. Da Vega did not make arrangements with this client to continue his representation. Mr. Da Vega has refused to sign a substitution of attorney form. CKC does not have this client's complete file, does not have a relationship with the client and cannot adequately represent the client." While the plaintiffs in the case said Da Vega saw things through to the end, the judge granted Clarke's release, technically leaving them with no representation. Neither Clarke nor Da Vega returned phone calls from The Independent.
The owners of Dey Dey's and Wellington Farm, in exchange for avoiding any of the defendants' legal fees, dropped their suit without prejudice, meaning they cannot refile, but Hendrickson and his wife, Roxanne Renner, reserved that right. Whether the Farmers Market will change any of its bylaws or practices could not be ascertained. The end to legal proceedings likely staves off a proposed rate increase for members who fork over 5 percent of their gross profits for operating costs.
The lawsuit reinforces just how commercially successful the Farmers Market has become. Getting a coveted spot in the Tuesday and Saturday downtown Santa Barbara markets can mean beaucoup bucks. All told, the market grossed about $10 million last year. Whereas it was tough to find enough local growers to fill out the nonprofit mutual benefit corporation when it was first founded in 1983, the explosion of the organic food movement along with increasing concern about sustainability has led to a bigger customer base and a new generation of young family farmers, many of whom have not been able to attain membership at all.
The suing growers did express interest in the formation of an alternative market. Hendrickson said it is a common topic of conversation among younger farmers, but practically speaking, he already works 70-80 hours a week and has little wherewithal to take on such a venture. Moreover, he learned to farm from other members and, despite his grievances, still feels like part of the family. Wellington, who unlike the others, is not a member of the association, has started the Local Artisans Market, where vendors sell prepared foods as well as crafts, jewelry, and clothes.