News
Life by Bike Is Full (of Stops)
Walking and Biking Often Equals Shopping
In another life I lived on Gordon Street in Edgewood, a small leafy suburb of Pittsburgh. Down the hill and across Edgewood Avenue sprawled the 383,000-square-foot Edgewood Towne Centre strip mall built on the site of George Westinghouse's original Westinghouse Air Brake plant. If you walked to the mall across a set of railroad tracks, the distance was less than a quarter mile. Everyone in the neighborhood drove over 1.5 miles to shop or eat. Nobody would have considered riding a bicycle.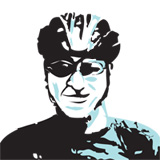 When Edgewood Towne Centre was built in the early 1990s small local businesses were devastated, and over time many closed. Today, the mall is a semi–ghost town of Dollar Stores and discount clothing shops, hoping for a second life. If you have to drive there, most local shoppers would rather travel another 10 minutes and shop at the newer mega mall built on the site of the former U.S. Steel's Homestead Works.
Over time the old neighborhood business district, Braddock Avenue, has revived and is in the midst of an economic renaissance. People in surrounding neighborhoods are walking and biking to small local restaurants, boutique shops, and quirky local specialty businesses.
I've been thinking a lot about bicycle-friendly business districts recently, so I asked my friend photographer Nick Vargas of East End Studios to take a few photos for me to illustrate the difference between the mall and a livable street where people go to meet friends, shop with children and eat. Where would you prefer to shop or eat?
People, walking and biking from local neighborhoods create livable business districts. Long Beach is at the forefront of creating bike-friendly businesses. The benefits of walking and cycling for the environment and your health are obvious. Less well known are the benefits for small businesses. There is a strong economic case that cyclists are good for business.
State Street is a vibrant business area. Stroll or cycle down it almost any day of the week and you'll see a diverse crowd of shoppers, tourists, people-watchers, and more. I'm not a small business owner, but if I owned a store on State Street or the Milpas or Mesa business districts, here are some reasons I'd be encouraging cyclists to ride and park in front of my store or restaurant.
Cyclists shop and eat local in contrast to motorists who can drive longer distances to eat or go from mall to mall looking for discounts and sales. Most bicyclists tend to shop within a three-mile radius from home. They may buy less on each trip (the limitations of panniers, baskets, and backpacks), but they shop more often. Most days, my cycling consumerism circle is within the bounds of Milpas, the Mesa, Cabrillo, and the La Cumbre areas.
Most folks when leaving home travel only a short distance. According to the League of American Bicyclists, 40 percent of all daily U.S. trips are less than two miles, and for 68 percent of those trips, people get in their car and drive. Bike-friendly business districts with safe bikeable streets and convenient bike parking can increase sales for local businesses.
When I ride down State Street, I travel at a slower pace that allows me to notice new businesses and sales at stores I frequently stop at. If something catches my eye, I stop, park my bike, and stroll in. Cars on the other hand cruise down State Street at a higher speed (most days!), and drivers can't just stop and drop into an interesting store or restaurant.
Santa Barbara is a tourist town — and bicycle-friendly business districts attract tourists. Locally, tourism is a $1.4 billion business, and increasing bicycle parking would make the downtown area even more attractive to bike tourists and visitors. Visitors can easily ride bikes from many of the hotels, harbor, and tourist attractions to the State Street business district.
Businesses along bike lanes see increased sales according to Bikenomics by Elly Blue. Here are some examples from other cities. Sales at restaurants along Magnolia Street in Ft. Worth increased by 200 percent after bike lanes and racks were installed. Surveys show that on Bloor Street in Toronto, bicyclists and pedestrians spend more money than drivers. Often when surveyed, merchants assume their customers arrive via car. Not always true.
Cycling to shops or restaurants reduces the need to create more car parking in dense urban/residential neighborhoods. Many small businesses are concerned that they have enough parking spaces for their customers. If more customers cycle instead of driving, that opens up on-street parking spaces for those who drive. According to a recent study, the national average cost to install a parking space was $15,000. Average cost of a bike rack, about $200, and that holds two bikes. For customers, bicycle parking is free and usually right in front of your destination.
Building strong viable business districts is about looking to the future and paying tribute to the past. Old-fashioned neighborhood shopping streets were long a part of every city. Our forwarding-thinking business and civic leaders can work to attract customers for an experience that they can't have shopping online. Creating bikeable streets and business districts should be a part of our economic success.