Columns
New Era in Isla Vista Housing
Bright New Complex Rewards Scholarship and Community Service
Little by little, things in Isla Vista are changing. Many-storied, bright, shiny new housing complexes have gone up. There are several downtown and many more scattered throughout the area. Developers and landlords have embraced the idea that Isla Vista's image can change; it no longer has to be known for partying, slum housing, and grime.
A new housing complex at 880 Camino del Sur in Isla Vista, designed and managed by St. George & Associates, is taking this concept one step further. Not only is Campus 880 an attractive living facility, it also was conceived with the idea of promoting scholarship, green living, and community service.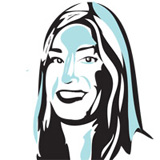 Campus 880 can accommodate up to 255 residents. This week, 56 people moved into the complex with huge windows that let in natural light, granite countertops, an open courtyard in the center, and many decorative touches, like Italian tile floors, that make it inviting.
But with all these amenities come additional responsibilities. People who live in Campus 880 have to respect their environment in order to keep it looking and feeling like a nice place to live. With this goal in mind, St. George & Associates is going to reward students who get good grades and engage in community service, to ensure that it attracts students with these types of values.
Courtney Dietz, from St. George & Associates, said that students who participate in what the company is calling the ambassador program (by maintaining a 3.0 grade point average and engaging in community service) get a 20 percent discount on their annual rent. "St. George & Associates wants to encourage students to give back to Isla Vista," Dietz said.
Tenants participating in this program are expected to be involved in four community service events a year. It can involve anything from tutoring a student at the teen center across the street, to organizing a beach cleanup. In addition, there is a system set up to provide $500 grants to students seeking to fund a particular community service project.
Rewarding Green: The facility has low-flush toilets, water heaters that heat water on demand, LED lighting, and other environmentally friendly additions.
"There are incentives for residents to be mindful," Dietz said.
For example, the apartment with the lowest utility bill each month can have it paid by the management company. There are other ways Campus 880 is designed to encourage environmentally sound practices. For example, the complex is going to have a bike-fixing area in the courtyard to make it easy for students to maintain and use their bikes instead of their cars for daily trips.
Ed St. George, the owner of the property management company, is also planning to build and provide all the materials for a much-needed Isla Vista Teen Center in Estero Park, which is located across the street from the new complex. Right now, the teens use a portable facility that is in dire need of repair and renovation. There are plans to begin building the teen center in October.
With new and great things being done in Isla Vista, it is an interesting time to live in the area. It will be fun to watch the transformation.