Columns
The People Behind the Sanctuary
A Peek at the Staff of the Channel Islands National Marine Sanctuary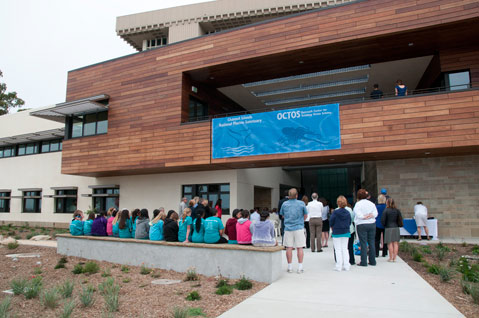 With fanfare and VIP speeches, the Channel Islands National Marine Sanctuary (CINMS) headquarters recently moved to a new, environmentally friendly building on the seaside campus of the University of California Santa Barbara. The structure will now be the homeport for the crew charged with protecting and preserving biological and cultural resources within the sanctuary's six-nautical-mile boundary encircling the northern Santa Barbara Channel Islands.
However, the $8.1 million, partially wood-paneled building is more than improved office space for the National Oceanic and Atmospheric Administration's (NOAA) sanctuary staff. About half of its 15,000 square feet are reserved for the Outreach Center for Teaching Ocean Science (OCTOS) that is designed to employ 21st-century technology to teach appreciation of the marine sciences and inspire care and understanding of the water world on and off campus.
Behind the hopes and ambitious goals embodied by the sanctuary's two-story home on Lagoon Road is a team of talented and committed people who will quickly tell you they love their work. Superintendent Chris Mobley, a New York–state native, leads a staff of 12 full-time NOAA employees, plus a NOAA line officer who manages the CINMS's two research vessels. In addition, Mobley and his team supervise a variety of part-time contractors, including captains for the two boats and three interns.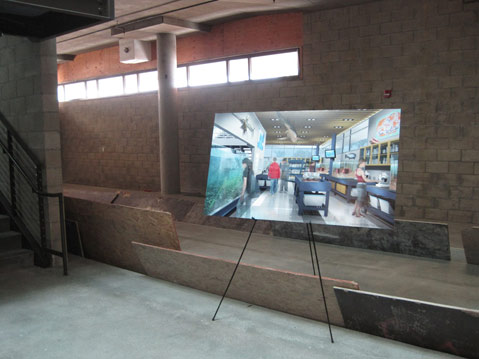 It's a lean operation made more so by years of CINMS budget cuts that eliminated two staff positions and reduced operating funds for its research vessels. "The silver lining of giant budget crunches is (the drive) to think more creatively about how to partner" with other agencies, businesses, and institutions, said Mobley, who has been superintendent since 2002. "I'm proud that my staff has responded so well to the budget cuts."
Doing more with less and seeking flexible approaches to problem solving are common mantras within the CINMS team as they monitor sanctuary wildlife, try to prevent collisions between whales and commercial ships, protect historic shipwrecks, and raise public awareness of the channel's special attributes, among other goals.
"We all do anything," said Mobley, who still dons scuba gear to help with undersea data gathering or harbor cleanup operations. Many on his staff are certified divers who, for example, have swum in fish identification programs and kelp health surveys. Others have skills vital to running an agency with broad responsibilities to constituents with sometimes conflicting points of view (the stakeholders), a 1,470-square-nautical mile physical territory, and a multifaceted Internet presence.
Deputy superintendents Todd Jacobs and Michael Murray oversee sanctuary operations and programs, respectively. A big chunk of Jacobs's time and energy has been channeled into using small, unmanned aircraft, or drones, to monitor resources. Quieter and far less expensive than helicopters, these radio-controlled flying cameras and sensors are ideal for checking out nesting seabirds or locating tsunami debris. The former superintendent of Washington state's Olympic Coast sanctuary, Jacobs finds his drone expertise in demand at other NOAA sanctuaries.
Murray, a lifelong surfer who grew up in Hawaii and was educated in Southern California, credits CINMS Education Coordinator Laura Francis for pointing him toward a career in NOAA. After working on help desks for the computer industry, he was finishing a master's degree in environmental studies in 1993 when he learned about CINMS. Contacting Francis for information, she inspired him and steered him to NOAA's Seattle office where he landed a job as a planner.
He worked in Seattle until 1999 when Channel Islands needed his organizational talents to launch a broad-based Sanctuary Advisory Council (SAC). Murray has since then helped recruit, educate, and communicate with a parade of stakeholders from the public, academia, fishing interests, businesses (including shipping), relevant government agencies, and the Chumash community. He continues to be a key liaison.
To paraphrase, Murray said he's as happy as a clam to do what he does. This includes daily management of the CINMS office, but the surfer inside appreciates the time he gets in boats. "As a civil servant, my coworkers and I try hard to serve the community, but we also learn something new every day," he said, praising the staff's esprit de corps.
Murray singles out computer scientist and remote sensing specialist Ben Waltenberger "as an unsung hero" because he devoted long hours to reconnecting the office to the Internet after the move to UCSB. While everyone helped with the transition, program support specialist Rebecca Young donated extra time, as did Todd Jacobs and Laura Francis, who is also the sanctuary's point person for OCTOS.
Francis and her Ventura-based counterparts, education coordinator Julie Bursek and bilingual program leader Rocio Lozano-Knowlton, propel the sanctuary's outreach programs in the two counties. This spring's opening of the Boating Center in Oxnard's Channel Islands Harbor is the most visible of their projects. School-based marine education programs in Ventura and Santa Barbara counties go back decades, but once OCTOS is fully realized it promises to boost ocean awareness to a new level.
Planned features include a 30-seat digital theater for film and real-time interactive experiences from the channel or around the globe. Revolving interactive exhibits designed by Thinc of New York City will be highlighted by an L-shaped Virtual Dive space that can simulate actual research in vertical and horizontal habitats. The Wet Labs section will enable students and visitors to observe, measure, touch, and photograph living or preserved organisms. Kelp plants will grow in a 20-foot-high tank of seawater in a miniature, and more confined, version of live aquarium displays.
"I'm very excited about the possibilities presented by OCTOS. The fund-raising to equip the center is about halfway there," Francis reports. UCSB's development office is soliciting donations for OCTOS after NOAA grants paid for the Marine Education Building on campus land.
Some of the underlying knowledge for education and conservation endeavors derives from the efforts of CINMS Research Coordinator Steve Katz, PhD, Resource Protection Coordinator Sean Hastings, and Cultural Resource Coordinator Robert Schwemmer. The schedules of the RV Shearwater's Terrence Shinn and Charles Lara, captain and first mate, respectively, are coordinated by LTJG Lyndsey Keen of the NOAA Officer Corps.
Shauna Bingham, volunteer/outreach coordinator, guides the 140 Naturalist Corps volunteers supported and trained by the sanctuary and National Park Service. She is trained as a commercial diver and lives in Goleta.
All are important contributors to a uniquely human desire to become stewards of a beautiful and life-giving marine environment that has few equals on the planet.
Vic Cox grew up in Santa Barbara and, with his wife, has lived in Goleta for the past 30 years. He has been a public alternative representative for the Channel Islands Sanctuary Advisory Council since 2010 and a Naturalist Corps volunteer since 2011. Goleta Grapevine appears twice a month at independent.com.