Opinion
Carl P. Woodcock, 1947 – 2013
Surfer
Carl Woodcock died, much as he lived, defiant and rude to just about everyone except those close friends and family he cared so much about. He got the "quickest discharge ever" award from the local rehabilitation facility, and Hospice said they had never worked with such an unpleasant person.
Carl and I grew up in the same neighborhood, across an empty field from each other in Isla Vista when it was still rural. Our brothers were best friends. There were about a dozen of us kids who hung out and surfed together. The deserted beaches, fields of wildflowers, and forests of eucalyptus trees were our kingdom. Then there was an invasion of new people and new buildings that was like the Taliban coming in and destroying the sacred Buddhas. The trees were cut down, the fields were covered with poorly built apartment buildings, and the beaches were overrun with college students who defiled our sacred spots. Most of us figured out a way to adapt to this new reality, but Carl never accepted it.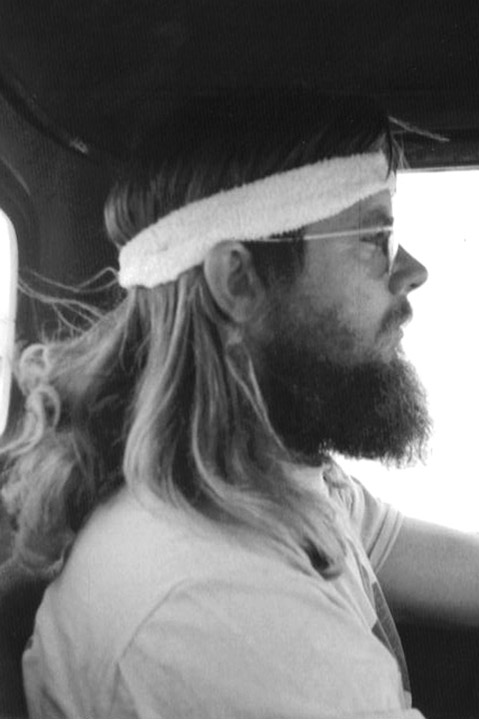 Carl figured out how to buy property on a remote, private beach, away from the destruction that development was causing, and there he went feral. Someone said that he was a surf bum who became a surf legend, but Carl was not a bum. He was very smart, and somewhat dangerous, like the wild boar that live on big ranches.
At his memorial paddle-out celebration, there were nearly 100 people who sat in the water in a circle on a strangely calm day. We were there because we understood what this coastal landscape meant to him, and we understood his anger about its ruin, and we were also there to acknowledge that Carl did what we all wanted to do — he devoted his life to surfing. Not professionally, but personally: for his own selfish pleasure, and for all the other reasons that made him who he was. He made sacrifices to withdraw from society, but while most of us were going to school, working, and raising families, Carl was riding the best waves on the coast, often alone.
Good waves and undeveloped coastal land are limited resources that people fight over, and there are many stories about Carl's confrontations with trespassers. Most of the stories about him are exaggerated, some are not even true, and some are true but falsely attributed to Carl — like slashing tires to warn other surfers to stay away. Carl got accused of many things he didn't do, but whenever I heard a young surfer at UCSB talking about a wild man chasing him away from a surf spot, I thought it must have been Carl.
Carl and I didn't hang out together much after we were old enough to drive and take off on our own separate paths, but it was always good to see him. I thought of him when I was driving to L.A. on business, it was a perfect fall morning, and Rincon was good as it gets, and I knew he was going to be on the beach all day and I wasn't. For all his nefarious behavior there was something noble about his uncompromised devotion to the sea.
He had long hair and a beard — long after bald heads and tattoos became the style. He liked to be naked (it made some people uncomfortable, but he didn't care). He was an unwavering Lakers fan, and he was in a band called the Windoz with his best friends John Elleston, Richie Dwyer, and Denny Aauberg, but surfing always came first.
What he couldn't change or chase away he ignored. I know a guy that worked at the same job with Carl. He told me that for a year Carl would not acknowledge he existed, not even look at him.
He defied his cancer, like he defied other things he did not like, or he didn't want to deal with, and he lived longer than his doctors thought he would, but he slowly got weaker and weaker until he just lay in his bed, unconscious, for two weeks, refusing to die. As always, his younger brother, John, with his wife, Alicia, his younger sister, Aisha, and friend Richie were there for Carl until the end.
When he was still conscious, an old friend who could, offered to help Carl take care of his affairs, sell his house, and write a will, "No … I'm just not into that stuff," he said.
Painters paint (they don't wait around for inspiration), and surfers surf, whether it is big or small or cold or windy, but if it's good they always go surfing. Carl surfed; he surfed very well, especially in big, unruly waves that demanded strength and experience. His style was not flashy, it was not about winning surf contests or being photographed for the media, he was his own man, in every way, and that is his legacy.
Carl is survived by his parents, Carl and Bettie; his son, Shawn; his sisters, Aisha and Lynn; his brothers, John and Vern; and his beloved dog, Zee; who will all miss him dearly.