Visual Arts
Art Seen: Thrift-Shop Art
Chris Silva's Thrift-Store Project in Old Town Goleta
WITH A BROOM: Studio visits are often memorable because they allow a peek behind the scenes at the setting for the creative process. I'll never forget a short film I saw many years ago about the sculptor Claes Oldenburg. For Oldenburg, whose work reimagined household objects as oversized, often soft versions of themselves, the studio was a large loft space with almost no furniture. The center of its wooden floor was bare, and arrayed along the walls were dozens and dozens of objects that he had collected. Working out his ideas typically involved scanning the array with a broom in his hands. When something caught his eye, he'd sweep it to the middle of the room, then push it around a bit, or tip it over with his toe. Watching this process on television at a friend's house as a teenager, I was riveted, but when grandma came in the room and saw what was so interesting, she of course had the last word —"You want to watch someone sweep? I can show you that any day!" Yes, Nana.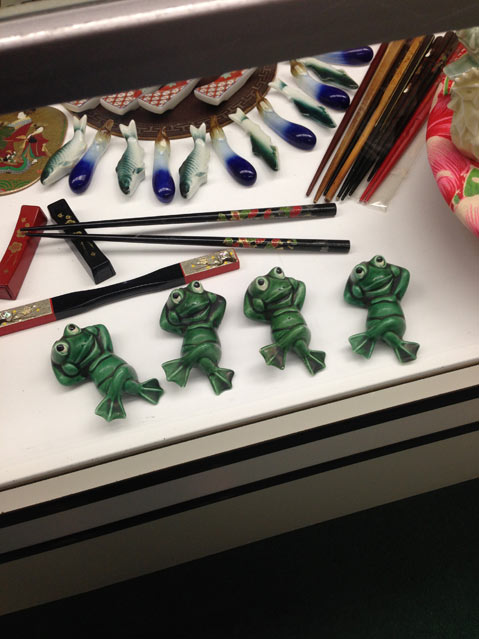 I was reminded of this youthful epiphany just last week when I visited artist Chris Silva's new thrift-shop project at 5860 Hollister Avenue, Suite C, in Goleta (goletathrift.com). Tucked away off the parking behind the 99 cents store, it's about as low profile as storefronts can get, but once inside, there's a delightful sense of expansion in the realm of the senses, and in that of the mind. Silva, a recent graduate of the UCSB MFA program, has an eclectic curatorial sensibility, and in this hybrid of a thrift shop and an art space, he's crossed that with all the energy and persistence of an obsessive craigslist connoisseur. "I was looking for studio space after I finished the MFA program," Silva told me, "and I also had all this stuff that I'd been collecting on craigslist and on Etsy, and I was trying to sell some of it on eBay, but I could only move about 5 percent of what I had accumulated that way."
Looking around the store, I notice that, along with the usual thrift items such as clothing, dishes, and appliances, there are other unexpected things, like dozens of nearly full bottles of expensive perfume, or a half dozen new-looking flat-screen computer monitors. On closer inspection, certain of the usual thrift suspects, like books and DVDs, bear evidence of the curator's hand at work. The books are mostly good (e.g., The Collected Poetry of Robert Frost) or at least useful (Small Engine Repair), and the DVDs include movies by great directors like Ang Lee, John Carpenter, Carl Franklin, and John Frankenheimer.
"But where's the art?" you may well ask. And that seems to be at least part of the point. Silva belongs to a new generation of artists who have gone through art school during the recession, and part of his aesthetic is to live and create in a sustainable way. Yes, he's got a studio on the premises, and he continues to put together his idiosyncratic work there, but the emphasis for now is on the store's capacity to add value to the lives of other artists, as well. "I'm not interested in having unpaid interns," Silva told me. "I'm aiming to staff the place at least at minimum wage. I like being an artist in the thrift district, and I plan on keeping the whole 'boutique' thing out of what I'm doing here."
ONE MORE WEEKEND: … to see Heidi Lender's joyful, sophisticated, and thoroughly contemporary photography at wall space gallery on Yanonali. Lender swept through town on a recent Friday and left a whole wall of brilliant, inspired new work in her wake.