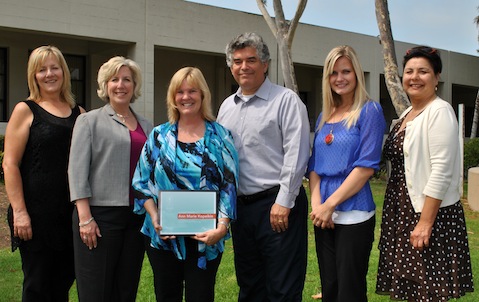 Ann Marie Kopekin, Associate Professor of Vocational Nursing at Santa Barbara City College, was named one of four national recipients of the Assessment Technologies Institute Nursing Education's Nurse's Touch Award. She was among 554 nursing educators from across the country nominated for the award and received the single most nominations of any candidate to date.
Ms. Kopekin was recognized for her leadership ability, excellent interpersonal and professional communication skills and encouragement for students in finding balance between personal and professional needs. As part of her honor, she will receive the Nurse's Touch product for one class for a year. The educational product includes interactive simulators, tutorials, case studies and practice and proctored assessments.
About Santa Barbara City College:
Founded in 1909, Santa Barbara City College currently serves more than 20,000 credit and 12,000 non-credit students per semester/term. In 2013, SBCC was named national co-winner of the prestigious Aspen Institute Prize for Community College Excellence. The college was recognized for its quality and focus in four areas: facilitating underrepresented and minority student success, student learning outcomes, degree completion and transfer rates, and labor market success in securing good jobs after college.