News
Pedaling on Open Streets
S.B. Hosts a Day of Outdoor Fun
¡Calles Vivas! Come on down to Cabrillo Boulevard on Saturday, November 2, and join thousands of Santa Barbarians from 10 a.m. to 4 p.m for our first Open Streetscelebration. More than 2.5 miles of Cabrillo and part of the Funk Zone will be open to bicyclists, pedestrians, skateboarders, families with strollers, Rollerbladers, jugglers, and dog-walkers. Everyone will be able to enjoy a day of people-powered fun. While you bike, walk, or roll you'll be able to listen to music, sample healthy delicious food, shop, visit with old friends, and met new ones. Welcome to the first Santa Barbara Ciclovia!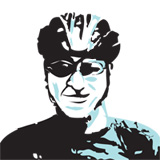 A Ciclovía (pronounced "see clo vee ah") is a street fair powered by people on wheels. If you're wondering where the first Ciclovia (Spanish for bike path) started, for once you won't be gazing to the Northwest cycling mecca of Portland. Weekly street parties have been taking place in the city of Bogotá, Colombia, since 1976. Every Sunday and on holidays from 7 a.m. until 2 p.m. some main streets of Bogota and other cities are blocked off to cars. More than one million people (in a city of 7 million) come out to bike, walk, skate, exercise, play music, dance, and enjoy art together.
Today, you can go to Ciclovias in cities in Australia, Argentina, Belgium, Brazil, Canada, Ecuador, Mexico, New Zealand, and Peru. In the United Sates dozens of cities, large and small (not just Portland!) have Open Street events. Almost 40 years after the first event there are now 200 Open Streets initiatives worldwide. Many cities have weekly events.
Open Streets aren't just fun celebrations. They are another way to support our local businesses. Washington University in St. Louis quantified the economic benefits of Open Streets programs: 73 percent of Ciclovia participants spent money at a restaurant or store on or near the route, and 68 percent became aware of a restaurant or store that was new to them. As I've said in previous columns, cycling is good for area businesses.
Every Ciclovia is different, but all share the idea of temporarily closing streets to motorized vehicles so that people without vehicles can use them. Erika wrote a number of Pedal On columns about the Open Streets movement. Los Angeles' CicLAvia has been hugely popular with over 100,000 people at each event—celebrating with smiles on their faces.
Last year Erika traveled down to Los Angeles with a group of Santa Barbara friends and cyclists. Here's some of her first thoughts as she rode the closed streets of L.A., "I was immediately struck by the broad diversity of riders and by the unified and mellow energy – exhibited even by Los Angeles riders I would normally expect to have a more aggressive, fast, and impatient riding-style. They, too, were there beside me, smiling, patiently waiting at the lights, grooving to the music, taking in the wonder of a day without cars on L.A.'s streets. And most of these riders clearly had been riding bikes for a good while. These were riders with their own biking style, people who have learned to carve out a place for themselves in the urban world of street riding. And the kids were out en masse, charging forward on their little bikes, some still pedaling away on training wheels."
For over a year a small group of dedicated cyclists and community activists have been meeting to plan the first-ever Santa Barbara Open Streets celebration. The group went on fact-finding field trips to other cities' events, met with public officials, attended a national conference, and wrote grants, built a growing team of supporters and the vast infrastructure to make the event a reality.
The Open Streets team has worked hard to bring together many diverse interests, groups, leaders, and businesses under the umbrella of one event. Organizers are expecting 15,000 or more participants to celebrate on wheels and foot.
This year's S.B. Open Streets route will follow Cabrillo Boulevard from the Andrée Clark Bird Refuge (at Los Patos Way) to Helena Avenue, with a Funk Zone spur looping down Helena to Mason Street, then back to Cabrillo via Anacapa Street. You can check out the Open Streets route map for details.
Open Streets isn't a race. There is no start or finish. It's not a competitive or athletic event. Instead of a traffic clogged street, Cabrillo Boulevard, for a day, will be a fun place where cyclists and others can celebrate the space as they see fit and at their own pace.
At the end of a long day at Los Angeles CicLAvia last year Erika wrote that, "Our ride home resembled a daydream I have often had while riding in traffic-clogged urban areas. Wide streets, filled with bicyclists, zooming along, not having to stick to the small strip of right-hand roadway. A dream come true, in the streets of Los Angeles!"
That dream will be in Santa Barbara in a few weeks. Come on down to Cabrillo on November 2 with your bike, skates, rollerblades, scooters, trikes, unicycles, pogo sticks, or baby stroller. The streets will be open and alive!