Sports
High School Girls' Tennis, Golf, and Volleyball
Dos Pueblos, San Marcos, and Santa Barbara Girls' Teams Are Taking SoCal By Storm
Santa Barbara high schools have a wealth of athletic talent coupled with a long-standing reputation of winning. This year, the area girls' teams are taking Southern California by storm. Three standouts are Dos Pueblos High girls' golf, which stands undefeated 14-0 overall and 8-0 league; Santa Barbara High girls' tennis, which is 11-3 overall and 8-0 league; and San Marcos High girls' volleyball at 7-1 overall and 4-1 league.
Tennis Time
The Santa Barbara High girls' tennis team is at its prime with 35 consecutive Channel League championships. "It feels good," said senior Karina Thornton,"just keeping the history going." Although the Dons lost to Corona del Mar Saturday, October 19, (10-8) the play was strong. Thornton and Lexy Gulden played solid doubles with a 6-3 win but a 7-5 and 3-6 loss at the net. "We played them so closely," said Gulden. "We were really evenly matched, and if things would have gone a few points the other way, we would have had it."
The Dons are losing five seniors at the end of this season, which leaves big shoes to fill for the four juniors stepping up. "Having five seniors is good for this year," said head coach Greg Tebbe. "For next year, it's not so good because you have to replace them."
A first-year head coach and 1981 SBHS alumni, Tebbe thinks the momentum will stay at a steady pace, but with competition like San Marcos and Dos Pueblos, it will be difficult. Santa Barbara's three high schools are tennis powerhouses — and in-town rivals.
"Santa Barbara is a big tennis town," said Tebbe. "When you come someplace that has a successful history like [SBHS], I think it helps you put a little more pressure on yourself and maybe work a little harder."
SBHS has two top-ranked singles players this year, juniors Mattea Kilstoft and Madison Hale. Kilstoft is currently ranked 28 in California and nationally at 133; Hale is ranked 50 in California and 278 nationally.
Having two ranked players on the team has been a huge help for the Dons, especially with Southern California being the toughest region of play, said Tebbe. "At the end of the day, it's still an amazing streak, and it's hard to explain it all," he said. "I'm kind of part of the streak, back as a player and now as a coach. I'm a longtime leader."
Golf Go-Getters
Another Santa Barbara longtime leader is the Dos Pueblos High Chargers girls' golf team. The Chargers have won 16 straight Channels League Championships. "We've gotten a lot of really good players over the years," said head coach Rob Schiff. "We work really hard, take the game seriously, and want to get better."
With a balanced team of three sophomores, six juniors, and two seniors, the Chargers aren't worried about losing star seniors like Leah Dunn. Dunn was the only senior playing on the second day of the Channel League Championships at Soule Park in Ojai. "I know the girls will do well next year and years after that," said Dunn. "They will carry on the Channel League Championships so I'm not too worried about them."
Carrying on the tradition, sophomore Meagan Caird shot six over par 71 to clinch the Channel League champion title. Sophomore Jamie Sharpe came in fourth and moved on to the CIF regional competition October 28. Sharpe shot 93 and Caird shot 98, with neither of them advancing.
With two seasons left, Caird is confident that she and the rest of the returning players can keep the success going. "We have some really good players that can go really low," said Caird. "If someone has a bad round, we can still outscore everyone else."
The team has a family advantage, as Macy Broesamle's father, Trevor Broesamle, owns GolfTEC, an indoor golfing facility in town. He has helped the team and individuals like Dunn improve their game, swing, and physical strengths. Macy Broesamle said it's good to "have that kind of community."
With a strong team of sophomores and juniors, the 2014 season looks like it will bring another big win. "As a team, we have grown individually," said junior Miraya Ramirez. "Through school, we're not just teammates; we're all really good friends."
Volleyball Victory
Camaraderie is important in any sport where the team depends on each other to win. San Marcos girls' volleyball is a perfect example of that. With the return of Emily Allen after eight months of recovery from a torn ACL, the team is pumped up and ready to take the rest of the season in stride.
The Royals played the Dons in a rival game where the two showed off their defense and offense strengths. The Dons couldn't stop the Royals' hitting power as the Royals played double Allens — with both Emily and her sister Chloe Allen on the court. "It was really good to come back in a really heated completion game," said Emily. "My teammates were always there for me, so that was really nice."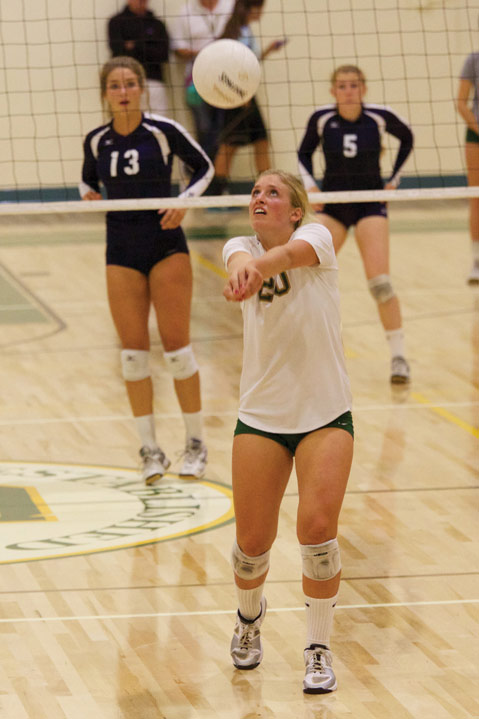 Next year is looking like a young team, as nine seniors will be graduating this year. Allen is excited for the challenge and leading the team next year as this season comes to a close. "You never know after an ACL injury what you're gonna get back," said head coach Erica Downing. "It's partly physical and partly mental. I think the mental side, [Emily] was not prepared. She came back a little nervous. But the physical side, she was prepared. She took all the right steps to put her body back into shape."
Not only does Allen bring a strong playing advantage to the court by creating plays; she also brings consistency and calmness said Downing. "Emily is a one-of-a-kind kid that you don't find often. [Her return] was perfect timing," she said. "We were kind of still trying out different lineups. Having her come back was huge for us."
With the Tournament of Champions coming up, the team is preparing to take on the rival competition. "We grind pretty hard," said Downing. "The Tournament of Champions is always fun. It's local, and you get the best competition. In the last few years, we've started to become more competitive. I think this year, we should be the most competitive we've been in a decade."
The Royals will play in the Tournament of Champions November 1-2 at Santa Barbara High.
The last few years seem to have been the best of the best for all three of the teams. With great team dynamics and experienced coaching staffs, the Santa Barbara area is keeping the tradition of being champions.