News
Celebrate National Shelter Appreciation Week!
Shelters Pay a Priceless Role in Communities
In 1996, the Humane Society of the United States (HSUS) launched National Animal Shelter Appreciation Week. The campaign was created to shine a light on the priceless role shelters play in our communities and to increase public awareness of animal welfare issues and shelter services. During National Animal Shelter Appreciation Week, the first full week of every November, the HSUS promotes and celebrates animal shelters and rescue groups across the country.
Most people probably don't realize how many animals are cared for by animal shelters across the nation each day. Unless you are submerged in the environment of an animal shelter, it's tough to fathom. I was the manager of shelter in Detroit that took in close to 100 animals per day, every day, 365 days a year. To help the efforts that animal shelters go through on a daily basis, the best thing you can do is make sure you are part of the solution and not part of the problem. Here's how to become part of the solution:
Spay or Neuter Your Pet
If you are a pet owner, make sure your pet is spayed or neutered. Animal shelters have to deal with millions of unwanted pets each year, simply because owners fail to spay and neuter. An added benefit to you as the pet owner is that certain undesirable behaviors may be altered with spaying or neutering. For example, animals tend to roam less, and fewer will mark their territory once they are spayed or neutered. Plus, you won't have to worry about your female dog or cat going into heat.
Own Your Pet for Life
If you own a pet, remember that pet ownership is a lifetime commitment. Many of us pet owners will get married, have children, move, start a new job, etc., throughout our pet's lifetime. When these changes occur, it should not be a reason to give up your pet.
Also, studies have shown that regardless of the reason given when an animal is surrendered to a shelter, behavior problems are the underlying issue most of the time. If your pet has a correctable behavior problem, try to get professional advice and training before you opt to hand over your pet to an already overpopulated shelter.
Identify Your Pet
According to the National Council on Pet Population Study, about one million stray dogs and half a million stray cats are turned in to shelters across the nation each year. Unfortunately, only 15 percent of those dogs and a measly 2 percent of those cats are ever reunited with their owners. Don't let your pet become a statistic by making sure you have the proper identification on your pet at all times. For more information on identifying your pet, review this previous Pet Chat column.
Before You Shop, ADOPT
If you don't own a pet but would like to, choose an animal shelter over a pet store. There are many shelters in the Santa Barbara area alone with hundreds of pets looking for loving homes. Even if you're looking for a purebred, you may find one at an animal shelter. Studies show that over 30 percent of shelter animals are purebred. If you don't see what you're looking for at a local animal shelter, you can go online. Go to petfinder.com, and you can search by your area and the type of animal you're looking for based on breed, sex, and even color.
Volunteer Your Time
If you can't adopt a pet, consider helping out a shelter by volunteering your time there or fostering an animal. Not only will you be helping animals in your community, but you also will be building knowledge and skills. Call your local shelter, and find out how to start volunteering.
Donate Old Toys or Beds
If your pets have items they no longer use, consider donating them to your local shelter instead of throwing them away. Many shelters will wash and reuse old beds and toys.
Become a Fan
"Like" the Shelter Pet Project on Facebook. Then, if possible, "like" the individual groups in your community, too.
Celebrate National Shelter Appreciation week by becoming part of the solution!
Adoptable Pet of the Week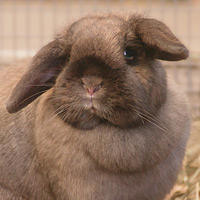 Hope is a gorgeous, female Holland lop who is looking for a loving home. Holland lops are known for their sweet temperament and nonaggressive behavior, though they retain a certain doglike tenacity, which most people love! To see if Hope is the right rabbit for you, hop on over to BUNS today! All rabbits at BUNS are spayed or neutered prior to adoption.
Bunnies Urgently Needing Shelter (BUNS) is a volunteer organization that cares for abandoned rabbits. BUNS is located at the Santa Barbara County Animal Shelter, 5473 Overpass Road. BUNS works to find bunnies permanent homes and educates the public on caring for a companion rabbit. You can call the County Shelter at (805) 681-5285 or call BUNS at (805) 683-0521 and leave a message for someone to call you back. For more information, visit bunssb.org.