News
Lopez Crashes and Burns; Armstrong Wins
City Hall Bigwigs Engage in Big Wheel Race; Armstrong Questions Caltrans
No, this was not the latest socially engineered alternative transportation scheme to be inflicted on unsuspecting motorists by utopian anti-car crusaders at City Hall. Rather, it was a showdown between City Administrator Jim Armstrong and his assistant Marcelo Lopez as part of a United Way fundraiser that took place Thursday at noon in the Public Works yard by Garden and Ortega streets. Lopez, a onetime cross-country runner of some accomplishment, showed up theatrically late, draped in a gaudy Oakland Raiders robe and wearing a black beret as the Rocky theme song blared over a PA system.
Lopez, who vowed to make short shrift of his giggling boss, peeled off his robe to reveal the tuxedo shirt and monogrammed — "M," of course — scarf he was wearing underneath. "I was issued a formal challenge," Lopez said, explaining his choice of formal wear for the event. Lopez got off to a fast lead in his Big Wheel-type contraption, but lost control in the second lap, allowing Armstrong to come from behind and win easily. Armstrong explained afterward he banked on Lopez making a "rookie" mistake that would allow him to win. The proceeds of their $50 wager went to United Way.
On a less lighthearted note, Armstrong sent a memo to Caltrans district director Tim Gubbins earlier this week wondering if and when the city's Planning Commission would hear back from Caltrans in response to the three-page letter the planning body wrote in September detailing a list of concerns it has with the latest plans to widen Highway 101 and install an HOV lane. The Planning Commission expressed serious reservations about the adequacy of the draft environmental impact report Caltrans prepared for the $500 million expansion project. The commissioners objected that the report failed to detail the increased congestion the freeway expansion would cause at interchanges between Mission and Las Positas and to the city streets in that area as well.
They also insisted that Caltrans needed to incorporate the widening of the railroad bridge by the Bird Refuge as part of the project definition if Caltrans wanted City Hall to sign off on the permits needed for the project to go forward. Without that bridge widening, city traffic engineers have expressed abiding alarm that southbound traffic on Cabrillo Boulevard will back up to an unacceptable degree. Caltrans — and officials with the Santa Barbara County Association of Governments — have insisted that the bridge-widening work will get done but have refused thus far to include that element into the official project description, explaining that to do so would delay the project even longer than it's already been.
Gubbins is out of his office and won't be back until Tuesday, but his spokesperson, Jim Shivers, said they expect to schedule another meeting at a later date. Shivers said that Caltrans typically responds to everything and that he fully expects it will with the Planning Commission. As to when, however, he could not say.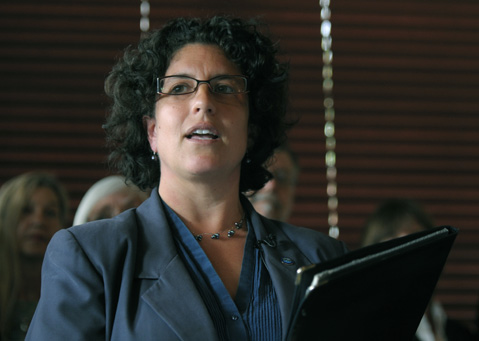 Armstrong noted in his letter an article that appeared earlier this week on the news website Noozhawk detailing a trip made to Sacramento by Goleta Mayor Roger Aceves and Chamber of Commerce President Ken Oplinger to urge Caltrans chief Malcolm Dougherty to proceed with the widening project post haste. That position puts Aceves and Oplinger at odds with Santa Barbara Mayor Helene Schneider, who met with Dougherty earlier this summer and threatened to block approval unless the bridge-widening issue was resolved and unless Caltrans met with representatives of Commonsense 101 — the Montecito organization agitating to retain the existing left-hand off-ramps by the 101-Cabrillo interchange. Dougherty has insisted that left-hand off-ramps are inherently unsafe because they run counter to driver expectations and vowed to oppose any and all efforts to retain them while speaking to the county supervisors this May.
After Schneider's visit this summer, Dougherty was instructed to arrange meetings with Commonsense 101 to hash out exactly what the safety and accident data indicated. Commonsense 101 has insisted that the data shows that the left-hand off-ramps have no bearing on the intersection's safety profile. The group insists that by retaining the left-hand off-ramps, the freeway-widening project can be finished faster and at considerably less cost. Caltrans claims it spent hundreds of thousands of dollars studying the matter and concluded that the Commonsense 101 approach will save neither time nor money, and will not be as safe as the traditional right-hand lane off-ramp.
The issue provided this fall's City Council race its only abiding element of significant acrimony. Mayor Schneider expressed concern that candidate — and former councilmember — Gregg Hart had a serious conflict of interest because he works as spokesperson and political strategist for the Santa Barbara Association of County Governments — SBCAG — and as such has been a strong proponent of the existing freeway-widening plan. Hart has insisted that the railroad bridge widening sought by City Hall should not be included in the project description — as Schneider has demanded — but has said that the work City Hall wants will get done some way, somehow. Schneider and city transportation planners have dismissed such assurances as "trust us," pointing out previous promises made for the same work remain unfulfilled.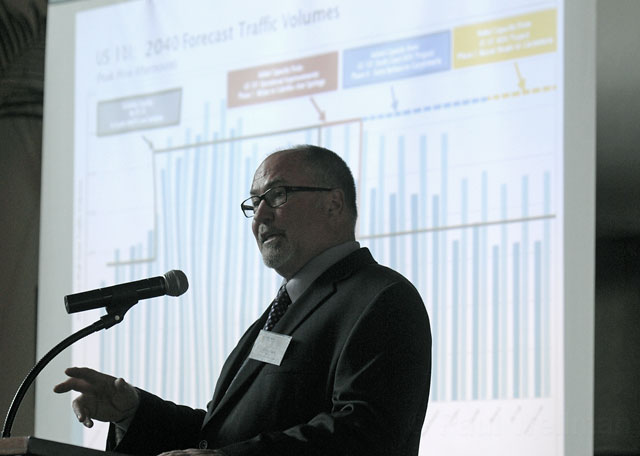 The issue came to a boil in the last days of the campaign as a political organization identifying itself as "Concerned Citizens Against Conflicts of Interest" took out a hit piece advertisement against Hart on just this issue in both the Santa Barbara News-Press and The Santa Barbara Independent. Because the organization failed to properly secure the necessary political committee designations from the Secretary of State's office, Hart's campaign managed to keep similar ads from airing on TV and radio. The individuals involved with taking out the ads have ties to Commonsense 101, an organization that has hired Schneider's longtime political advisor Jeremy Lindaman as its consultant.
Relations between Schneider and the Democratic Central Committee — which endorsed Hart for City Council — were already strained. This ad has only made the bad relations more frayed. Despite this opposition, Hart placed second among the 10 candidates running for the three council seats, meaning he will be sworn in for a third term this coming January. City Attorney Steve Wiley has already opined that Hart's employment by SBCAG does not constitute a conflict of interest under the legal technicalities of state law — leaving open the question of the proverbial "smell test." It's all but certain that the state's Fair Political Practices Commission will be asked to weigh in on the issue.