Cover Story
Local Heroes 2013
Our 28th Annual Celebration of Exceptional Community Members
by Kelsey Brugger, Aly Comingore, Charles Donelan, Brandon Fastman, Tyler Hayden, Lyz Hoffman, Shannon Kelley, Matt Kettmann, and Nick Welsh
When Florence Nightingale proclaimed that "the greatest heroes are those who do their duty in the daily grind of domestic affairs whilst the world whirls as a maddening dreidel," she summed up the essence of The Santa Barbara Independent's 28th annual Local Heroes honorees.
The folks being recognized this year include a woman who has devoted her life to caring for foster children; a dentist who brought proper oral care to rural Afghanis; an animal advocate who cares for and rehabilitates injured birds; two men who are redefining and teaching young men what it means to be a man today; and a group of volunteers who share their love and knowledge of art with visitors to the Museum of Art. Each year we are humbled by the giving nature of these people and organizations, and we are always reminded that their civic involvement, spirit of support, and genuine care for neighbors keep our community's heart beating.
Read on to learn about these outstanding individuals who make up 2013's class of Local Heroes.
Hathor Hammett: Multitasking Volunteer
"I'm just one of those people who can't sit back and let things happen. There's always something I can do." Hathor Hammett's words couldn't be truer. For the past 35 years, Hammett has volunteered for the Rape Crisis Center, where her work includes planning activities for Sexual Assault Awareness Month every April. She started working there, she said, after two of her friends were raped and murdered in the 1970s. "I promised my friends who died that I would always be part of the movement," said Hammett, who has also sat on the board of the Santa Barbara Women's Political Committee for a decade.
For Take Back the Night events, she donates her musical skills ​— ​she plays the drums and the guitar ​— ​and for people who are dying, she donates her voice as a member of the Threshold Choir, the Santa Barbara chapter of which she helped found. The choir, she said, comforts people with everything from hymns and Broadway tunes to Beatles songs and their own original music.
For the past six years, Hammett has put her mask-making skills to use at Solstice, helping craft colorful works of art that she said are "fun and liberating," especially for shy people like herself. The longtime Santa Barbaran ​— ​who also works as an organic gardener and sits on the committee for the LGBTQ Film Festival ​— ​said this community is a big reason why she gives back: "It's where I feel like my niche is."
James Rolfe: Dogged Dentist
Dr. James Rolfe has dealt with a car bombing and two scam artists ​— ​among other hurdles ​— ​in his years-long quest: to provide the people of Afghanistan with proper dental care. Rolfe first visited the country in 2003, bringing a portable dental operating system on the plane with him, and after that initial visit, he realized he wanted to do more. The Afghanistan Dental Relief Project was born. Rolfe has fought many battles and spent many dollars ​— ​$100,000 a year ​— ​to get his Kabul clinic opened, but he has also helped treat more than 100,000 people, who before would have to get their abscessed teeth pulled sans anesthesia at the local barber.
Rolfe, whose Santa Barbara dental office ​— ​which he built himself and is replete with musical instruments and potted plants ​— ​sits next door to the Lobero Theatre, said that most of Afghanistan's dentists practice in the cities, while most of the people live in the rural areas. To solve that, Rolfe's clinic not only serves citizens ​— ​mostly women and children ​— ​but also trains them to become dental hygienists.
His project is hard work, the 74-year-old said, but the clinic should be fully sustainable in a year. "This is all something that happened because I decided to make it happen," he said. "Each of us has the opportunity to do with our lives what we want to do. I went there to see what I could do."
Darcy Keep: Mental Health Advocate
Darcy Keep starts about three months out, organizing artists, creating flyers, designing posters, and ordering custom T-shirts. For more than a decade, Keep has kept the annual Mental Health Arts Festival humming, every year pouring thousands of dollars of her own money and months of her time into its success. All of her hard work ​— ​which she emphasized is supplemented by that of 15 to 20 volunteers ​— ​is, she said, always all worth it. "If you could see how happy it makes [the artists], you would never not want to do it," said Keep, who reignited the festival after it had stalled for a few years.
Every October, 60 to 70 Santa Barbarans with mental illness participate, displaying in De la Guerra Plaza their paintings, drawings, origami, and jewelry. "It's one of the ways to de-stigmatize mental illness," she said. "Our goal is to try to change people's perspective."
Keep, who has worked as Cottage Hospital's director of Inpatient Psychiatric and Chemical Dependency Services since 1998, when she moved here from Fresno, said that volunteering is her favorite way to stay busy and that if everyone were to do so ​— ​for whatever cause ​— ​it would make a huge difference. "I feel really fortunate in life, which makes me want to give to other people," she said, pointing to a collage hanging on her office wall showing photos from prior festivals. "If you could just see the smiles on their faces ​— ​it's so gratifying."
Emma-Jane Huerta: Theater Mentor
"I love my job!" says Emma-Jane Huerta. It's this genuine enthusiasm for teaching ​— ​and for theater ​— ​that makes her such a hero to the Peabody community, where, for 15 years, she has run the Upstarts Youth Theatre program.
A thoughtful mentor to the stars and the backstage crew alike ​— ​often working as the sole "grown-up" with 30 kids ​— ​Huerta does double and triple duty: writing the scripts (it's the rare kids' plays that keep the parents entertained, too); coaching the actors; managing the costumes, scenery, and music; and even doing the publicity and overseeing ticket sales.
It's a labor of love, and she really loves it. "I get to work with fresh young minds every day. I see kids' imaginations come to life as they realize the power they have as performers, as storytellers. I've been telling stories my whole life; now I get to create fantastic productions while instilling in all my kids a passion for theater," she said. "The kids in Upstarts learn so much more than producing a play ​— ​responsibility, teamwork, empathy, camaraderie, self-confidence, and the amazing payoff that all their hard work brings on opening night. These are qualities that build great humans, not just great actors. … I am so proud of all of them. I feel like I have hundreds of children!"
Gabriele Drozdowski: Bird Woman of S.B.
When the warm currents of 1991's El Niño upset the balance of our coastal ecosystem, many seabirds were left starving, injured, or both, and the Wildlife Conservation Network (WCN) was overwhelmed. Years earlier, Gabriele Drozdowski and her husband had received an aviary, a castoff from friends. Someone at the Wildlife Conservation Network heard about it and called to see if they'd consider taking in some birds. They said yes.
"Our first was a big brown pelican ​— ​they were endangered then ​— ​one look in his eyes, and we were hooked," Drozdowski said today. "That ancientness, it was like I was looking back in time, seeing him on the ocean a million years ago. It was incredible."
Though that pelican didn't make it (nor did the next), the third did, and Drozdowski and her husband, who passed away in 2006, kept at it, learning entirely by doing. For seven years, they worked with the WCN, and in 1998, they took two raptors, Ivan, a red-tailed hawk, and Max, a great horned owl, into their home and began working as a satellite for the Ojai Raptor Center. In 2000, Drozdowski, passionate about educating people about these beautiful and intelligent creatures, began bringing the birds into schools, as Eyes in the Sky.
But, while their landlord had been accommodating, allowing them to transform their home into a sanctuary for the birds, they knew they'd need to move at some point and worried for the birds. Fate swooped in when Dr. Karl Hutterer from the Museum of Natural History contacted Drozdowski, offering to build an aviary at the museum. Now the students could come to her.
Today, there are three owls, one hawk (Ivan), and three falcons out every afternoon at the museum, and 35 volunteers that care for them. Drozdowski still takes Max home with her a couple of nights a week. "He's chosen me as his mate," she said, "I could do worse!"
Sheila Lodge: Slow-Growth Advocate
One admiring adversary described Sheila Lodge, Santa Barbara's former mayor now sitting on the planning commission, as having "the patience of a safecracker." If true ​— ​and it undeniably is ​— ​Lodge has left fingerprints indelibly imprinted all over the city she loves with such abiding tenacity.
More than 40 years ago, Lodge ​— ​who moved to Santa Barbara in 1952 ​— ​was part of the wave of slow-growthers and enviros who first wrested control of City Hall from the real-estate and business interests that traditionally called the shots. Serving initially as planning commissioner, then as councilmember, and then as mayor ​— ​for three terms ​— ​Lodge helped cut in half Santa Barbara's maximum residential and commercial build-out. At that time, this was radical, heady stuff. Without such dramatic changes, Lodge argued, Santa Barbara's projected growth was unsustainable and would destroy the human scale and historic character that makes Santa Barbara so desirable a place.
Then as now, Lodge proved a stickler for detail and was absolutely relentless. After a brief "retirement" ​— ​during which Lodge served as docent for the courthouse and for the Botanic Garden—she rejoined the planning commission. There, she's emerged as the most vocal champion of the slow-growth preservationist agenda.
As such, Lodge ​— ​a liberal on social issues ​— ​has often found herself at odds with the "smart-growth" platform now embraced by the council's liberal majority and in sync with the new school of conservatives. "They've changed; I haven't," she said of her former allies with the Democratic Party. Even while advocating her broader vision, Lodge was never one to neglect the fine print of policy making, successfully inserting changes to protect Santa Barbara's architectural heritage into a major planning document many years in the making. That Lodge has remained engaged long after her former colleagues fell away from the fray should surprise no one. "I was never one to sit quietly at home," she explained. "I love this town and have always felt very possessive about it."
Paul Cronshaw and Todd Bebb: Beekeepers
If honeybees worldwide are experiencing a precipitous decline, it's not due to any lack of effort on the part of Santa Barbara beekeepers Paul Cronshaw and Todd Bebb. Together, this Mutt-and-Jeff team has provided the one-two punch to make the recently formed Santa Barbara Beekeepers Association a force to be reckoned with. "It's not about the honey. We're all about helping bees help people," Cronshaw explained.
Lightning struck three years ago when Bebb ​— ​a backyard organic gardener endowed with an irresistible organizational impulse ​— ​took a beekeeping class from the boundlessly effervescent Cronshaw, whose 40 years working with hives qualifies him as Santa Barbara's reigning guru. Since then, the two and their newly formed association ​— ​which boasts nearly 200 members ​— ​has conducted 400 bee rescues, researched hive die-offs, and packed the Riviera Theatre this summer with a screening of More Than Honey, a cinematically astonishing documentary on the plight of bees worldwide.
When state agriculture officials ordered area citrus groves sprayed with pesticides that threatened the health of the bees then pollinating those trees, the association made sure the sprayers were acutely aware of its buzzing members' presence and that any damage was minimized.
In an effort to incubate a new generation of beekeepers, Bebb and Cronshaw secured a grant through La Cuesta school ​— ​where Cronshaw teaches ​— ​to start a paid internship program, schooling at-risk teens in the arts of beekeeping. They've graduated the first class already
Rene Andrade: King of Access
When the Tea Fires hit the foothills five years ago, Rene Andrade did not hesitate to rush to the scene. Not a firefighter or first responder, Andrade is the Operations Manager at Easy Lift Transportation. He quickly dispatched vehicles to retirement homes in the hazardous areas. "It's almost a miracle it happened in that amount of time," Ernesto Paredes said about the operation, explaining that Easy Lift vans took seniors to a Red Cross site at UCSB after evacuations.
Easy Lift is a nonprofit that transports senior citizens and disabled persons anywhere in town for $7 round-trip. Paredes, executive director, hired Andrade as a driver in 1992 when he had just returned to Santa Barbara after college. Now, 22 years later, Andrade oversees 25 drivers each day and has watched the company double its vehicles and expand its routes. It provides about 275 rides every weekday, or about 80,000 rides each year. The services give those who need a lift rides to anywhere including the grocery store, the movies, or a special event in Santa Barbara.
"I never have to wonder if he'll follow through," Paredes said, adding that Andrade's gentleness with seniors and disabled people is exceptional and has persisted for over two decades. Paredes likes to call him the "king of access" because his work has helped people participate in much of the great culture in town. "As small as this can be, I know we're making a difference in people's lives," Andrade said.
Lillian Pipersburg: Foster Mom
Lillian Pipersburg has had about 180 kids. Though she only gave birth to four children, she treated the rest as her own and welcomed them into her home with open arms. A long-term foster mom and retired probation officer, Pipersburg spent the past five years running and living at the county's only emergency foster-care shelter. A Santa Barbara native, Pipersburg recently returned to her Mesa home and has already renewed her license to be a foster parent.
At the shelter, she cared for up to six kids at a time and would accept children in need from across the county at all hours of the night. Until the child was placed in a more permanent home, Pipersburg acted as a temporary mother and provided a healthy dose of both strength and compassion. "I take the 'tough love' approach," she said. Treat everyone with respect and take a bath every day are her two key rules.
"She unconditionally gives so much to people she doesn't know," said Franklin Elementary School Principal Casie Killgore, who nominated Pipersburg for the award. "She gives them hope." Killgore met Pipersburg one day in the office at school and was so impressed with her dedication that she decided to take in a child, as well. "These are kids in our community that are going to grow up and have kids of their own," Killgore added.
Pipersburg has kept in touch with many of the children who have spent time under her roof, forming lifelong relationships. Pipersburg has plenty of soccer games, graduation ceremonies, and weddings to attend. Some kids call her their "awesome aunt," some say "nanny." "[They all] work for me," she said. "I would never try to substitute for their parents. Kids need to go home." She just provides a sanctuary in the meantime.
Paul Lewis and Martin Leyva: Muscular Mentors
Paul Lewis and Martin Leyva present two competing visions of masculinity. Lewis is statuesque and sports a crew cut. The sentinel-like Santa Barbara native even considered joining the military after high school. Leyva is broad-shouldered and stocky, his torso covered in tattoos that go back to his days as a gangbanger. Lewis hopes to earn a degree in public administration; Leyva, who founded the Transitions class for parolees at Santa Barbara City College, is an aspiring sociologist. The reserved Lewis hopes to be a public servant whereas an outspoken Leyva, as of late, has been advocating against police brutality. The two are an unlikely pair, but they both complement each other as CORE facilitators at the Academy of Healing Arts (AHA!), where they foster social and emotional intelligence in adolescents.
While they run several programs such as Peace Builders at Santa Barbara High School, where about 60 students are learning how to communicate across their differences and stand up for classmates who are being bullied, Lewis and Leyva say their favorite activity to facilitate is "guys' group," in which young men ostensibly discuss relationships and sexuality but also just talk about what it means to be a man. Lewis said the teenagers in the group learn that one can be strong and emotionally aware at the same time.
AHA! codirector Jennifer Freed said that Lewis and Leyva, who look like tough guys, use their toughness to fight against racism, sexism, and homophobia. "Every day," she said, "they are people who stand up for the rights of everybody." Most importantly, they are passing on inner resilience to Santa Barbara's youth, ensuring that the future of Santa Barbara is safe, tolerant, and inclusive.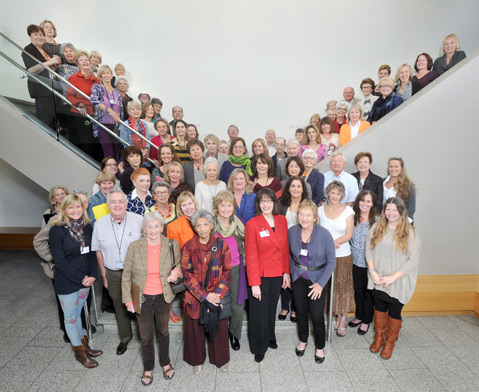 Santa Barbara Museum of Art Docents: Volunteer Superstars
There's something wonderfully democratic about visiting a great public art museum, where anyone may enter and share not only in the private aesthetic experience of appreciating the art but also in the social one of describing and discussing it with others. At the Santa Barbara Museum of Art, a highly trained and rigorously evaluated team of volunteer docents takes this social experience to the next level by giving tours and listening intently to the voices of those they guide through the museum's galleries. It's a passion that grows with the person who feels it and links those who share it into an unusually close-knit extended family of friends. Even in a town known for its commitment to community service, the docents of the SBMA stand out. As Patsy Hicks, the museum's director of education, said, "They are so loyal ​— ​not only to the museum, but to each other."
Each docent must participate in a full year of provisional service before being admitted to the regular roster, and even then they remain subject to periodic evaluations to ensure the quality of the tours they give is up to the museum's strict standards. Yet rather than resenting this burden, the docents respond to it, as they do to the museum's patrons and the art, with open hearts and minds. In addition to all the many tours they conduct, the docents arrive at the museum without fail en masse every Thursday to participate in continuing-education projects, to read in the library, and to connect with one another. "They activate the art for people," said Hicks, "and that puts them in touch with the sublime."
For this gift to the community, and for all they do for one another, the docents of the SBMA are local heroes.
Alan Brown: The Sweetest Soundman
Plenty dream of becoming rock 'n' roll stars, but those who do will be the first to tell you: Life as a working musician is no walk in the park. Between constant travel and little pay, living the dream can be a struggle, so when a comrade comes along, it's usually worth writing home about. That's where Alan Brown comes in. Since starting his tenure at SOhO Restaurant & Music Club 15 years ago, the soundman has become one of the venue's most beloved assets. Behind the board, Brown is a shrewd ear, for certain, but it's his easygoing attitude and kind, patient demeanor that has helped elevate him to hero status among the Santa Barbara music scene.
In many ways, he fits in perfectly with SOhO's mission statement, which has always been about community first and foremost. "It's like family in there," Brown said recently, speaking as much about the club's staff as its patrons and talent, all of whom he treats with the same affable vibe.
"A few months back, there was this folk band from Portland that came through town," he recalled. "One of the members came up to me and just said, 'Thanks for being nice to us.' I asked him why he was thanking me, and he said that the place they played the night before treated them like criminals."
But for Brown, going to work is as much about controlling the feedback as making the bands feel welcome. "In music, everybody's trying to accomplish the same goal," he explained. "It just doesn't do any good to be hostile to people. I mean, what's the point?"
Georgette Friedman: Downtown's Outreach Angel
If you've noticed State Street sporting a few more smiling faces these days ​— ​those friendly folks wearing special vests and ready to help tourists and locals alike find what they're looking for ​— ​you can thank Georgette Friedman, who, since joining the Downtown Organization in 2007, has handled just about every job for the group, which represents 22 square blocks of the city's core.
Now, as operations and sales manager, the tireless Santa Barbara native manages the more than 100 volunteer hosts who staff the information booths at Paseo Nuevo and Hot Spots, as well as the hospitality booths and shuttles down on Cabrillo Boulevard for the cruise-ship visitors. In addition to that, she has boosted the number of downtown visitor maps from 85,000 to 205,000, spearheads the annual Holiday Parade and Art & Wine Tour, and is "available to everybody and anybody at any time," she said.
"There are a lot of great and cool things happening here that I've been able to be part of since the beginning," said Friedman, who started working retail as a child in her family's original Gamekeeper store, which they grew to 91 stores before selling. "I'm the first one to stand up and work, and I have the respect of my volunteers because [of that]. They're my people. They're like my family now. It seems like they'd do anything for me."
Rio Beni Health Foundation: Caring for the Amazon
When Lou Netzer retired in the 1990s and left for South America to learn Spanish, it didn't take too long for the popular Los Olivos doctor to start helping people again. "Help!" he wrote to his friend Christopher Brady (right), who'd spent his career working on humanitarian causes worldwide. "I think I've started a health project."
Netzer died from cancer in 2001, but more than a decade later ​— ​thanks to the efforts of Brady, funding from Direct Relief, and support from many others ​— ​his dream is thriving more vividly than ever. The Rio Beni Health Foundation is a powerful force for good health in the heart of the Bolivian Amazon, where the roughly 10,000 residents of Rurrenabaque and thousands more who live in remote villages along the Rio Beni now have access to care and, via the foundation's installation of 500-plus BioSand filters, clean water.
"A lot of health projects get started by just dumping off meds," said Brady, who travels to Bolivia at least three times a year, including every summer with the El Puente/Walk for a Reason fundraising team of Santa Barbara Middle School students. "We didn't do that. We got to know the communities." That approach helped the Bolivians quickly adopt the program as their own, particularly Joselo Baldarrama (left), who is now the foundation's director. "With Joselo, it became a Bolivian foundation," said Brady. "All of our focus has been on Bolivia and not establishing something here in the States."
Netzer's daughter, Uldine Castel, herself now a doctor in Ventura, believes her dad would be proud, particularly of the sustainable, Bolivian-powered aspect and the preventative focus via the water filters. "It's not just putting a Band-Aid on," said Castel. "[They're] really trying to make a big change."
Marshall Chrostowski: The Therapist Gardener
Just off Highway 101, between Summerland and Carpinteria on the grounds of Pacifica Graduate Institute, there is a botanist's wonderland bursting with edible plants, medicinal shrubs, and colorful flowers from all corners of the globe. It's a place for the public to learn about sustainability, for growing food that's consumed by Pacifica's faculty and students, for getting exotic species accustomed to the South Coast climate, and for connecting with the earth by getting your hands dirty. It's all the brainchild of landscaper extraordinaire Marshall Chrostowski, who started developing the seven acres of on-campus farmland in 1994 and has cultivated its bounty ever since.
"I can't believe I'm still being paid to do this," said Chrostowski, now 77 years old and particularly renowned for his fava beans. "I'm enjoying it so much." In addition, Chrostowski, who also works as a contractor for La Casa de Maria and another 20 clients around town, is deeply involved in the Santa Barbara Seed Saving Guild (which gives away "locally adapted seeds of high quality" to schools and others) and the Foodbank of Santa Barbara County's farm-to-table fundraiser dinners.
After realigning his career trajectory multiple times ​— ​he was a professor of ethnobotany at Northridge until age 36, then was a rosarian to the stars in Bel Air, among other moves ​— ​Chrostowski finally seems at home working on this urban mini-farm that follows French biointesive agriculture. His smooth hands reveal the magic of toiling so long in the soil, and he's witnessed lives changed because people found gardening. "We've mentored a lot of troubled people here and got them straight, without psychology," said Chrostowski. "You just let them work with the earth."
Arthur Kennedy: I.V.'s Silent Steward
By way of Detroit then USC, Arthur Kennedy moved to Isla Vista in the 1960s and has been there since. So what's changed in the seaside town over the last 50-plus years? "The buildings have gotten taller, and so have the basketball players," mused Kennedy, who likes to shoot hoops at the neighborhood court. "I'm not sure I like either."
He may not admit it, but Kennedy has been a key part of Isla Vista's civic and cultural life for decades, helping shape the community populated by hard-partying college kids and hard-working, often low-income, families. He served two terms on the Isla Vista Recreation and Park District's board and has volunteered for its personnel committee for the past 15 years. He was also on the Isla Vista Food Co-op's board, recently working with the much-loved I.V. institution to buy its building. He's a big fan of their raw kale salad.
In 1971, Kennedy ​— ​who had a young daughter at the time and recognized the need for better childcare options in I.V. ​— ​helped create Isla Vista Youth Projects Inc., a popular and thriving collection of facilities and services that includes a children's center, after-school and summer program, and a family resource center. And while he gets paid to do the bookkeeping, work on building projects, make repairs, and provide general guidance and oversight, he donates every penny back to Isla Vista Youth Projects. He supports himself by doing electrical work in the Goleta area.
When asked why he became so involved in I.V.'s nuts and bolts and inner workings ​— ​he's currently working to save the college town's medical clinic, at risk of closure because of funding and ownership issues ​— ​Kennedy shrugged. "It's where I live. It occurred to me that there are things to be done, and there are things I can do."
Kathleen Baushke: Helping Hand for the Homeless
Working with the homeless ​— ​pinpointing needs, creating trust, and ideally helping to render real change in their lives ​— ​is its own art form. Luckily for Santa Barbara's community, there's a master artist in its midst. Kathleen Baushke, executive director of Transition House, became interested in homeless issues during college when she lived in Washington D.C.'s red-light district. "There are basic rights that human beings have," she said. "Shelter is one of them." She moved to the South Coast in the early 1990s and started volunteering with Transition in 1992, fundraising at first but then eventually working in its shelter for overnight shifts. "I spent a lot of time sitting and listening to people's stories," she said. One of the most important lessons Baushke learned is that many homeless people struggle with factors outside of their control and that they're often born into disadvantaged environments with no means of escape. "The injustice of that has kept me involved," she said.
Baushke now oversees 34 staff members at three different facilities who, with the aid of volunteers, help 400 people a year into housing and enroll in programs. Under her leadership, more than 70 percent of families who enter the shelter successfully move back into permanent housing. In the last few years, Baushke has also directed the renovation of the Transition House McCune Family Center, kept a homeless prevention program alive despite loss of funding, and spearheaded the construction of the Mom's apartment complex on Cota Street, which includes a new infant and childcare center.
Baushke said the most rewarding part of her job is watching families who are facing seemingly insurmountable barriers get back on their feet and "feel good about life again." And while Baushke loves what she does, she'd be much more content if there were more affordable housing in Santa Barbara and the problems facing so many on the streets didn't exist. "I'd be happy to work my way out of a job," she said.
Manny Chavira: A Handler with Care
Earlier this year, Santa Barbara Postal Service employee Manuel Chavira found himself the unsuspecting recipient of a whole lot of media attention ​— ​all because he followed his gut. Chavira, 35, has spent 13 years delivering mail to the folks on his route ​— ​an Upper Eastside loop that stretches from Micheltorena Street to the Mission ​— ​and over the course of those years has become friendly with many of his customers.
One such friend and patron was Mary, an elderly woman who lived alone on Manny's route. "Over the last couple of years, we'd talk and say hi," recalled Chavira. "She had a little garden, and she worked on it everyday around noon; she knew what time it was when I would stop by." The familiarity came as a blessing one afternoon in March, when Chavira noted that Mary's mail hadn't been picked up and alerted a neighbor, who then alerted the police. The old woman was quickly found by a friend and said neighbor on the floor of her bathroom, where she had been for three days. Though Mary passed away late this summer, friends are confident that Chavira saved her life and allowed her the opportunity to say good-bye to her loved ones.
As for Chavira, he considers his feat to be less heroic and more in line with the reason he joined the Postal Service to begin with. "I've seen some of these people grow up, go off to school, and come back with babies," Chavira said. "You build a relationship with them; I know about them, and they know about me and my family. It's very rewarding."
Anthony Rodriguez: Helping Those in Trouble
When you discover your teenage son with a rope around his neck, whom do you call? In Santa Barbara, that someone increasingly is Anthony Rodriguez, a low-key dynamo with a rare gift for emergency response. "I just listen," Rodriguez said. More than that, Rodriguez makes it his mission to show up and be there when trouble strikes. And trouble is something he knows about. A 39-year-old native of East Los Angeles, Rodriguez had been sexually abused as a kid by a relative; tried his hand at suicide and failed; and ran with decidedly the wrong crowd. He turned things around, he said, after burying too many friends. Today, he runs a program out of Our Lady of Guadalupe ​— ​where he volunteers as an educational outreach worker ​— ​teaching kids how to protect themselves against sexual abuse and teaching parents how to pay attention.
In addition, he is the motor force behind the Santa Barbara Response Network, which provides psychological first aid to families of suicide and homicide victims. As such, he provides a much-needed ear and shoulder to those burdened with inconsolable grief, reminding them they are not nearly as alone as they most certainly feel. For those without the means to bury their loved one, Rodriguez helps organize the car washes and T-shirt sales to raise the funds needed. And he helps first responders take care of themselves, teaching self-help techniques to those who have to clean up afterward, like ServiceMaster employees.
To let off steam, Rodriguez works with fire departments throughout the county, teaching civilians the art of emergency response in case of natural disasters. Rodriguez pushed hard to expand into Spanish-speaking communities and takes pride that he's trained over 100 Spanish-speaking volunteers in how to respond when the sky falls or the ground shakes. Because of his success, the county's program recently won special recognition by Governor Jerry Brown. "I love to teach," Rodriguez said. "That's my relief."