Outdoors
Los Padres Forest Proposes Changes in Recreation Fees
Court Decision in February 2012 May Have Prompted Decision to Eliminate Some Fees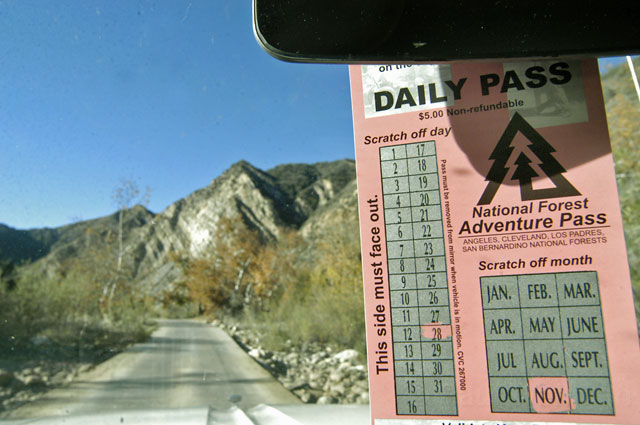 When the Ninth Circuit Court of Appeals ruled in February 2012 that recreational fees cannot be charged to national forest visitors who aren't using amenities, local forest visitors hoped that they would soon see action by Los Padres Forest officials to eliminate fees for parking near popular hiking areas such as Figueroa Mountain and the Santa Ynez River area. The court ordered mandated that changes be made to fix this within 90 days.
Until today's decision by Los Padres Forest to adjust fees for parking in areas with no developed facilities, almost a year later nothing had changed. As a result of the inaction, last year the Western Slope No-Fee Coalition, located in Durango Colorado, brought a civil lawsuit designed to make the federal agency comply with the ruling
"What in the world do they think they're doing to ignore the Ninth Circuit Court of Appeals?" asked Kitty Benzar, President of the Western Slope coalition. "I'm not crazy about having to sue, but I don't know what else to do when a federal agency isn't following the law. You can't call the sheriff and have the district ranger arrested." The suit included two Ojai men who have been fighting against the Adventure Pass program for more than a decade. It appears their efforts may have borne fruit though according to the Los Padres press release, the changes come as a result of a national forest review that began in 2011 not the court decision.
Seeking Comment
Los Padres officials announced today that they are seeking public comments proposed changes to fees in six of what are known in forest speak as "standard amenity recreation fee" (SAF) areas at Ballinger Canyon, Mount Pinos, Figueroa Mountain, Goldhill, the Santa Ynez River, Pozo/La Panza and Rose Valley.
Locally in the Figueroa Mountain area you will no longer need an Adventure Pass nor be charged a fee to park at any of the following trailheads: Davy Brown, La Jolla/Ballard, McKinley, Lower Manzana , Munch Canyon, Pino Alto Interpretive Trail, Sunset Valley, White Rock, and Willow Springs trailheads.
It appears from the press release that none of the trailheads in the Santa Ynez Recreation area will be free of charge, at least not in the near future. According to Andrew Madsen, PIO for Los Padres Forest, the SAF areas are required to meet a series of conditions in order to be designated as such and all of the trailheads in the river corridor area meet those conditions.
However, another part of the proposed changes could very well benefit those who head to the Santa Ynez River and Figueroa Mountain areas. If they go into effect many of the day use areas and trailheads within the SAF designated areas will be free of charge for those who have an Adventure Pass or an America the Beautiful National Parks and Federal Recreational Lands Pass, which costs $80 annually for the general public or the $10 Golden Age version, a lifetime pass for those over the age of 62.
Areas which will now be free for use with the appropriate passes include the Santa Ynez Recreation Area, day use areas at White Rock, Lower Oso, Red Rock, Live Oak, Cumbre Peak, First Crossing, the Falls, Sandstone and the trailheads at Aliso Canyon, Upper Oso and Red Rock Trailhead locally and the Pino Alto Picnic Area, Figueroa Lookout Day Use Area, Davy Brown Campground, Nira Campground and Figueroa Campground in that area.
Similar changes in fees were announced for the Mount Pinos and Ojai Ranger District as well. For more information about this recreation fee proposal, please contact Tamara Wilton at (707) 562-8965 or twilton@fs.fed.us. Further information about this proposal can also be found on the forest's website at http://www.fs.usda.gov/lpnf.
Comments on the proposed changes must be submitted by Jan. 6, 2014, to be considered by a citizen's advisory committee, known as the California Recreation Resource Advisory Committee (R-RAC). Comments may be submitted to the attention of Tamara Wilton, Pacific Southwest Region, 1323 Club Drive, Vallejo, CA, 94592, or twilton@fs.fed.us.