News
Good Land for Development
A Handy Guide to What's Being Built Where in Goleta
Goleta keeps on growing. Nearly a dozen years after it attained cityhood and now boasting a population of more than 30,000 residents, the Good Land has a slew of development coming down its monarch-rich pike. From hotels and housing units to places to eat, work, and play, there are projects galore that are proposed, pending, and recently approved. But when it comes to the city's expansion, there are pro-growthers, slow-growthers, and no-growthers. Advocates argue that many of the projects will make the city hospitable to business and help line its coffers. Others would prefer a longer window between plan approvals, with time to see how the combined projects work together. And some don't want much development at all, saying that the increased traffic ​— ​chiefly along the Hollister Avenue corridor, especially as it heads toward Storke Road ​— ​and possibly reduced mountain views aren't what will make Goleta great. Below are just 13 projects that could soon call the Good Land home.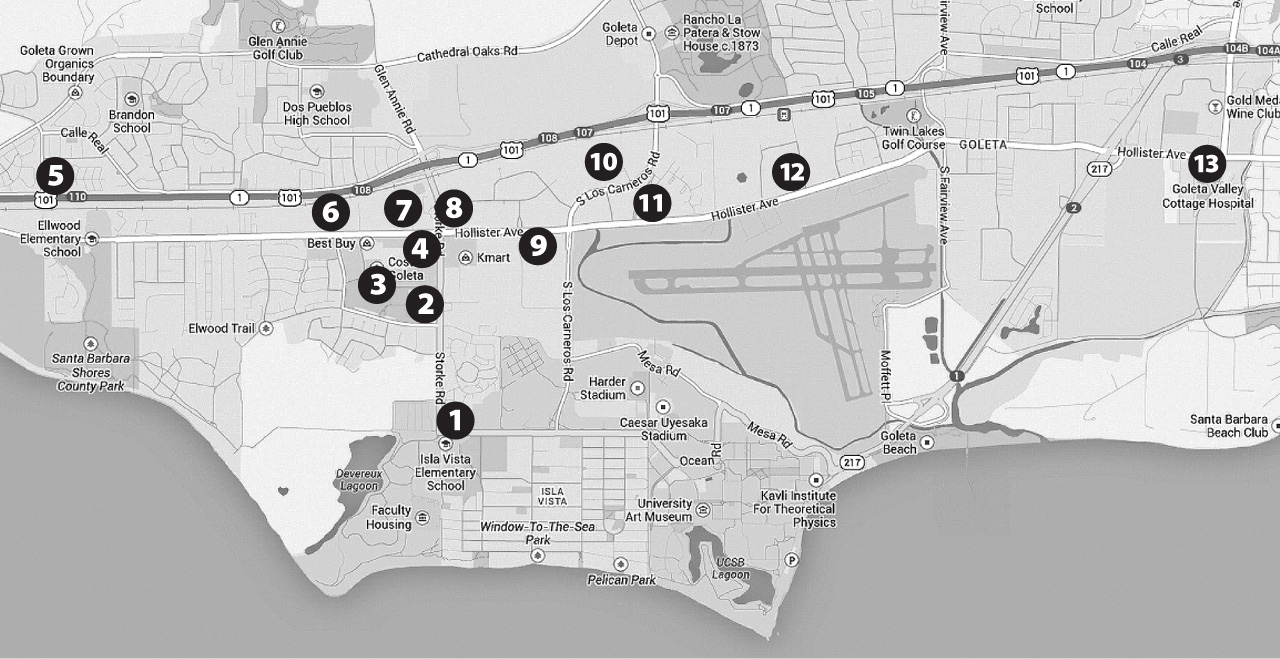 1) UCSB's San Joaquin Apartments
Where: Corner of Storke and El Colegio roads
What: The Santa Catalina freshman dorm could be getting sophomore neighbors if this housing for about 1,000 students ​— ​across 160-200 units ​— ​gets the go-ahead.
Status: The project still needs final approval from UC Regents, but it is expected to be up and running by fall 2016.
2) Marriott Hotel
Where: 401 Storke Road
What: The 115-room hotel provides another option for Goleta visitors ​— ​especially parents of UCSB students ​— ​and is projected to generate about $500,000 a year in bed tax revenue.
Status: Opened in August 2012
3) Ice in Paradise
Where: 6985 Santa Felicia Drive
What: This ice-skating facility near the Camino Real Marketplace would feature two rinks, a snack bar, and a rec room.
Status: The project has raised about $6.5 million in donations, but still needs more than $1 million to achieve groundbreaking.
4) McDonald's Drive-Through
Where: 6900 Marketplace Drive
What: The existing Camino Real Marketplace restaurant could soon get its long-awaited drive-through, which has been championed for its convenience but derided for its possible effects on traffic. The project would also come with a new crosswalk across Storke Road and an extended median at the shopping center's Storke entrance.
Status: It was approved by the Planning Commission in October. That decision was appealed by the Goodland Coalition shortly after; in November, the City Council decided to postpone a final decision on the drive-through to a future meeting.
5) Haskell's Landing
Where: Hollister Avenue and Las Armas Road
What: There will be 101 residential units across from the Sandpiper Golf Course.
Status: Construction is underway.
6) Taco Bell
Where: At the corner of Hollister Avenue and Pacific Oaks Road, in the University Village Shopping Center
What: A third Taco Bell for Goleta (there are two on different stretches of Fairview) would be the first with a drive-through.
Status: The fast-food joint is still making its way through the early stages of the approval process.
7) Hollister Village
(also known as Westar)
Where: 7000 Hollister Avenue
What: To be located across from the Camino Real Marketplace, this project marks a new breed of mixed-use space in Goleta, with its 266 apartments constructed alongside a 75,000-square-foot shopping center, which is slated to include a drugstore, grocery store, and restaurants.
Status: Developers expect everything to be up and running in 2015.
8) Rincon Palms Hotel
Where: 6878 Hollister Avenue
What: At the corner of Hollister and Storke, this 138-room hotel ​— ​with 180 parking spaces and a rooftop deck ​— ​is projected to bring in $700,000 in hotel bed taxes per year.
Status: It was approved by the City Council in November, and the developer hopes to begin construction in June.
9) Cabrillo Business Park
Where: 6767 Hollister Avenue
What: Spanning 92 acres, this business park will include the new headquarters for Deckers Outdoor Corporation.
Status: Developers broke ground in 2009; construction continues, but Deckers expects its building to be done by February.
10) Villages at Los Carneros
Where: Next to 71 South Los Carneros Road
What: With 465 residences ​— ​including single-family homes, duplexes, condos, and apartments ​— ​this housing proposal would spread out over 43 acres.
Status: A public hearing on a draft of the Environmental Impact Report is scheduled for January.
11) Target
Where: 170 Los Carneros Way and 6466 Hollister Avenue
What: As of a Design Review Board meeting in April, the store would be 160,000 square feet, with two stories ​— ​the first floor for parking, the second floor for shopping ​— ​as well as an outdoor eating area.
Status: The bull's-eye store is making its way through the city's approval process but could be years away from arriving.
12) Marriott Residence Inn
Where: 6300 Hollister Avenue
What: If approved, this extended-stay, close-to-the-airport, 118-room hotel would likely be popular with business travelers.
Status: A hearing on the project has been delayed to a date to be determined.
13) Goleta Valley Cottage Hospital
Where: 351 South Patterson Avenue
What: The new hospital, being renovated for better earthquake safety, will be two stories and 152,000 square feet, and will include expanded Surgical Services and Emergency departments, plus 52 new beds (but minus a subacute wing).