Sports
Sports: Gaucho Volleyball
UCSB Men's Team Starts the Season with Eyes on Becoming NCAA Champs
The college men's volleyball season commenced last weekend with Harvard striving to be known as the UCSB of the East. By virtue of winning a three-set mini-match against the Gauchos, Harvard played for the championship of the UCSB Asics Invitational against top-ranked Long Beach State. The 49ers took the Crimson down in four sets.
UCSB took third place with a convincing sweep of UC San Diego (25-23, 25-11, 25-16). It was a promising start for the Gauchos, who will be pounding balls soon in the Mountain Pacific Sports Federation (MPSF), a conference that is comprised of teams from the Pac-12, Big West, and Mountain West, and more often than not produces the national champion. UCSB has been runner-up four times in the NCAA Finals – most recently in 2011 when Ohio State won a five-set thriller – and the Gauchos hope the day will come when they can trash the perpetual trophy as the best program never to win the crown.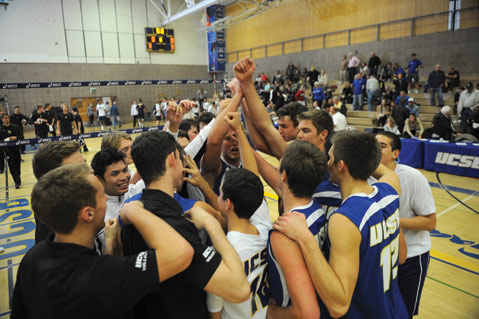 The MPSF is loaded with athletes culled from the beaches and high school gyms of Southern California where volleyball is a year-round sport. Harvard snagged a few in building its program. Consider the position of setter, the quarterback of the team. UCSB's best player may be setter Jonah Seif, but three other MPSF setters are preseason All-Americans: USC's Micah Christenson, Long Beach's Connor Olbright, and Pepperdine's Matt West. Christenson is the setter for the U.S. men's national team.
The best thing about Seif is that he's the youngest, just a sophomore, and also the tallest, at 6'8". While his primary function is to set up the Gauchos's attackers – he had the fourth highest assist total in the nation as a freshman last year – Seif can hit the ball with authority when the opportunity presents itself, and he can do damage defensively as a blocker. He displayed a wicked serve against UC San Diego, scoring points on four aces.
"I like setting our hitters," Seif said, "but it feels good to score on a block or a serve. It's those points that really separate you in rally scoring."
Seif was a natural 5'11" setter when he started playing volleyball in high school. "I expected to grow a little more, but I didn't think 6'8"," he said. Among the schools recruiting him out of Thousand Oaks was Harvard (he had a 4.33 GPA). He wanted to stay in California "but not L.A." Santa Barbara was a perfect fit.
Nine other schools came here last weekend for the 50th annual Asics Invitational (formerly known as the UCSB/Elephant Bar Collegiate Invitational). They were divided into two pools of five, and the Gauchos came out with a signature win against Stanford in pool play. "They're a good team, and we just put the ball on them," Seif said. They hammered Harvard 25-11 in the first set, but the Crimson came back to win the next two.
"Our guys can play, but they need to improve in certain areas," UCSB's sixth-year coach Rick McLaughlin said. "We need to work on the thinking of the game from play to play. We do that and we'll be okay."
Receiving all-tournament honors for the Gauchos were Ryan Thompson, a 6'9" senior middle blocker from Costa Mesa, and Matt Hanley, a 6'4" senior hitter from Malibu. Hanley, who had 10 kills against UCSD, is a transfer from UCLA with a strong volleyball pedigree. His father John Hanley was a Santa Barbara High teammate of Karch Kiraly and an accomplished beach player, and his mother Linda (Robertson) Hanley played on the beach at the Atlanta Olympics.
Jake Staahl, Evan Licht, and Austin Kingi, combined their skills for 17 kills against UCSD's Tritons. Thompson and Seif each received credit for seven blocks.
Long Beach State senior hitter Dalton Ammerman was named tournament MVP. The Gauchos will not play the 49ers until February 14. They will play 24 MPSF matches in all, trying to earn the right to host the pivotal conference play-offs in late April that will determine the NCAA tournament participants.
UCSB will host five matches during the rest of this month – Friday, January 10, against Concordia; January 17, the MPSF opener against Pacific; January 18, Stanford; and two matches against Hawaii, January 30 and 31. The home court is Robertson Gym, which has a spring-loaded floor the players adore. "This is the best gym," Seif said. "The floor is bouncy, and there aren't a lot of bright lights that can throw you off."
HOOP-DE-DO: Meanwhile, at the Thunderdome, the Gaucho men's basketball team will be tipping off Big West play against two fiery rivals: Cal Poly on Saturday (4 p.m.) and Long Beach State on Thursday (8 p.m., a game to be televised on ESPNU).
ROSE BOWL SPOILS: Michigan State rewarded football coach Mark Dantonio with a lucrative new contract after the Spartans's 24-20 victory over Stanford in the Rose Bowl. The late Duffy Daugherty, a wise and witty Michigan State coach in the '50s and '60s, brought his greatest team to Pasadena in 1966, and it suffered a shocking 14-12 defeat to UCLA. Daugherty retired in Santa Barbara, and many former players attended his 1987 funeral at the Old Mission. I'll never forget Daugherty's retelling of the aftermath of the 1966 Rose Bowl: "After we lost to UCLA, I caught the flu and had to go to bed. Here comes this telegram saying, 'The Board of Trustees wishes you a speedy recovery by a vote of 4 to 3.'"
NFL WILL MAKE HIM JOHNNY CASH … OR JOHNNY CONCUSSION: I got tired of hearing bowl-game announcers pointing out that every talented underclassman from Johnny Manziel to a 300-pound lineman I've never heard of is "almost certainly playing his last college game." Hooray for Brett Hundley, the UCLA quarterback who will be sticking around.
TOMAHAWKS TO THE EARS: My worst nightmare: the Florida State Seminoles versus the Atlanta Braves in a packed stadium.