News
Mall Dogs
Adopt a Shelter Dog or Cat at Shopping Centers
Volunteers from area animal shelters and rescue groups are trying something new to help shelter dogs and cats find forever homes. Every Sunday, from 11:30 to 2 p.m., you can spend time with adorable, adoptable dogs and cats at the mall! La Cumbre Plaza has generously given store space to showcase adoptable dogs and cats from Santa Barbara shelters. Visit with the animals out on the plaza or one-on-one inside at the ReTail Adoption Center, located between Starbucks and Macy's at La Cumbre Plaza.
Animal Shelter Assistance Program, aka ASAP, will be selecting their adoptable cats based on their friendliness and adoptability and the visiting cats will include several from the "Top Ten for $10" promotion, in which selected cats are available for only $10. All adoptable cats are spayed or neutered, vaccinated, micro-chipped, and ready to go home with a carrier and food sample. This will be the first time that area cat lovers will have the ability to meet and adopt cats on Sundays on a regular basis, as the county animal shelter and the humane society are closed to the public on Sundays. Interested visitors will also be able to meet both dogs and cats on the same day, another first for Sunday adoptions.
The ReTail Adoption Center is a great opportunity for the public to spend time with adoptable animals away from an animal shelter. It gives people a chance to see adoptable pets in a warm and inviting environment. Showing dogs off-leash in dog play areas is a great way to see a dog's personality and to determine if that dog is the right fit for your family.
Since La Cumbre Plaza attracts a wide-range of visitors, from shoppers and restaurant-goers to business professionals and mall walkers, this is a great opportunity to showcase adoptable shelter animals and give them a chance at finding their forever home.
The ReTail Adoption Center is not only looking for forever homes for dogs and cats; it will also provide training demonstrations, education, and resources for animal-loving members of the community. Give a Dog a Home volunteers will explain how dogs end up in shelters and teach the public how they can help make positive changes.
Even if you aren't interested in adopting a pet, the ReTail Adoption Center will also be an opportunity to recruit desperately needed volunteers and foster families for shelter animals. Santa Barbara County Animal Services is always in need of volunteers for dogs, cats, rabbits, and guinea pigs. From cleaning cages to feeding animals, there's always something that needs to be done and volunteers are the ones who provide these services. And becoming a foster parent is a rewarding experience for people who love pets but are not able to make a lifelong commitment.
For more information on adopting a pet from Santa Barbara County Animal Services, visit countyofsb.org
Adoptable Pet of the Week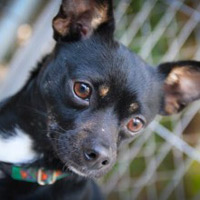 Dotty is a one-year-old female Chihuahua who is as sweet as can be. She is very social and loves everyone she meets. She's somewhat submissive and would make a great first-time dog. She's also a tri-pod and only has three legs! She gets around just fine, though, and you would never know she was even missing a leg. Dotty is a shelter favorite here!
To inquire about adopting a dog, visit DAWG in Santa Barbara. DAWG (Dog Adoption and Welfare Group) is a no-kill, not-for-profit dog rescue/adoption organization located at 5480 Overpass Road in Goleta. For more information, call (805) 681-0561. You can view more adoptable dogs at www.sbdawg.org. All of the dogs have been spayed/neutered, micro-chipped, are current on their shots, and have flea/tick/mosquito protection. We ask for a minimum adoption donation of $250 for young dogs (under three years), $150 for adult dogs, and $125 for seniors (dogs 8 years old and over).
For more information on our available dogs, call (805) 681-0561, email adopt@sbdawg.org, or come by during open adoption hours, Thursday through Monday, 12-5 p.m.
Lisa Acho Remorenko is executive director of Animal Adoption Solutions, www.animaladoptionsolutions.com