Theater
Colin Quinn Gets Political
TheSNL Alum Takes on Founding Fathers in Unconstitutional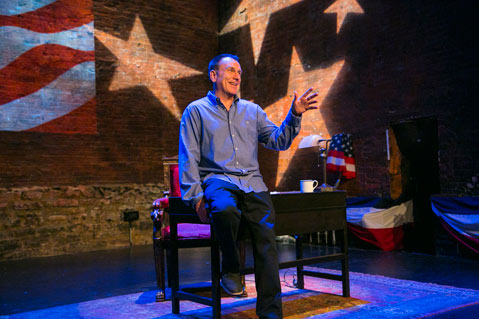 Born and raised in Brooklyn, Colin Quinn admits he was always a loudmouth and a wiseass in school. He was a little wild in the teenage years. And his current Twitter profile picture? It features the Saturday Night Live alum looking "like a hillbilly/meth addict, according to my lovely fans." But Quinn also assures that he's mellowed out with age. He has achieved comedic success and still continues to forge a path through stand-up. Quinn counts George Carlin and Richard Pryor as his heroes and hopes to be like them because they're "the fuckin' guys." He still shows up onstage at his local comedy clubs but currently is hitting the road with his reopened show, Unconstitutional, which comes to the Lobero Theatre on Saturday, January 18.
For Unconstitutional, Quinn presents his smartly entertaining outlook on the American Constitution. On the phone from New York, the comedian describes the show as "my own private discussion with the country." He's deliberate in the tour's routing, too: Quinn is hitting all 13 colonies, with the goal of performing in all 50 states. Unconstitutional was created not because of his fascination with the Constitution itself, Quinn asserts, but by the unanimous respect Americans have for it. "No one ever says anything bad about it," he says. "I researched how it created the American personality. Did it actually create it? Or did it not? Or did it? It fuckin' did."
When asked what he hopes audience members take away from the show, Quinn feigns manic fandom. "I hope they scream, 'He is a genius, and he should be in charge!'" he laughs. But he also wants audiences to think about mob mentality and why we as Americans should be more contemplative and not led by the extremity of some people. He says that the beauty of the Constitution is that everybody is given power. As he traverses the country, Quinn reads. Right now, he's halfway through Land of Promise, which is about the economics and history of the United States. He says he's always trying to gain more knowledge for the show.
After achieving some fame in the 1980s, Quinn joined the cast of Saturday Night Live in 1995. He still watches the show now because "there is nothing on TV like it." After discussing the progression and differences of SNL 20 years ago versus now, Quinn says that he still considers the show to be as exhilarating as ever, even when it's not that funny. When discussing how his fame before the media has changed over the years, he says it hasn't. He admits that he's always been well known, but never famous.
"I'm someone who is just accepted, but at least I think I'm famous," he jokes. "During the Saturday Night Live after-parties, paparazzi will come up to me and say, 'Colin! Colin! … Is Courtney Love in there?'"
Still, as someone in the public eye, Quinn is often at the mercy of his fans and haters — thanks in part to social-media apps like Twitter. The comedian says he gets a lot of feedback: "It's mostly insulting feedback, but I like to post positive thoughts of the day, jokes, and give advice," he says. "I'm trying to help people out, but they get so angry at me. I keep telling them, 'Let's try to keep it PG,' but they always respond with, 'Fuck you, you fuckin' sell-out!' I don't understand why these people don't just relax and get a latte at Starbucks."
Quinn touched on many topics in our talk leading up to his show but ended things with a book recommendation. "A Confederacy of Dunces by John Kennedy Toole — it's the funniest book I have ever read," he proclaims. And coming from a career funnyman, that's no small praise.
4•1•1
Colin Quinn brings Unconstitutional to the Lobero Theatre (33 E. Canon Perdido St.) on Saturday, January 18, at 8 p.m. For tickets and info, call (805) 963-0761 or visit lobero.com.