S.B. Questionnaire
The S.B. Questionnaire: Chris Potter
Landscape Artist Discusses His Craft and Life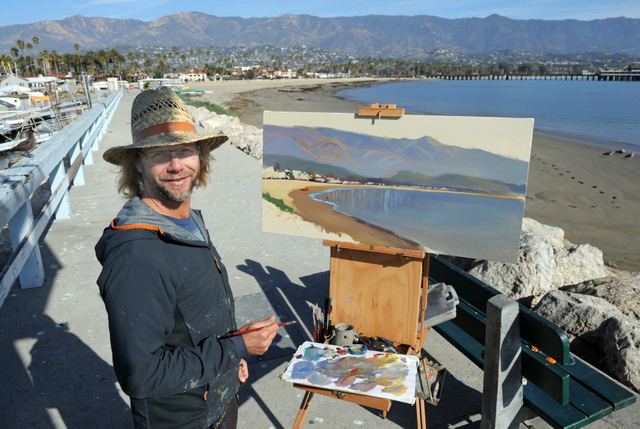 I first noticed Chris Potter during my walks through the Ellwood Preserve, a lonely, determined figure standing behind an easel, furiously painting in front of the ocean. Week after week, I encountered this artist deeply immersed in his task at hand: capturing the beauty of the bluffs.
In 2010 at age 35, Chris left his job as brokerage specialist with Charles Schwab to become a painter full-time. He also made a resolution that he would do a painting everyday, five days a week — a pledge that he has diligently kept, and which is well documented on his website. What he's amassed is a kaleidoscopic mosaic of both urban and rural landscapes — snapshots of modern Santa Barbara, with a deep impressionistic influence. The artist's love for everything about our local surroundings and way of life is palpable. And yes, he makes a successful living now doing what he loves.
He took time in between brushstrokes to answer the Proust Questionnaire.
What is your motto?
I will make art everyday.
What is you like most about your job?
I like everything about my job. The one main thing would be that I am making something new. To be part of creation and invention is my ultimate objective.
What is your all-time favorite memory about painting?
There are too many moments that have been incredible that I can't say I have a favorite one. Any time I am painting at Ellwood ranks up there.
Who do you most admire?
Van Gogh, because he kept making masterpiece after masterpiece without the encouragement of an audience or patrons.
What do you consider your greatest achievement?
To have developed a style of my own.
What is your most marked characteristic?
My artistry.
What is your current state of mind?
Looking forward to developing.
What is your greatest fear?
To be unintersted.
What is your idea of perfect happiness?
To have an insatiable appetite for living.
What is your greatest extravagance?
I try to golf once a week.
What is the quality you most like in people?
Honesty.
What is the quality you most dislike in people?
Vanity.
What do you most value in friends?
Understanding and objectivity.
Which words or phrases do you most overuse?
Dude, sweet, thanks, great, take care, no way.
Which talent would you most like to have?
Timeliness.
If you could change one thing about yourself, what would it be?
To have a little bit less of an appetite.
Where would you most like to live?
In the present.
What is your most treasured possession?
My family.
What makes you laugh the most?
My dogs.