Columns
Downtown Isla Vista Gets an Urban Feel
New Restaurants and Apartments Take Root
Things keep changing in downtown Isla Vista. As new businesses move in, the feel of the place is becoming a little different, more vibrant. It is beginning to look more like larger college towns such as Westwood or Berkeley. There are new restaurants, a Chase Bank, and even a 7-Eleven.
Not everyone, however, wants central Isla Vista to change. Some people think it was fine just the way it was. I disagree. I think that most of the recent changes have made the heart of I.V. more attractive and inviting.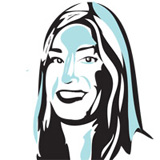 One of the controversial additions was the building of several luxury apartment complexes. The new complexes are modern, several stories high, and attractive. Beneath each of the buildings, there is room for restaurants and stores. The complexes have been a catalyst for change, making the area a hub for student activity.
Greater Diversity of Food Choices
Many new eating establishments have cropped up below the new complexes, offering a variety of food choices, including Italian, Chinese, and what I will call eclectic food.
I visited the new Italian restaurant Sorriso Italiano when it first opened on Embarcadero del Mar, and I liked it. The owners are friendly, the menu offers favorites like eggplant Parmesan, and there is an upscale feel to the place. You can sit inside, or out on the patio, and finish off your meal with an espresso and dessert.
The restaurant next door, Buddha Bowls, has an innovative theme. Instead of filling a bowl with soup, it is filled with meat and vegetables. When eating at Buddha Bowls, you can choose to have a Peace Bowl with chicken shwarma, grilled onions, hummus, cucumbers, and tomatoes; a Pizza Bowl with mushrooms and tomatoes; or a Volcano, bread dough puffs covered in fudge, whipped cream, and strawberries.
For people who love Chinese food, there is finally a place to find it in Isla Vista. A Wok on the Wild Side features the spicy kick of Sichuan-style food. It is located on Pardall Road near Giovanni's Pizza.
Beneath the ICON Apartment Complex
On the other side of downtown is a second new complex. Beneath this one is Pizza My Heart and Crushcakes. There is also a new 7-Eleven, which is clean and well-stocked with the traditional favorites you expect to see in a convenience store.
There are many other food choices, as well. On Pardall, there is a Wild Wings that moved in across from South Coast Deli, and a restaurant called Hana Kitchen that serves Japanese-style entrees.
The Other Instigators of Change
While downtown Isla Vista is making a progression toward becoming an attractive focal point for the community, the Isla Vista Recreation and Park District (IVRPD) is also working to improve aesthetics in its own way.
The IVRPD has launched a project, called the Isla Vista Mural Project, to have artists create six new murals in the area. An advertisement on the website calls for "inspired and talented artists with experience in large scale work."
The IVRPD is also working to improve Greek Park and Pardall Gardens. In the future, Greek Park may have a basketball court, a small stage, and native plants. For Pardall Gardens, there are plans to install solar lighting, a horseshoe pit, and native plants. Each of these projects is under discussion, and funding sources are being explored.
Looking Toward the Future
There are those in I.V. who see the potential of the downtown area. While it would be easier just to leave things as they are, they are trying to make the central area a draw for everyone, even those who live in Goleta or Santa Barbara. By improving the housing options and encouraging new businesses to establish themselves in the area, they are helping Isla Vista become a community with a heart.