Dance
Review: Kinesis at Center Stage Theater
S.B.'s Annual Contemporary Dance Showcase Took Place Friday, February 21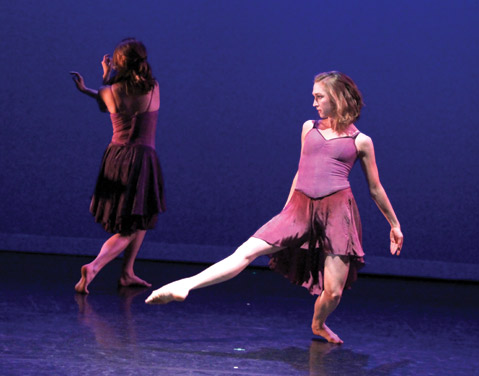 The artist relies on tradition. It's tradition that gives her bearings and provides the foundation for her work. At the same time, the artist strives to innovate, moving away from tradition to offer something fresh and new.
So it is that each year the Santa Barbara Dance Alliance draws together a showcase of new work that both affirms dance traditions and pushes beyond them.
Last Friday night at Center Stage Theater, the Alliance presented Kinesis 2014, which included 11 works by area choreographers, companies, and filmmakers. Among them were pillars of the UCSB dance community Delila Moseley and Valerie Huston, whose contemporary ballet works represented the strong technical foundation that has launched thousands of young dancers from our region over decades. Other longtime contributors to Santa Barbara's dance scene offered works in different genres: Tonia Shimin and Robin Bisio both presented mesmerizing site-specific dances filmed by Catherine Bennett, while Misa and Stephen Kelly brought "Alma," an excerpt from an evening-length work of dance theater based on the life of Slovene/Austrian traveler and writer Alma Karlin.
The influence of these established artists was evident in works by younger members of the dance community. Tracy Kofford's swirling group work "Metamorphosis" reflected the rigor and sensibilities of his UCSB dance training, while in Matthew Nelson's "Apropos," yoga mats, physical comedy, and a liberal dusting of baby powder echoed the theatrical experiments of the Kellys, with an added spin of social commentary.
From classical training to theatrical risk-taking to the ubiquitous presence of popular and commercial dance in today's culture, the youngest generation of dance artists in this town has access to a full range of aesthetic and technical approaches: thus, Nicole Helton's blend of acrobatic technique and aggressive athleticism and Brooklyn Hughes's sophisticated sense of composition in a lyrical, ballet-based idiom.
For a sense of where dance in Santa Barbara may be headed, there's no better indicator than the work of UCSB students and recent graduates. Based on the offerings from Hillary Bassoff and Meredith Cabaniss, it seems young dance makers are using all the tools at their disposal: the lift and poise of ballet, the grounded weight of modern dance, the onstage engagement between dancers that comes from theatrical traditions, and the presentational quality of dance made for TV and film.
It's a sign of a healthy dance community that Kinesis returns each year, providing a frame for dancers, dance makers, and dance fans alike to consider where dance in our region has come from, where it is today, and where it might be headed next. For supporters of the art form, there could hardly be a more hopeful sight than the group of more than 50 artists who stood together at the final curtain call, distinct from one another yet unified in their commitment to dance.