Theater
Miranda Sings to Santa Barbara
YouTube Star Colleen Ballinger Performs at Lobero on March 7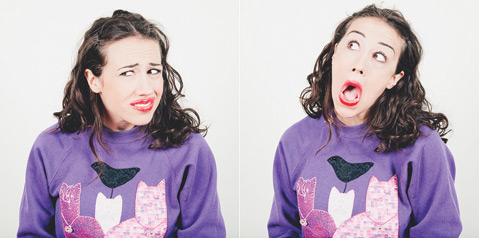 If Napoleon Dynamite and Katy Perry had a kid, it'd be Miranda. Half immature oddball, half diva singer, Miranda's YouTube character was created in 2008 by Santa Barbara native Colleen Ballinger to poke fun at some of her meaner college classmates. Skip forward a few years, and those Miranda Sings videos — in which Ballinger belts out comically bad renditions of show tunes and pop hits and offers personal advice and commentary full of judgment and malapropisms — have grown into a YouTube channel powerhouse with more than 850,000 subscribers and millions upon millions of views.
Ballinger, 27 years old and a San Marcos High School graduate, parlayed her Internet success into a full-on stage career and is in the middle of touring the country with a comedy act. She'll stop by the Lobero Theatre on March 7 and spoke to The Independent last week from Los Angeles about what it'll be like to perform in her hometown, how a person makes a living on YouTube, and if there's anything good about online comments.
I get the feeling Miranda is high school age. What were those years like for you? I had some great memories at San Marcos, but kids always have a little bit of a hard time. I was homeschooled for 6th, 7th, and 8th grade, so it was jarring when I transferred. I was super sheltered and felt young, weird, and out of place. I actually ate lunch behind a bush. Theater and choir were really the only places I felt accepted. But Miranda is timeless. [Laughs.] Everyone can relate to her in some way. I don't want to put her in an age bracket.
How did Miranda come to be? I was a vocal performance major in college, and a lot of the girls were really rude and snotty. YouTube had just become a thing, but I didn't understand girls singing to themselves on camera in their rooms. My videos started out as a complete inside joke with friends. Soon, they started going viral. I really wanted the character to be unlikable, so I'd read the comments, and whatever people hated on — Miranda's make-up, stuttering, whatever — I'd do it more.
So people thought Miranda was real? Yeah, and people loved to hate Miranda. That's how it all started. I thought the comments were so funny. But in the last few years, haters turned into fans. My main goal now is to make people laugh.
Were you surprised by the backlash? I was asking for it. If I was looking for love and praise, I would have been very upset and disappointed. There's something to be said for someone who's fake getting passionate hate from people. It was really amusing.
How do you feel about the concept of anonymous online comments in general? I think they're awful. We live in an age where kids are allowed to say whatever they want with no consequences. It's easier for them to become bullies and jerks. I've gotten my share of death threats, but it's probably an 11-year-old boy who has nothing better to do with his time. When I was growing up, if you wanted to be a bully, you had to be a bully. You had to show your face. It's a lot easier to be a jerk now than it was 10 years ago.
I've always wondered, how does one make money on YouTube? There are ads on the videos, and you get paid a small percentage by Google every time one gets clicked. That's why a lot of YouTubers do brand deals. I also have a lot of merchandise and do the live show as much as I can, but I never expected to have a career of singing badly. [Laughs.]
You've been touring as Miranda for about five years now. What's it going to be like to do a show back in Santa Barbara? I've performed all over the world at some of the biggest venues, and I'm honestly more excited for the Lobero show than I have been for any of the others. I used to go there as a little girl in tights with my grandpa. The show is going to be super fun, with a bunch of my family in it, like my brother, who's a magician. It'll have comedy, singing, dancing. Sometimes people are hesitant because they think it's just an hour of bad singing.
How do you feel about all your success? I'm really lucky. I don't know how or why these kids like me, but they do, and it's so fun. I think the best part about doing the live shows is meeting people. It's such a cool feeling that kids who were like me in high school and felt like a loser and a nerd and ate lunch behind a bush have someone to look up to. I'm glad I can be there for them.
What's next for Colleen and Miranda? I have a lot of projects going on. I'm writing a Miranda book, and pitching ideas to networks. YouTube is awesome and super fun, but I want to venture out and do some television.
4•1•1
Colleen brings Miranda Sings to the Lobero Theatre (33 E. Canon Perdido St.) on Friday, March 7, at 7 p.m. Call (805) 963-0761 or visit lobero.com for tickets and info. To catch Miranda online, visit youtube.com/user/mirandasings08.