News
Bizarre, Disheveled, and Fitting In
The Playground of Noise Pop 2014
Grandmaster Flash's "White Lines" was blasting from the speakers and the guy who designed the Obama posters, Shepard Fairey, was spinning records. The dance floor at NWBLK in San Francisco had the ambiance of a frenzied day at a stock exchange. I saw my old friend Jello Biafra chatting it up eccentrically with an old guy who resembled an acid-casualty version of Jerry Tarkanian. There were horn-rimmed beauties grinding up on me, gyrating wildly, and for once with my bizarre, disheveled appearance I didn't stick out like a sore thumb. I felt like Attila the Hun.
This was Noise Pop 2014.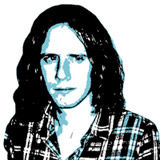 Noise Pop has been going on in San Francisco since the long ago time of 1993. It was a different world then; grunge was at its peak, the world was not yet infested with cell-phone zombies, the Cowboys were "America's Team," and Beavis and Butt-head had just hit the airwaves. It was a more innocent time.
Since its inception, Noise Pop has evolved from a small platform to showcase local indie rock talent to become not only one of the biggest stages of indie rock in the world but also a place where film and art are heavily featured.
Having secured access to many of the festival's most sought-after events with some savvy haggling, I ventured into the dark heart of this playground of poetry and broken dreams.
"I came to see the Hindu Pirates," said an exotic Persian temptress named Darya. "They're wild. But it's all wild. I've been here [in San Francisco] for a decade, and I've gone every year. It gets crazier each time."
There was certainly all sorts of craziness to be had. It might be the best festival you haven't heard of. The acts ranged from indie rock to hip-hop and rockabilly.
I managed to make my way into the sold-out Independent on Wednesday night to see San Francisco's own Papercuts take the stage. There was an earlier card, too, though I don't remember much of it because I was completely occupied talking to some strange girl from Marin County who was wearing a tattered and ripped Ramones shirt, a pleated miniskirt, and go-go boots. She resembled a demented belly dancer.
"I love the music and the people here," the minx calling herself Ocean Starrsky said in a monotonous tone with a Pittsburgh accent. "I haven't left Marin since two jagoffs abandoned me on Market Street after a Stone Foxes show about a year ago."
"I was traumatized," she wistfully opined, "but this music got me out of San Rafael. I want to dance."
The Papercuts, once described as "a marching band on Quaaludes," took the stage, and Arcata-legend Robert Quever launched into a set that sounded like a bizarre cross between The Byrds and The Flaming Lips, with a little Velvet Underground thrown in for good measure.
It was an infinitely refreshing thing to hear in these times of talentless lip-synchers.
And while the music was worth the trip alone, the other constituents of the festival were equally compelling. The film portion had a host of interesting titles, including the premiere of Mistaken for Strangers, directed by up-and-coming horror maestro Tom Berninger, which follows his brother's band, The National, around. The film was shown to a sold-out audience.
The aforementioned Darya, whom I ran into at one of the festival's many happy hours, managed to sneak us into the Roxie for the show. The crowd was filled with typical music-film-fest attendees: faux-intellectual types who all swear "Portlandia" was based off their own lives. The film, though, was well done; Berninger is emerging as a master of his craft.
Afterward, we left and found ourselves on a nondescript rooftop terrace of a Financial District high-rise, drinking gin and tonics poured from Darya's boss's own private bar, because, as she put it, "He's an asshole, and I deserve it."
The next evening was more of the same. Darya had gotten us passes to the Bob Mould show later on. I mingled with the strange crowd beforehand at Bender's where a rockabilly happy hour was going on, and some band called Dude York was owning the stage.
I'm not the biggest rockabilly fan, and I don't know any dudes named York, but the set was pretty wild. It was especially fitting background music for that glorious pit of a bar.
"This year's festival has been really good," said famed Wyoming barstool, Joe from Meeteetse, who was sitting next to me guzzling Singapore Slings. "It would be tough to beat the last couple years, but this year can hold its own against the best of them. And besides, it's better than a lot of other options for local entertainment, like that Miley Cyrus shitshow going on over in Oakland."
Following a strange rampage that found me wandering aimlessly in North Beach, I ran into Darya on a second floor window at Vesuvio's. After a few Jack Kerouacs, we made our way to see Bob Mould, who was previously the guitarist for Husker Du, at the Great American Music Hall, one of the finest music venues in all of America. I've always been a fan of that band, and it was a treat to see him play in such an intimate atmosphere. He bedazzled the crowd with a set that caused rich waves of nostalgia to roll into my head.
Afterward we stumbled out onto O'Farrell Street, wandering past the Mitchell Brothers Theatre and into the heart of the Tenderloin to catch the Muni to the end of Judah Street, where I would ride out the night for another day of festival madness. Along the way, a toothless junkie propositioned me for my coat, which I had to respectfully decline.
It was a fitting end to a night of craziness and intrigue in the City by the Bay.