News
Cottam Camp Loop Day Hike
A Walking Meditation Through Blue Canyon
Hike: Moderate-to-strenuous 6.5-mile loop day hike down into and then ascending Blue Canyon. You will need a second vehicle, or a bike, to complete the 3.5 miles of East Camino Cielo and its dirt road continuation called the Romero-Camuesa Road. Suitable for fit children 7 and older.
Time: Two hours driving and about five hours hiking, including an hour lunch at delightful Cottam Camp.
Maps: Bryan Conant's Matilija and Dick Smith Wilderness map guide and also Ray Ford's 2011 Hiker's Guide to the Santa Barbara Front Country map. (He has this covering 5.2 miles.)
In Trees in Paradise, California historian Jared Farmer notes how the aging John Muir "cannot be divorced from the tree climber and tree savior" that he had once been. Muir's philosophical group, including Ezra Carr, wanted to develop a spiritualized civilization by "preserving the true equilibrium between the animal and the vegetable inhabitants." While savoring the quaint backcountry joys of easily accessible Cottam Camp, I realized that some of this "preserving" has happened here since Albert Cottam built his cabin 99 years ago and pursued truck farming on the wide Cottam meadow (or potrero). Later, after the Forest Service used it as a plant nursery, and then after the Show family ran their dude ranch deal with tent platforms here, this enchanting middle section of verdant Blue Canyon reverted back to a wild potrero ideal for enhancing mindfulness.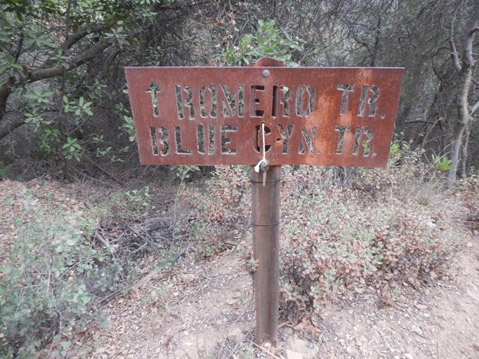 Driving directions and the general hiking route for this demanding day hike are at the end of my Blue Canyon column, and if you go solo as I did early on Presidents' Day weekend, you will need a bike for the four-mile connecting portion (or two vehicles). Once you begin hiking the north-side (backside) Romero Canyon Trail from the Romero-Camuesa dirt road, from the iron "Romero Tr. / Blue Cyn Tr." sign, the path descends very steeply for about a mile until you enter glorious Blue Canyon with its crazy blue-green hues. These colors come from the serpentine rock in the area, a hydrous magnesium sulfate which usually weathers into green, but in this unique canyon the bluish tones predominate.
As I near Blue Canyon Creek, happy I brought my twin hiking poles, I see the larger main sign pointing hikers west toward cool Blue Canyon Camp with its sturdy wooden table and ice can stoves. I pass this camp (no one there) and aim for Cottam Camp (not on the big sign), where one picks up the Forbush Trail. This is lovely hiking once down in the dry creek bed, mixing with arroyo willows and riparian bushes. Since we're enmeshed in a serious drought, despite the end-of-February rainfall, most of the water courses on this trek were dry.
Cottam Camp is next, and it's thrilling to drop down into the silver fields at 7 a.m. Craig Carey describes Cottam as "barren but well-shaded," and the campsite lies at the northeastern corner of the magnificent potrero. Pitched at the confluence of Escondido and Forbush creeks, Cottam stands out with its quintessentially elementary configuration: a beat-up old wooden table, stone fire circle with ice can stove, and level sleeping spot beneath a massive nearby oak tree. There are many rustic USFS campsites with just these elements and nothing more.
I recommend lunch here, and perhaps a snooze, or a short walking meditation period wherein one simply listens and breathes in with the living field. With extra time and energy, one can also explore a mile north over to the same Romero-Camuesa Road located along the Santa Ynez River near P-Bar Flats (aka piss-pot campground). This tiny trail is noted as "Camuesa" on the third metal sign.
Picking up the Forbush Trail from Cottam, you cross another part of the Cottam potrero and engage in a grueling 1.6-mile, steeply ascending trek to reach Forbush Flats Camp on Upper Gidney Creek (which is flowing: filter the water!). It was on this stretch I encountered the only other person on the entire 6.5-mile hike: an older guy, good gear, who claimed he was lost but didn't seem too worried. I helped him with my map, and he headed over to the "Mono jungle" as Conant's map calls it, while I headed back straight up 1.5 miles to East Camino Cielo Road at the water tower above Montecito Peak. This final hiking section is very demanding. Ford dubs this the Cold Spring Northside Trail, but the archaic iron sign at the top calls it the Forbush Trail.
Among the enchanting plethora of lush flora on this final, sweaty stretch, I spot a rare plant for this area: the attractive and highly decorative reddish-brown trunk of the Pacific madrone tree stands out as I hike. The arbutus menziesii grows to about 20 feet and is a very handsome evergreen with beautiful white flowers in early spring. My Audubon Society Field Guide to North American Trees has the madrone's range from western Canada to Northern California, but the small stand here on the Forbush Trail is certainly near its southernmost point. The red-barked manzanita effectively replaces it in our area and further south. The Audubon Guide holds that Native Americans would eat the madrone's tiny fruit raw, but I could find no confirmation of this in Jan Timbrook's Chumash Ethnobotany.
The equilibrium between the animal (especially human) and vegetable (flora) around Cottam Camp — once the Show family's "Camp Santa Ynez" — has been reestablished due to benign neglect. Many find it much easier to get to the upper Santa Ynez River over San Marcos Pass and Paradise Road to Red Rock. While amazingly close to Santa Barbara and the ocean as the crow flies, few of us manage to drive over to the Romero-Camuesa Road. Mindfulness practice is easier down in Blue Canyon near Cottam Camp. Vietnamese meditation master Thich Naht Hanh recommends "walking meditation," and it comes naturally surrounded by Albert Cottam's silver fields.