Living
Scene in S.B.
Flying Kites and Teaching Classes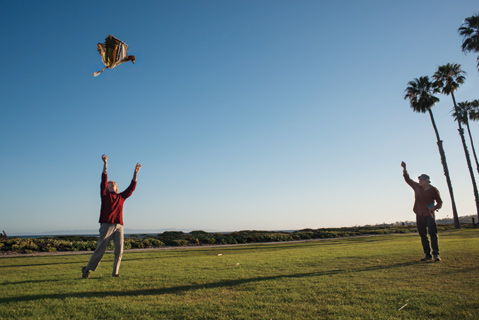 "I like to think the best thing is the weather here, but I'm really starting to meet some great people through Adult Ed classes," said Pam Emerson while she and Jim Farned were out flying a kite, which they got at the swap meet. Emerson, who manages rental properties in Boston, recently moved to Santa Barbara. "Both my sons live near here. They were always telling me to move out here, so I finally did," she said.
"I love helping young people to see things positively. They can be progressive and productive for themselves. I had great teachers that coached me along," said Ernesto Calles, who teaches English as a second language, Spanish, and the social sciences for Santa Barbara County schools. Calles, who practices Hinduism and enjoys reading philosophy, has been back in town for three years after spending 39 years away. "My family has been in this area for over 100 years, so I'm glad to be back home," he added.