Travel
Cambodian Communities in Exile
Santa Barbara Residents Document Land Disputes and Violent Evictions in Phnom Penh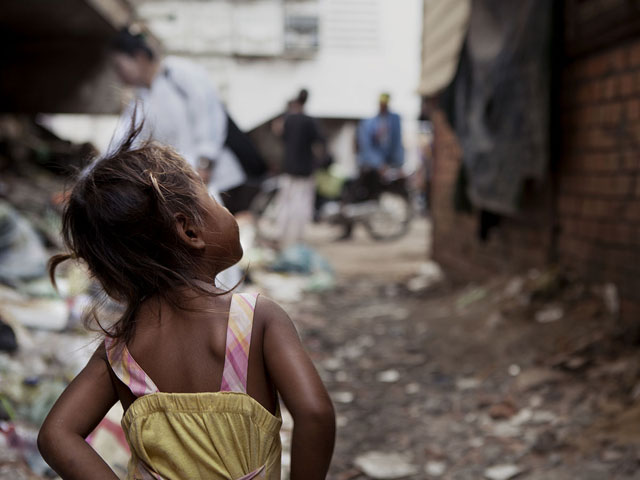 Our journey into the culture of Southeast Asia began long before we actually left the comfort of our home here in Santa Barbara last September. As a graduate of UCSB's global studies program, and Robb a past student of Brooks Institute of Photography, we had spent the previous year making coffee at the French Press while spending our evenings dreaming up a four-month documentary trip that would combine my passion for writing and social development with his love for photography.
As initial research for our nonprofit project, Global Populace, Robb and I developed a plan that would envelop us in the inner workings of grassroots organizations throughout the countrysides of Myanmar and Thailand. Yet, before the end of our trip, our documentation work would eventually intertwine us within the social and political depths of Cambodia's development struggles.
Global Populace — a Santa Barbara–based organization nearly two years in the making — aims to bridge the gap between international communities and grassroots organizations to create an opportunity for people around the world to connect to and support initiatives through volunteerism and funding. After completing a three month fundraiser through the crowdfunding website Indiegogo, with the immense support from our Santa Barbara community, we successfully raised enough money to finance our trip. However, while visiting numerous organizations and conducting hours' worth of interviews, we ended up working with one particular community — Borei Keila — whose immense struggle has been nearly forgotten within the hustle and bustle of Cambodia's capital city of Phnom Penh.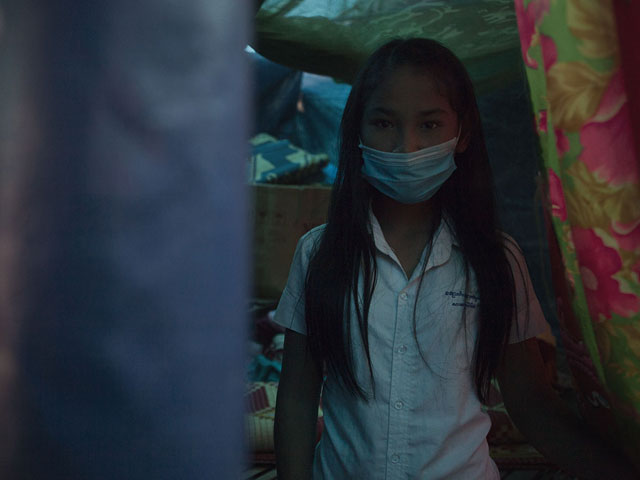 We had been in Phnom Penh for only three days when we were first introduced to a group of representatives from Borei Keila while documenting an organization called CLEC, the Community Legal Education Center. The representatives — six middle-aged women with fierce dispositions — were there seeking food and water for their branch of the Borei Keila community that had been evicted to the rural countryside 45 kilometers away from the nearest city.
After introducing ourselves and our documentary project, the women promptly asked us if we'd like to hear their story and help them spread the word about their struggles. This is their story:
The difficulties faced by Borei Keila began long before their eviction occurred in January 2012. As a community originally made up of nearly 10,000 people located in a small, rapidly developing suburb of Phnom Penh, it was becoming difficult for them to maintain their disintegrating cement apartment buildings with the minimal resources available to them. So, when approached by the well-known Cambodian development company Phanimex to have 10 new apartment buildings constructed for them in exchange for 2.6 hectares of their highly valuable land — more than half of their property — the community agreed.
After this development agreement was reached in 2004, it took nearly nine years for eight of the 10 buildings to be completed, with two more supposedly on the way. Then, with little to no warning, Phanimex declared bankruptcy and abandoned the rest of the project, leaving the remaining members of the community without homes, though still claiming legal right to the land for development despite having broken their contract.
As a result, the more than 300 people living in makeshift homes alongside the development area were awoken suddenly on the morning of January 3, 2012, to the sound of bulldozers and security officers calling them from their homes. This unwarranted, state-approved eviction did not come as too much of a surprise to the residents of Borei Keila — this had happened many times before across the city as land-grabbing for private development has become all too common. And as a result, the community's residents knew that the only option they had left was to fight back.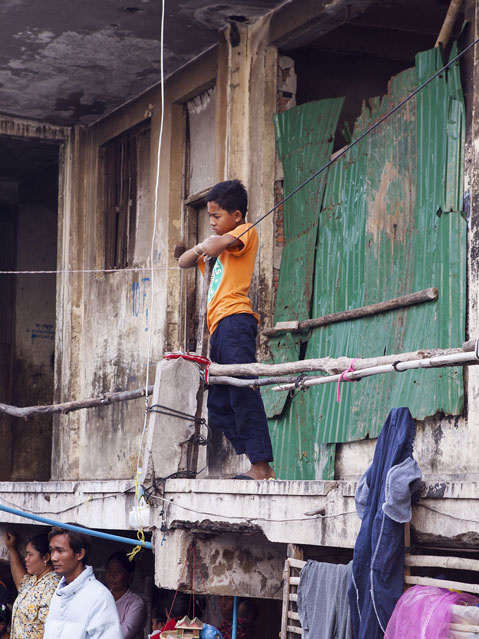 As the residents stood their ground, a protest inevitably broke out, resulting in "a violent clash between more than 200 irate villagers of [the] Borei Keila community, the police, and the company workers. The villagers threw rocks and Molotov cocktails at the armed forces, [who] fought back with rubber bullets, teargas and … electric batons to force people out of their homes," noted a senior director of CLEC who has worked directly with the community since the beginning of their legal struggles.
The violence resulted in more than 30 community members being injured and at least 100 others being coerced onto buses — given no time to gather any of their remaining possessions — at which point they were taken against their will to the countryside without access to resources or assistance.
Those who remain in Borei Keila have spent the two years since their eviction creating makeshift houses out of the rubble of their previous homes — salvaging wooden pallets, rice bags, and tin sheets to construct small shacks united by thin hallways encased in blue tarp. Yet their fight continues as they work to keep living on the land that is rightfully theirs while nearly all of the disputes that they have brought to the courts remain unanswered.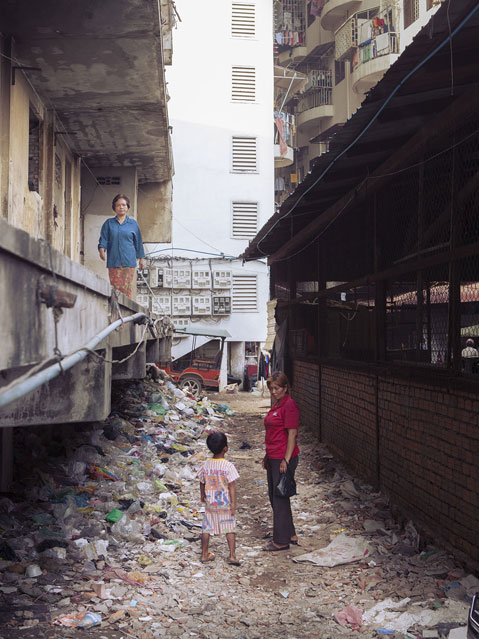 This past January 3, while completing our documentation work for Global Populace, Robb and I were invited by community leaders to attend their two year-eviction commemoration in the Borei Keila community, to see firsthand the extent of the pressure they find themselves under.
When our tuk-tuk — a common type of open-air taxi — arrived at the property, we were dropped off on a small side street running between two of the eight apartment buildings that Phanimex completed. They are oppressive concrete structures rising at least 10 stories high with darkened balconies draped with blankets, clothes, and other unknown items. Following the street to the back of the property, we found ourselves standing in front of what looked to be an open lot surrounded by a cement enclosure that doubled as a parking structure.
To the right of the structure, we followed a small path full of rubble and densely packed trash that piled up at least one story high against the sides of the buildings. This path led us to a gathering of nearly 100 people sitting on tattered tarps that covered the trash-caked ground, listening closely to the blessings of three local monks who had come to participate in the commemorative event.
The prayers were then followed by the presentation of video recordings of what occurred on the day of the eviction. "We are the families of Borei Keila, and with this ceremony we mark the destruction of our homes two years ago and demand our houses because now we sleep under rubbish," explained one 28-year-old former resident while standing on a plot of land that once was his home.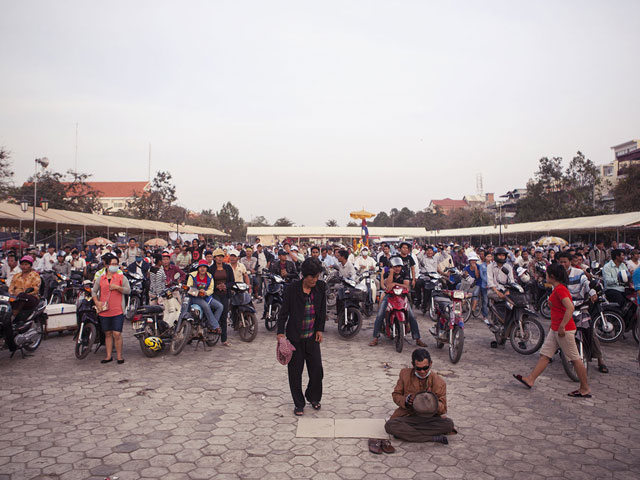 We were then given a tour of what was left of people's previous homes — many of which still remain behind doors locked and patrolled by government officials — and of where they now live in small, moist shacks encased in trash.
After the initial failed eviction in 2012, the local government and Phanimex workers have taken steps to make the standard of living in Borei Keila unimaginably poor. After numerous interviews with residents and members of the CLEC team, we learned that not only had their water and electricity been shut off, but adults had been made unemployable and children unable to attend schools due to threats made to local businesses and schools if they were to assist any of these community members.
In addition, the accumulation of so much trash around their homes seems to be no accident as numerous people explained that in the middle of the night garbage trucks will come to their property to use it as a dump site for trash gathered from throughout the city, creating escalating issues with hygiene and other health concerns. This is particularly dangerous for the children, who are more often than not walking around without proper shoes and many with evident respiratory infections.
International assistance is difficult in these situations due to the strict policies and the hands-on involvement of the government. Though we had hoped to conduct more interviews with residents of the community in the following days, we were not allowed to return to the property due to personal safety concerns and risks of drawing too much attention to the community as numerous undercover police officers had been patrolling the area on the day of the event.
Yet the issues surrounding land disputes and community evictions are only one aspect of the uproar being experienced throughout Cambodia at this critical point in its history. As a country still very much recovering from the devastation experienced during the Khmer Rouge, there is now a resurgence — greatly dominated by the youth — of community activism and social development rarely seen in a political culture that so harshly discourages the outspokenness of its people.
With huge protests breaking out across the country in the garment industry to political unrest and civil disputes spurred on by leaders and followers of the opposition party — the CNRP, or the Cambodia National Rescue Party — Cambodia is entering into a critical stage of development.
This seems to be a crucial time in the history of global social development, as communities around the world continue to come together at the grassroots level to advocate on behalf of issues that directly effect them. So, if anything is to be taken from actions such as these, it is that every voice and every struggle deserves to be noticed. For if the global community wishes to make lasting changes, they must inevitably begin at the localized, grassroots level.
To learn more about Global Populace and our work as we pursue our nonprofit status, you can visit our website at www.globalpopulace.com or contact us directly at GlobalPopulace@gmail.com