News
Patient Care in Crosshairs
ADMHS Making Improvements After Years of Failures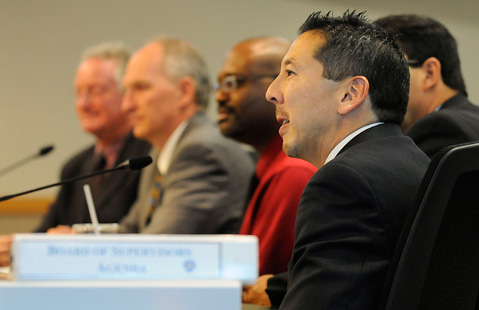 Though patient care offered by the county's Alcohol, Drug and Mental Health Services (ADMHS) department had been allowed in recent years to slip into a "pretty dire clinical situation," the system is now showing signs of improvement after 11 months of an ongoing effort to revamp its workings from top to bottom. That's according to ADMHS brass ​— ​accompanied by an outside consulting firm ​— ​during their presentation to the Board of Supervisors this week.
Readily admitting that more work needs to be done and that steps are being taken to ensure the budding culture of reform settles in for good, the doctors and administrators pointed to certain progress made thus far: The average wait time to see a psychiatrist has dropped from 66 days to 40 days for adults, and 73 days to 45 days for kids (the ultimate goal is 10 days for all ages); the department finished fiscal year 2012-13 without requesting any additional General Fund money; as of December 31, 2013, ADMHS has extinguished or fully funded all its known fiscal liabilities; and ADMHS secured over $10 million in SB82 grant funding for three regional triage teams.
All agreed on Tuesday that ADMHS ​— ​as the largest provider of direct services in the county ​— ​needs to shift its resources toward prevention and early intervention rather than high-cost crisis services. Right now, interim ADMHS director Dr. Takashi Wada noted, 222 of the system's high-cost beneficiaries drive 35.2 percent of medical claims. The statewide average is 25 percent. In the near future, the presenters promised, ADMHS will also organize a housing team and work on creating more bed space for patients in need. The supervisors voted to accept the reform team's latest report and will hear from them again on June 17 for a discussion on capital and facility needs.