Columns
Luz Reyes-Martin
A Rising Latina Star on the Goleta School Board
When Luz Reyes-Martin and I met at a coffee shop, no one would have known that she would be, in a couple of hours, sworn in as the newest member of the Goleta Union School District's Board of Trustees. She was so calm and collected, no one would have imagined that this was her first political tryout. As we sat down at an outdoor table, she warned me that she would have to leave in 45 minutes to be able to get to the important ceremony. How exciting! I said, so let's get to business.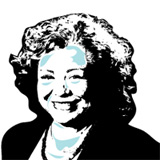 Luz told me that she was born in Guadalajara, Jalisco, Mexico. "My parents are also both from Mexico. My mom did middle school, high school, and college in L.A. She graduated from UCLA and moved back to Mexico looking for a grad program there. It was then when my parents met, and they settled down in Guadalajara. That's where I was born. Sometime after, we moved to East L.A.; most of my childhood was spent in Downey. I grew up, got married, and lived in Pasadena. From there, my husband got a nice job opportunity with the City of Santa Barbara, as a treasury analyst, and I followed him here."
Luz continued, "I was still working as a consultant for an urban planning firm, and I was able to work remotely because I would just travel for client meetings. Then, an opportunity came about with the City of Goleta. I applied and got the position. That happened three years ago, and through my job here, I have been completely immersed in the community."
It was precisely due to her great involvement in various groups like Santa Barbara Women's Political Committee and Latina Leaders Network that she became aware of the opportunity at the school board. (Former board president Pam Kinsley resigned last February, leaving a vacancy on the board open for appointment.) Luz tells me "education has always been one of my main interests, so I went to a board meeting to check it out, and to another, and then I started bringing parents to the meetings. Now, they have created their own little groups. You know, there's a very vibrant Latino community in Goleta. I figured that someone should represent them on the school board."
Luz then approached board members to ask them what characteristics they were looking for in their appointee. "After that, I threw my hat in the ring."
An appointment to the board entails a much less complicated process than an election: "City staff did a very good job at explaining what I needed to know. However, the real interesting part of the process was the interview, because you don't know what board members will ask. For instance, they had a host of questions, many of them were situational, to have an idea about how will you approach different situations and to determine if your approach is appropriate. A bit nerve-wracking"
Six people had applied for the position. Two hours after the interview, the call came. Superintendent William Banning told Luz that they unanimously chose her. "It was exhilarating. I was very nervous. I thought I did well in the meeting, but nothing is for sure. The first people I called to give them the good news were my husband and my mom."
School board member Luz Reyes-Martin has her priorities for the school district very clear: 1) Becoming an advocate to change the things that can be improved, i.e., how to better use the funds for special education and English learning students so they can excel; 2) Making sure there is a robust after-school program and an enriching summer school; adding things that are out of the box like art, dance, and teaching respect to kids (something that's very needed); and 3) Paying a lot of attention to bullying and how it affects the school district, what's being done to address it, and how it can be drastically reduced.
Luz's passion is almost tangible and her positive energy contagious. My time interviewing her was up, and off she went, with lots of hope for the future, to be sworn in.
Here's a prediction. We will hear a lot more about Luz Reyes-Martin in the future. So stay tuned.