Film & TV
Review: The Double
Jesse Eisenberg, Mia Wasikowska, and Wallace Shawn star in a film written by Richard Ayoade and Avi Korine and directed by Ayoade.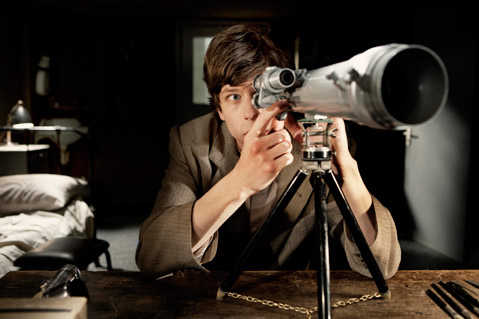 For the first 10 minutes of The Double, you may feel sure that the grim surrealistic surroundings, recognizable to anyone who saw Brazil, will soon dissolve, revealing the real movie after Jesse Eisenberg's character wakes up. But no, this dreamlike haze is the movie, and it may end up putting you to sleep.
Why do so many edgy art films feel so similar? This one is about Simon (Eisenberg), who takes a rusted-out empty subway train to a soulless factory equipped with 1980s-style phones and computers. He's such a nonentity that the computer can't seem to keep his name on file. Nothing works for him. When the elevator stalls, he gives it a swift kick. In the next scene, he's officially chastised for abusing company machinery. Meanwhile, Simon's doppelgänger, James, waltzes through the workplace, scooping up Simon's ideas and girlfriends with impunity. It's weird but entirely predictable.
Director Richard Ayoade is the same guy who gave us Submarine. (He also shows up in the brilliant British sitcom The IT Crowd.) This film makes us wish he'd stick to topical humor, because once we acclimate to his creepy world, we realize it's not about much. Think of a Ziggy cartoon wed to Fight Club and Catch-22 and suffused with Kafka: You now understand the structure of each scene. The division of Eisenberg into two characters may be welcome, though, only because it gives us a chance to see him mitigate the balking roles he's constantly getting. Ultimately, this movie is about nothing more than the age-old mystery of why overconfident oafs win the game of life while sensitive creatures fade into Eleanor Rigby woodwork.
To be fair, The Double is obviously meant to be funny, even though it may confuse audiences. Is it Russian literature light (the screenplay comes from a Dostoyevsky tale), or is it just an outright farce? And in his defense, Ayoade did gather a great cast: Mia Wasikowska, Wallace Shawn, and Sally Hawkins all seem to revel in the chance to go experimental. Too bad it feels so very predictable.