Film & TV
Review: Godzilla
Aaron Taylor-Johnson, Elizabeth Olsen, and Bryan Cranston star in a film written by Max Borenstein and directed by Gareth Edwards.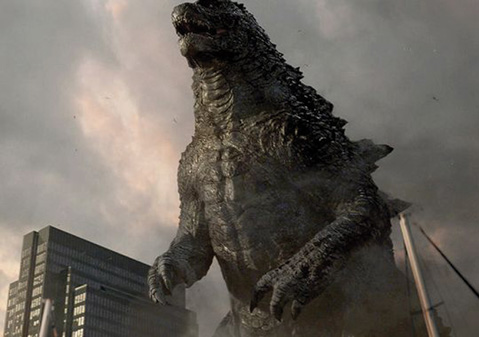 It's a terrible movie and, therefore, great. Don't ask your square friends, because they probably think that all films should be built along clean lines and represent some moral truth. But even super geeky fans may falter in their faith, wondering at the restraint of this movie until a half hour of setup delivers us to two terrific actors: Ken (Inception) Watanabe and Sally (Happy-Go-Lucky) Hawkins. They show up falling over themselves to relate what is possibly the most preposterous origin story in all of cinema: pre-prehistoric creatures that subsist on fissile materials. And then it hits you: It's a Godzilla movie. Later, when the MUTOs (massive unidentified terrestrial organisms) munch some live warheads, it all becomes clear.
Gareth Edwards's reimagining of Ishirô Honda's masterful, sad Gojira (1954) manages the impossible. It's both impressive and cheesy without resorting to soupy camp. Edwards had two choices if he wanted to honor the tradition: Godzilla could either be the melodramatic Tokyo-crusher (in the spirit of the first film), or he could reawake the Friend of the Earth/King of the Monsters, which was how most of the 27 sequels painted him. It would be cruel to let on which version he picked; just know that it does include awesome size, raging battles, and the wholesale spectacle of modern high-rises tumbling. The war cry and fire breath come along, too. And, in the movie's best dig, the monsters takes out some San Francisco techies too dedicated to Microsoft to evacuate when kaiju romps the neighborhood.
The last American Godzilla, the execrable Roland Emmerich version starring Matthew Broderick, began well but sold out to bad Steven Spielberg ideas. This one may be a little too true to the Japanese customs and turns up a little short on the requisite sense of horrible wonder, but considering the wear and tear it deals to some fine American cities, it's very light on its feet.