News
Pedaling with Wings
Three Inspirational Women Cyclists Win Velo Wings Award
It's June and time once again to talk about one of my favorite topics, women cyclists. According to a report by the League of American Bicyclists, women are the new cycling majority. Sixty percent of bicycle owners' ages 17-28 are women.
In Santa Barbara, one of the ways that we annually acknowledge the importance of women cyclists is with the Velo Wings Awards. Each year, three inspirational women cyclists are recognized for their contributions to cycling and our community. I had the privilege of interviewing this year's awardees, Nancy Mulholland, Wendy Manning, and Erika Lindemann.
Nancy Mulholland leads by doing. Mulholland inspires women cyclists every day by living car-free and using her bike for errands, meetings, and pleasure rides. Mulholland and her husband, Mark, have been doing most of their travel over the past 20 years by bicycle. As they ride together, they have experienced and seen the beauty of rural America and a pilgrim route from Amsterdam to Santiago de Compostela, Spain, and this fall they will be exploring Italy by bike.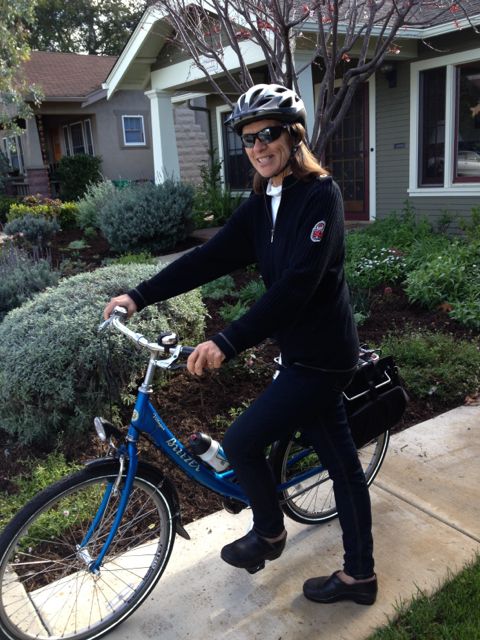 As an active volunteer in the Santa Barbara Bicycle Coalition, Mulholland wants others to discover and enjoy the world of bicycling. In the past, Mulholland has been a Bike Coalition boardmember and led its Education Committee. For the past year, she has been deeply involved in getting S.B. Bike's Connecting Our Community advocacy campaign up and running. She is committed to the campaign because, as she says, "I want to be able to ride anywhere on the South Coast, and I want my grandchildren to be able to do the same. Between us, we epitomize the 8-80 demographics of the campaign."
When Mulholland thinks about the Santa Barbara of the future, she'll envisions riding at age 80 on safe, continuous bikeways right here at home. The South Coast will be an even healthier, more sustainable, economically vibrant, and beautiful place to live for all residents. She inspires women cyclists everywhere with her patient leadership and vision for Santa Barbara as the number one bicycling destination in the nation.
Wendy Manning has been riding a bicycle her entire life. Her first cycling memory was asking her mom if she could ride over the freeway to downtown Goleta. Her mother responded: "When you turn 12 years old!" Manning still remembers that ride — the day after her 12th birthday.
In 1987, Manning started riding in group rides with the Goleta Valley Cycling Club when she was in her thirties. Those first bike rides opened her eyes to all the places she could cycle: the mountains and up and down the coastline. She also discovered a whole new group of supportive friends who love cycling. As she became more experienced, she started riding with the racing clubs and met female racers. By then, she had a great group of women cycling friends who started doing a lot of 100- to 200-mile rides. Those long-distance rides quickly became her favorite type of riding.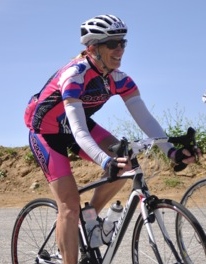 In 1990, Manning fractured both arms in a biking accident, but she didn't give up. As soon as possible, she was out riding on the back of a tandem. Riding and not feeling sorry for herself were the best therapy for her body and the mind, she said.
From 2004-2012, Manning battled cancer and came back strong each time. The B4T9 women's cycling team gave her the encouragement she needed to keep rolling and never give up. With their support, she found the strength to ride through centuries (100-mile rides) and the grueling Tour of California Alps Death Ride, which is 16,000 feet of climbing over 130 miles.
Today, Manning is feeling really good, and she rides more than 200 miles a week. Every time she gets on her bicycle, she is thankful for the support from her husband, family, her biking sisters and brothers, and her dog pack friends. Wendy Manning inspires cyclists by never giving up!
Erika Lindemann is passionate about bicycles. For her, they are more than a utilitarian form of transportation or exercise. She believes that bicycles have a unique way of creating personal and community connections. When Lindemann is riding her bike, she is mentally and physically happy and aware of the passing landscape that motorists miss. She smiles at passing cyclists, waves to friends, and has more interactions with people on the street or at intersections as she rides her bike. Cycling also provides a path to discover how our community can be improved. When you bike, you are intimately aware of potholes that need to be fixed or intersections that are dangerous for cyclists, motorists, or pedestrians. You also notice the homeless person on the street corner or the children walking to school without a safe sidewalk or path.
Lindemann grew up in Santa Barbara and was one of the Santa Barbara Middle School's famous Bike Monkeys. After high school, she left to go to college in Santa Cruz and came back to town in 2001, fired up about the cultural possibilities of biking. The Santa Barbara Bicycle Coalition had a strong advocacy program when she joined the Board of Directors; Lindemann worked to expand the group's mission to include building a community and culture of cyclists. She was also aware of how the international Ciclovia movement was transforming cities by reallocating how streets are used. In cities like Bogotá, Colombia, Ciclovia has helped transform streets that were dangerous and unsafe, except for motorists, into community boulevards that pedestrians, cyclists, and others can enjoy.
Lindemann met Ed France and quickly became excited about creating a community hub accessible to all cyclists. Their vision was for a bike center for all ages that could be shared by roadies in spandex, urban commuters, women, high school kids, and homeless cyclists. As a result of their vision and energy and a committed core group of dedicated cyclists, that dream became a reality with the creation of Bici Centro as a community-centered DIY bike shop.
Lindemann has also been on the Board of Directors of Santa Barbara Mountain Trail Volunteers and loved doing trail-etiquette outreach and trail work. She worked for SBCAG Traffic Solutions for more than five years and helped build many of the events that evolved into CycleMAynia; she also pedi-cabbed for a few seasons with Dominic Clark and Jim Heaton. Erika Lindemann inspires women cyclists by her vision and willingness to get her hands dirty creating a community of cyclists in Santa Barbara.
Santa Barbara is lucky to have inspirational women cyclists who lead. You'll see them commuting to work, racing, and riding to school or on errands. Women are still underrepresented in cycling leadership positions, including the boards of national industry and advocacy organizations. But not for long with women like Nancy Mulholland, Wendy Manning, and Erika Lindemann rolling and encouraging the next generation to ride with them!