News
Backpacking: Red Reef Trail to Topatopa Bluff
Our Hiking the Backcountry Columnist Heads Toward Ojai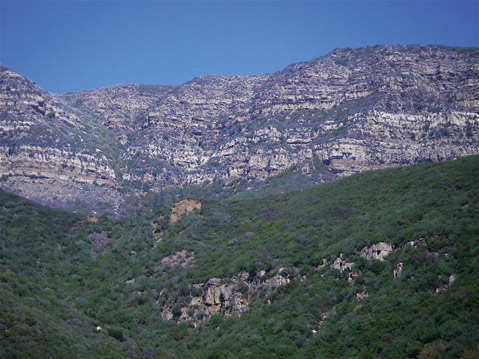 WHAT: Three-day, nine-mile backpack or 15-mile day hike along the Red Reef Trail.
DIFFICULTY: Moderate to strenuous ascent of more than 2,200 feet.
MAP: Tom Harrison Maps Sespe Wilderness.
DIRECTIONS: 101 South to Highway 33 to Ojai, then Highway 150 toward Upper Ojai Valley and left on Sisar Canyon Road.
THE EXPERIENCE: The Los Padres National Forest's enchanting Red Reef Trail outside of nearby Ojai offers a quick, challenging nature foray up Sisar Canyon, topping out at Nordhoff Ridge Road, where stunning vistas of the grandiose, forbidding, and pink sandstone bluffs known as the Topatopas ensue.
It was a hot spring weekend when I checked out this adventure, with a first day of climbing about 2,000 feet on the 4.5-mile backpack to White Ledge Camp, which has three iron fire rings and plenty of shade. (Be sure to obtain a fire permit from the Forest Service and filter your water.) The first three miles are along a dirt road but reward with great views. The trail's bounty of beauty included cool white alders, profuse and gnarly chaparral, fragrant bay laurels, and a few towering big leaf maples down in the creek. The arid trail was graced by the dark blue blossoms of yerba buena, which the Chumash used to make a medicinal stomach tea.
On day two, I took an exhilarating day hike from White Ledge, which sits at 3,700 feet, along the rest of the Red Reef Trail, which reaches its highest point another three miles up. The steep mountainous landscapes to the east and above me displayed the well-known Topatopa's precipitous cliffs, visible from the streets of Ojai and far beyond.
On the third and final day, I ambled back down the Red Reef to the closed portion of Sisar Canyon Road, where I found my beat-up, 15-year-old Ford Ranger, whose four-wheel drive had been most handy on the final mile before the gate.
Hiking below the high cliffs of the Topatopas is a great, quick, and relatively easy escape from the modern world, or what economist Thomas Piketty I believe correctly calls the "Second American Gilded Age."