News
A Passion for Pedaling
Developing a Love of Cycling in Children
Last week, I watched as my nearly 3-year-old learned to pedal a tricycle. I was fortunate enough to be volunteering at his preschool that day. I was astonished that after getting the motion wired, he rode around the small, oblong track for more than two-and-a-half hours.
The mama in me wondered if this might be a sign of an inherited propensity toward OCD, and I worried that his new trike obsession would prevent him from ever learning to read or make a proper macaroni necklace. But, the cycling enthusiast in me was secretly celebrating every lap and screaming, "Pedal, baby! Pedal!"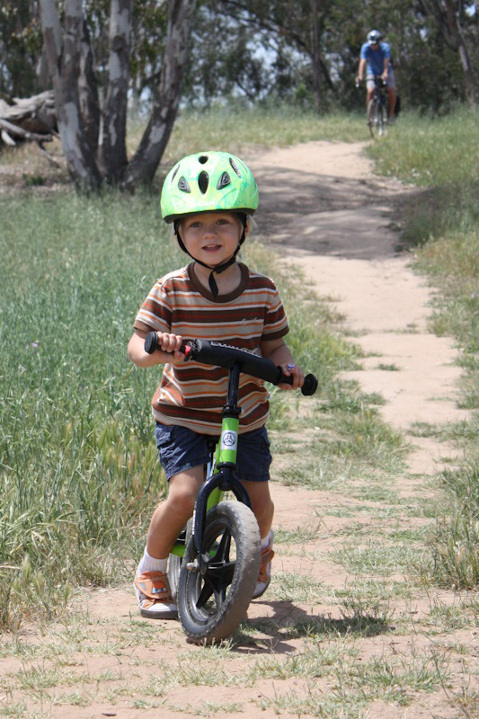 Most cycling parents hope their children will catch the biking bug early. We want them to blend seamlessly into our cycling adventures when they're babies, we want them to be stoked to play the role of stoker as young kids, and we want them to found grassroots cycling organizations in their idealistic young adulthood.
Of course, children have their own agendas: sippy cups and stuffed animals tossed into the bike lane, diaper disasters and meltdowns just as you're ready to roll down the driveway, a great enthusiasm for the texture and taste of chain grease, and the determination to bring the entire set of wooden trains on every ride. Despite the difficulties, most biking parents want to share the sport with their children.
Feeding the Fire
The Genner family has cycled more than 10,000 miles together. Steve and Pippa Genner recall both of their boys, Henry and Charlie, learning to ride at around 4 years old. "It probably helped that they have always been outdoor kids with an enjoyment of running, cycling, cooking on open fires," explains Steve.
But wheeling around the neighborhood is one thing; spending over a year and a half cycling through Central and South America might require more than your average child can muster. Not so, says Steve, "With my background in outdoor education, I have noticed that virtually every child loves being outdoors, trying new things even in the foulest of weather."
Beginning their epic intercontinental trip at ages 9 and 12 years old, the Genner boys were always included as participants, not regarded as stowaways on their parents' adventure. Says Steve, "At all times, they were part of the decision-making process, and their views were listened to and acted upon when appropriate."
The amazing experience of a long-distance bike trip must plant some deep cycling roots. But what if you're not able to devote an extended period of time to bike adventures? Will your kids be doomed to a pedal-less life of car commuting? Steve believes the basic appeal of cycling is universal to kids and something that will stick with his own boys as they grow older, "Fundamentally, they enjoy the freedom and simplicity of cycling, so I think that it will always be part of their lives."
A Cyclist Is Born
Cycling love isn't all about nurture; some babies are just born to ride. Such is the case with 4-year-old Paolo. From a very young age, he has had a strong interest in bikes. His mother, Rebecca Borgioli, says, "When he was less than 2, he would get on his sister's bikes and try to ride but couldn't reach the pedals quite yet." Before his third birthday, he was coasting on two wheels: "He would raise the training wheels up so that they wouldn't touch the ground for more of a challenge. Right away, he had us take them off."
Rebecca calls her son's love of cycling an intrinsic part of his personality, "We never gave him any instruction nor did we help him; he was just self-taught." Watching Paolo cycle around the path at school, one can see his evident love of biking. He enjoys riding with one leg sticking out to the side or both feet over the handlebars. He's perfected riding the school's big metal tricycles leaning to one side, with just two wheels contacting the pavement.
When asked what he loves about biking, Paolo shrugs. I suggest maybe it's the speed, and a big smile spreads across his face. This is the part that worries us moms. Rebecca says, "He is very eager to start BMX racing. I am nervous and tentative about that." Still, she's going to let him try. She believes biking has done some great things for her child, "It has provided him with self-confidence. He loves teaching kids how to ride a two-wheeler and enjoys being in the company of kids who are learning to ride. I believe he takes partial responsibility for their successes."
While he loves riding solo or with friends, Paolo's happiest times on the bike are the ones shared with his family. Rebecca says, "Sometimes as a family we ride on the bike trail from Modoc to UCSB. He loves that. The first time he did it, we didn't think he was going to make it on his little Spider-Man 24-inch bike, but as fast as his little legs could turn, he kept up."
The ultimate secret to growing a great cyclist might lie in growing a great relationship with your child. Genner says, "Young children just love being with their family, so anything you choose to do as a unit will succeed in fulfilling them." Pedal with your children while they're young, and there's a good chance they'll stick with it in the future and an even better chance that you'll both enjoy the ride.