Living
Plaza Rubio
Named for Father José María de Jesús González Rubio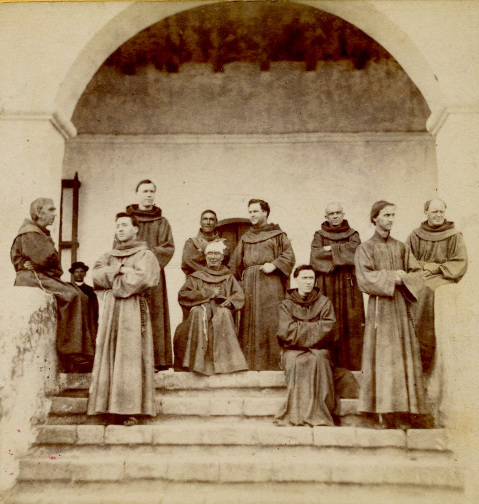 Plaza Rubio, which faces the rose garden of Mission Historical Park, is a small-scale example of early urban planning. The seven homes were designed in the mid-1920s by Mary Craig as a unit, built to stylistically complement the imposing architecture of the Old Mission. The street is named after a prominent member of the mission's Franciscan community, Father José María de Jesús González Rubio.
González Rubio was a guiding presence at Santa Barbara Mission from 1842 until his death in 1875, and he played an important role in the shifting fortunes of the order and of the missions in California.
He was born in 1804 in Guadalajara, a city largely spared the turmoil of Mexico's War of Independence with Spain from 1810 to 1822. He graduated at age 16 from the University of Guadalajara with a degree in philosophy and considered a career in law, but he began his training as a Franciscan novice in 1824 and took his vows a year later. In 1827 he was ordained a priest.
González Rubio was assigned missionary work in Alta California, and 1833 found him at Mission San José, just as secularization began. This process, ordered by the Mexican government, led to the missions losing most of their holdings to private hands. It was the beginning of the end of the mission system. González Rubio's legal background and fiscal acumen stood him in good stead during these years. So impressed were his superiors with his administrative skills, he was named president of the eight northern missions in 1837.
When California's first bishop, Francisco García Diego y Moreno (after whom Bishop Garcia Diego High School is named), made Santa Barbara Mission his headquarters, González Rubio came to Santa Barbara in 1842 as his secretary. The mission system continued to deteriorate under the impact of secularization as California's last Mexican governor, Pío Pico, accelerated the sale of mission lands.
With the bishop's death in 1846, González Rubio took over many of his duties. He found himself defending mission properties from the grasp of California's new masters, the Americans. He consistently fought for property rights of Native Americans, largely deprived of any hope of land ownership by secularization and the arrival of the Americans.
All the while, he had become much beloved in Santa Barbara. The depth of local esteem for him became evident in January 1856 on the eve of his transfer to Mexico. Two days after a tearful farewell sermon, González Rubio made his way to the beach to meet his ship. Some 1,000 people, which probably constituted over half the entire population of the town, surrounded his carriage and refused to allow him to leave. Finally, he reluctantly returned to the mission, where he found his baggage had already been placed back in his quarters. Subsequent petitions to his superiors resulted in cancellation of his transfer.
Much of the rest of González Rubio's life was devoted to the administration of the Franciscan seminary at Mission Santa Barbara. He also continued to be very active in affairs of the Santa Barbara parish. Through all the turmoil of his 43 years in California, Fr. González Rubio had continued to, as one observer wrote, "serve as a model of respect and integrity."