News
Parking a Bike in S.B.
Forward Thinkers Want More Than a Tree or Post
I'm back on my bike after a week of very limited physical activity following sinus surgery. Okay, I cheated. Two days after the surgery, my daughter Danielle and I rode down to Hendry's so that she could run on the beach and the Mesa Lane steps while I rested.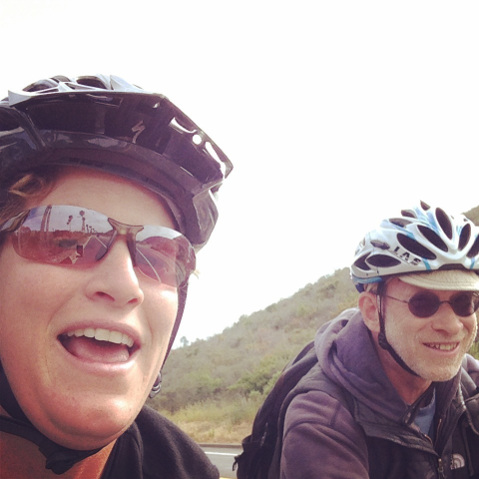 While sitting on a rock, breathing through my nose and enjoying the smell of the ocean breeze, I thought about Danielle's comments about the Santa Barbara cycling scene. She loved her local cycling trips to the Dollar Store, East Beach, and Union Ale, but she wondered, where's the bike parking and signage? Danielle is spoiled when it comes to accessible, secure, and convenient bicycling parking because she lives in Portland. (I'll talk about bike signage in another column.)
If you'll remember from an earlier Pedal On column, Portland has more than 105 bike corrals while Santa Barbara is moving closer to approving its first one on Canon Perdido near Sojourner Café. The merchants on Canon Perdido and Santa Barbara streets have been working with the city and the Santa Barbara Bicycle Coalition for the past two and a half years to get approval for a bike corral near the Soj. Another one is being discussed for the Funk Zone. A bike corral is a simple concept with huge benefits for cyclists and more importantly area businesses. Bike corrals are simply the replacement of an on-street parking spot with bike parking that can hold 10-20 bicycles.
Transportation planners get it that if you want to encourage motorists to drive to State Street, or any other business, shop, or school, safe, accessible parking on-street or in nearby garages is essential. It's no different for bike riders. Most of us do not consider fence posts, trees, telephone poles, or signs appropriate bike parking. I recently rode to an upper State Street business, and the only place to lock my bike was to a huge palm tree.
I told Danielle that while we lack bike corrals, by late-2014 Santa Barbara will be the first U.S. city to have not one but two Bikestations. Modeled after European and Japanese models, Bikestation Long Beach was the first facility of its kind to open in the U.S., in March 1996. It was followed by facilities in Palo Alto, Berkeley, Seattle, Santa Barbara, and finally Covina in February 2010.
The Santa Barbara Bikestation is located inside the Granada Garage on Anacapa Street. It provides secure indoor bike parking 24/7 within convenient walking distance to the County Administration Building, the courthouse, and State Street. The facility has 78 bicycle racks and alternative transit information. At Bikestation you can park your bike and take a shower or use the bathroom before going to work. There are lockers to store your backpack, extra clothes, or cycling shoes. If you need to adjust your brakes or derailleur, there are tools and work stands handy for minor repairs. If you've got a serious problem, nearby bike shops — Open Air Bicycles or Cranky's — can probably handle it.
The new Bikestation will be built at the MTD bus station on Chapala. The MTD Bikestation won't have a restroom and showers, but it will provide safe, secure parking for 26 bikes. Lockers and a simple fix-it area may be added at a later date. The new facility should help cyclists who use public transportation, since the transit station is one of the areas in the city where cyclists park their bikes, remove all accessories and lights, and pray that their bike will be there when they return.
Not all cyclists need secure indoor parking. But if you are commuting by bike to work, knowing that your bike is safe all day and you have a place to shower after riding has the potential to convert motorists into cyclists.
Both privately and publicly Santa Barbara is improving area bike parking facilities. Santa Barbara City College is in the process of replacing its old racks with new San Luis Obispo Peak Racks and adding Dero Fixit stations and bike lockers. The Fixit Stations have a bike mechanic stand, air pump, and simple tools. UCSB has also been upgrading its vast number of older, less-efficient bike racks with new Peak Racks. Area businesses such as Sonos are interested in installing bike racks for employees and visitors. Forward-thinking business leaders realize that attracting and keeping young, talented employees is important. Being a bicycle-friendly business with accessible safe bike parking, showers, and a changing area is one perk that more and more employees covet.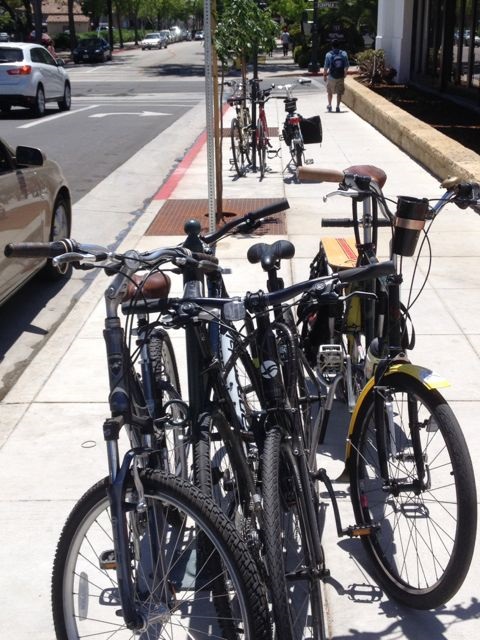 In Santa Barbara, the city just recently installed new bike posts at the Public Market on the corner of West Victoria and Chapala streets. There is also some bike parking available in the underground garage under the Alma Del Pueblo project.
The City of Santa Barbara's Transportation Division added 154 bike parking spots by recently installing bike racks at three locations. With $10,000 in Measure A Safe Routes to School Grant monies, new bike racks were installed at Adams Elementary School and Santa Barbara High School. The city also used Streets Capital funds to install bike racks at the Westside Center and the Police Activities League's Twelve35 Teen Center. Awesome, but we still lack adequate bike parking at many popular areas. On its website, the city invites cyclists to be proactive and email or call with suggestions for hitching post locations in front of their favorite stores, churches, or shopping centers. I believe in asking instead of whining, so here's the phone number: (805) 897-2669.
Cycling is growing in popularity in Santa Barbara. With more cyclists riding to work, to school, or on errands, we have outgrown the existing bike parking facilities in many areas of the city. Cities all across the country are investing in bike parking. Chicago is promoting bike corrals as business friendly, and Sacramento is planning to add 10. Portland is struggling to keep up with the demand of businesses for more bike parking. I always love the problems of success. When it comes to bike parking, Santa Barbara needs to keep investing for success!