Cover Story
John Palminteri
The Life and Legend of the S.B. Newsman
Perhaps there is a Sampson-style magic to his perfectly manicured push-broom mustache. Or a sparkle of pixie dust in his bomb-proof, slicked-back, salt-and-pepper hair. Or maybe the stars simply align a little more true when he flashes his trademark high-wattage grin, microphone in hand and a news scoop jumping from his lips, straight into your TV or car stereo. Whatever the causes, there is no denying the power of John Palminteri, the real world's Ron Burgundy and undisputed heavyweight champion of the Santa Barbara news landscape.
For the better part of four decades, "JP," as his friends and colleagues call him, has been reporting the area's news with a pace, fervor, and omnipresence that knows no equal. "He is absolutely everywhere and across all forms of media from the radio to the TV to newspapers to Facebook," marveled Mayor Helene Schneider recently when asked for her thoughts on the KEYT senior news reporter that the public simply calls "The Palm." "He is the ubiquitous John Palminteri, and I have no idea when that man sleeps," added Schneider with a laugh and a dash of awe. "I mean, does he sleep?"
The Palm Cometh
Lady Diane and Prince Charles got married, Natalie Wood fell overboard, Donkey Kong and Frogger dominated the arcades, MTV first hit the airwaves, and a young radio news reporter from Los Angeles took a job in the Santa Barbara market. It was the fall of 1981, and the world was a different place.
Palminteri, just a few years removed from graduating from Long Beach State with a double major in journalism and radio-TV-film, was hustling news and rocking a younger man's version of his current upper-lip caterpillar. After a couple of short stints reporting, writing, and broadcasting for news radio in L.A. and Riverside, Palminteri was recommended for a job at KTMS 1250, Santa Barbara's once-proud all-news AM station owned by the most famous of the city's media moguls past or present, Thomas Storke. It was the era of typewriters and cassette recorders and bulky microphones and Teletype machines, and Palminteri was in love with it all.
Taking a trip down memory lane earlier this year during a lengthy dinner interview at Joe's Café, the 57-year-young Palminteri mused, "In those days, there wasn't a news tip I didn't jump at. Since a young age, if I knew something, I just couldn't wait to tell people. It really got me going." And then, after taking a sip from an ice-cold beer on an unseasonably hot spring night, he added with a chuckle, "and I'm not sure very much has changed for me since then."
The youngest of five children in a full-blooded Italian family, Palminteri grew up in South Central Los Angeles in the middle-class melting pot that once thrived between Watts and Inglewood. The son of a work-at-home Sicilian seamstress and a father who was a career employee for the City of Los Angeles' Department of Public Works, Palminteri came of age in a time and place where civic duty not only mattered but was paramount and the average American seemed infinitely more interested in making the world a better place than they do today. Add to that ideal a natural gift of gab and his aforementioned penchant for sharing, and his trajectory toward a celebrated and multifaceted newsman seems like fate.
Even his youthful days as one of the very first male waiters at Knott's Berry Farm, where his hyper gregarious personality and customer-service-oriented attitude helped break down a reverse gender barrier at the fried-chicken and boysenberry-pie emporium, becomes a clear stepping stone to his now-world-class news chops. As his longtime friend and former colleague John Boitnott said, "He is the perfect example of a guy who is doing exactly what he was meant to do with his life. You have to understand, he isn't just addicted to news; it is his way of life."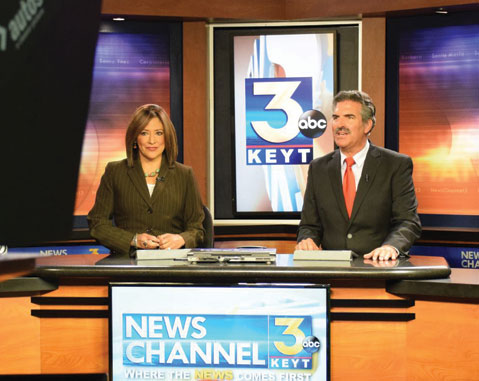 A Radio Man Finds a Home
With some gentle prodding, Palminteri admitted that he figured he would spend "a few years tops" working in the Santa Barbara area before returning to the bigger market and bigger paychecks of Los Angeles. But something funny happened in those years at KTMS ​— ​he flat out fell in love with Santa Barbara. "I discovered that the quality of life and the spirit of community we have here is something you don't find everywhere else. It is a special place, and everything can and will happen in Santa Barbara. Every big story I could have ever dreamed up during my college years has landed in my lap here," he said with a touch of defiance that tells you he is no stranger to people second-guessing his career choices.
In 1988, Palminteri expanded to television when he signed on as the assignment editor at KEYT. Hired by King Harris, Palminteri wasn't long for the desk job. As he put it, "Breaking news just sets off alarms in my head that I cannot ignore." He soon found himself where he is perhaps most comfortable ​— ​out roaming the streets of Santa Barbara County in search of news as it happens. "Once King decided to unleash me from the desk, I have never looked back," said Palminteri. It's a truth confirmed by a recent survey of his news-story output some 33-plus years after coming to the 805. Over the past year, Palminteri generated a jaw-dropping amount of roughly 70-90 individual news stories a month while working for KEYT, as well as regular reporting duties for KjEE 92.9 FM, KCLU 102.3 FM, and 1340 AM.
"In all my years in this line of work, I have never met anyone like John," explained KCLU news director Lance Orozco.
Even more impressive, striving to unearth at least one enterprising lead a day (i.e., a story that no other local media outlet has), Palminteri ​— ​always in a crisp suit and tie and with three changes of clothes, including his iconic yellow fire gear, at the ready ​— ​covers everything from the farms of Carpinteria to the cash-flush Coral Casino in Montecito to Santa Barbara's City Hall to the beer-sogged streets of Isla Vista to the front lines of dangerous disasters like the Tea Fire. "In all my years in this line of work, I have never met anyone like John," explained KCLU news director Lance Orozco. "He lives, breathes, and drinks news. It doesn't matter if it's 11 p.m. on a Saturday night or 3 a.m. on a Monday morning; if something is happening, he is there."
This work ethic is part and parcel to the John Palminteri experience. Just ask his current KEYT news director, Jack Lemon. Lemon came to the station via Milwaukee a year ago and admittedly knew little about the asset he had; it didn't take long for him to learn. Quickly, Lemon's eyes were opened to the work habits of the man he now calls "a walking story generator that you can set your watch to." It was late March of last year, and Lemon got an early-morning text from TV Hill that SBPD SWAT had sealed off State Street near Mission Street and that the incident had something to do with the nearby gun shop. Panicked that he might be missing one of the first big, local breaking-news stories of his tenure, Lemon hustled into the station. "I was in no later than 7:15 a.m. and, by that time, John was not only at the scene, but he was on the story and reporting. … And this is after helping put out the 11 o'clock edition the night before," recalled Lemon. "I'm already taking it for granted, but, yes, I was amazed at first. If something is happening day or night, he is on it! I now realize that is just part of his DNA. … If even a small part of him rubs off on younger journalists, our profession will be in a better place."
As for Mayor Schneider's question about his sleeping habits, Palminteri assured me that he is indeed human and that not only does he sleep every night (in NASCAR pajamas, nonetheless), he also tries to take time each week to not answer phone calls or work a lead. However, he does admit to keeping a police scanner under his pillow ​— ​the endless babble presumably working like a bizarre lullaby for his news-addled brain ​— ​and when his alarm goes off at 5 a.m. every morning, he wakes up "very excited to find out what happened while I slept …. I am not sure how healthy it is, but I am very excited about what I do every single day," said Palminteri with a shake of his head.
A Cult of Personality
The sticker says it all: "Palminteri is Primetime." The black-and-white, Shepard Fairey–esque image of JP's likeness has become a visual touchstone in Santa Barbara media lore and pop culture alike. The guerrilla-style pro-Palminteri-sticker marketing campaign, born without the newsman's involvement but fully embraced by him in the years since, can be found everywhere from beloved pizza joints in San Francisco's North Beach and subway stations in New York City to cargo holds on FedEx jets and a scooter in Vietnam. Though people in the know are tight-lipped, rumor has it that the original artwork and sticker campaign were the brainchild of a former Dos Pueblos High School student named "Ricky."
The sticker, which cropped up shortly after Palminteri began his 92 Seconds of News on the highly popular though now defunct KjEE Morning Show with Spencer, Jenny, and Adam in 2003, hints at the vast and varied role that Palminteri plays in the community at large. As radio personality and former Palminteri cohort Spencer Fischer said, "John is a cross between Santa Barbara's Other Mayor and a human Oscar Mayer Wienermobile; everybody smiles when they see him."
Need more proof of the Palm's popularity? Taking a stroll down State Street with the man is the closest thing you can get to walking with Elvis. The demand for his attention from people young and old (ladies especially) is off the charts; he holds court wherever he goes. He has a drink named after him at the French Press (the "John Palminteri" is a blend of iced green tea and lemonade); a Cinco de Mayo event at the Sandbar where, unbeknownst to him, the primary party favors are oversized cutouts of his face; presides over fake April Fools' Day wedding ceremonies at the Courthouse; and can lead a sold-out Bowl audience less than half his age chanting in buzzy unity, "Primetime! Primetime! Primetime!" In media speak, his market penetration is ridiculous.
While his years spent reporting the news certainly doesn't hurt, such work is by no means a guarantee for good will from the public. Without a doubt, it is his ever-growing résumé of emcee duties with various nonprofits and charities around the South Coast and assorted other events such as Fiesta, the Downtown Organization's Annual Holiday Parade, and KjEE's Summer Round-Up concert that does the bulk of the heavy lifting in endearing him to the community at large.
Quick on his feet and more than comfortable working with a hot mike in hand and no teleprompter, Palminteri (who had a short-lived tenure as a stand-up comedian) is clearly the fan favorite to inherit Larry Crandell's "Mister Santa Barbara" mantle, though he would be the last to ever suggest such a thing. "Sure, he shows up for the opening of an envelope, but chances are he will emcee it and cover it and, in the process, get a handful of news tips out of the deal. … The guy is a news artist," said KEYT coworker David Hefferman. "I fully expect at the end of the world that John will be hosting it and quite possibly filing a story."
The true motivating force behind Palminteri's public-appearance schedule is something fans of his news work may not know ​— ​the guy has a big heart. I spoke with coworkers past and present as well as people from the PR world and various police and fire public information officers, elected officials, and just about anyone else I ran into, and the overarching sentiment was the same ​— ​the Palm has a surplus of generosity. It seems that as much as he finds himself in the spotlight's embrace, it is always other people who come first. "He is giving himself to people all day long," said Oscar Flores, a Santa Barbara native who has been JP's cameraman at KEYT since 2010.
And Flores has personal experience to prove it. Shortly after the two began working together, they were on their way back to the station after reporting a story in Santa Maria when the tire on their news van imploded. With Flores at the wheel and JP riding shotgun and working on his laptop, the van spun out of control and into oncoming traffic before catching some air and ultimately flipping. Amid the smoke and broken glass and shell-shocked panic that follows a brush with death, Palminteri made sure Flores was able to exit the vehicle first, actually helping boost the young cameraman up and out and into safety before tending to himself. "He was so selfless that day; I will never forget it," said Flores. "But now I know that's just how John is; he puts others before him."
The Real Legacy of the Real Ron Burgundy
It is impossible to talk about the Palm without mentioning Ron Burgundy, Will Ferrell's suit-wearing, mustached, contagiously charismatic newshound of the comedy films Anchorman and Anchorman 2. The parallels between the two men ​— ​one real and the other real-good Hollywood ​— ​is uncanny to such a degree that Palminteri should be in line for royalties or, at the very least, get some sort of public attribution. Similarities go way beyond facial hair, "stay classy" jokes, and being popular with women. In the movies, Burgundy is a critical part of the fabric of San Diego, his role as newsman helping hold together and lift up a city in times of crisis. Palminteri does that for Santa Barbara; his yellow-jacket-wearing self has been a reassuring touchstone during the deadly and destructive wildfires that all too often terrorize this part of the world.
Well beyond the imagined benefits of having Ron Burgundy as your area newsman, Palminteri, thanks to his choice to stay in Santa Barbara all these years (and it has been his choice ​— ​he's had more than one offer to move to big-city markets), is on a short list of South Coast media warriors who have put in the time and have the ability to put big stories in context and tell the news as it matters specifically for us. This skill is invaluable to a city and its people, especially in this day and age where specialization and turnover are at an all-time high.
The importance of someone like the Palm to Santa Barbara was never lost on me, but I had overlooked the two-way nature of the relationship.
The importance of someone like the Palm to Santa Barbara was never lost on me, but I had overlooked the two-way nature of the relationship. While reporting this story and wrestling with his wickedly busy schedule in order to meet up and get some proper interviews done, I learned that he was quietly suffering from some terrible losses. In the course of one month, both his mother and one of his big brothers died, the latter coming as an awful surprise.
Though the cruel plot twist "just sent me counterclockwise," he said, he has continued to work. For example, he covered the Deltopia riots ​— ​getting teargassed eight separate times in the process ​— ​and hosted La Primavera, the official kickoff event of the Old Spanish Days Fiesta 2014 season, and then, just a few über-busy weeks later, he delivered 45-hours straight of work in the wake of the Isla Vista shootings, reporting the tragedy for KEYT as well as multiple national and international news outlets.
But in the pain, there has been a lesson about the true nature of a relationship between a committed newsperson and the city or town he/she covers: "For whatever reason, doing what I do has helped me," Palminteri said while nursing a beer at the James Joyce a few weeks back. "My therapy really is my work and the great people of Santa Barbara. I love my job, and I love this city."
The Palm's High Five: John Dishes on his Favorite Santa Barbara Stories
Painted Cave Fire
As a young TV reporter, it was a monster fire, unlike anything I had been through. The hills were on fire from the middle of San Marcos Pass to Hollister Avenue. Our crew was in the middle of a scene that had countless areas on fire, 70-mile-per-hour down-canyon winds, and thousands of people in a panic trying to evacuate. In about four hours, there were roughly 500 homes and businesses damaged or destroyed. By dawn, it was an eerie scene with structures gone, cars reduced to metal shells, and people walking in shock as they looked at the losses. At the same time, those who were not homeless immediately offered a helping hand, a home, food, and clothing.
La Conchita Mudslide
After a very wet and stormy start to the winter season, a massive mudslide came down from the hills above the 166-home La Conchita community, killing 10 people and injuring 14. It was the second La Conchita slide I had seen in my career. The first damaged about seven homes. This one took lives. In seconds, people who were in the homes or walking on the streets disappeared in the wall of mud. It was one of the most emotional scenes I had ever witnessed. Family members were in a panic calling for help, and others were wailing in tears.
Michael Jackson
I would have never expected a trial involving one of the world's most famous entertainers to land in our local lap, but that's what happened when Michael Jackson was arrested in November 2003 and ordered to court for a trial on molestation charges in early 2005. The world watched, and I was given a seat in the Santa Maria courtroom where it all unfolded. Outside, fans from everywhere came to see what they could through the fence line and hold signs. They were as much of the story as the events inside the courthouse. I also found myself side by side with reporters from all the major news shows and international press.
President Ronald Reagan
To be included in the White House Press Corps as a young radio reporter from a local station was an incredible opportunity. I was able to be part of the daily press briefings when President Reagan was at his ranch and, during several summer events, I was invited to attend special western barbecue events that included a meet and greet with President Reagan and First Lady Nancy. Politics aside, meeting a president several times and having a tri-tip dinner with country music was an amazing time I will never forget.
Any of the Old Spanish Days
I love Fiesta and everything that goes with it ​— ​the history, the horses, the horsing around that many people do to celebrate during the nearly weeklong event. Some cities don't have the opportunity to put on such an event, one with years of incredible pageantry that's gone on before us. Until I arrived in Santa Barbara, I can only remember two big parades: the Tournament of Roses and the Disneyland Main Street Parade. Fiesta has it all for the young, the old, the newbies, and the born and raised. Some people get tired of the music, dancing, "Vivas!" everywhere, the costumes, and the crowds. I can't get enough of it.
4•1•1
Come have a drink and share a laugh with Santa Barbara's most beloved newsman and champion of facial hair, John Palminteri. The Independent will be hosting a "Primetime" Happy Hour this Thursday, July 24, at one of the Palm's favorite haunts, Joe's Café. The fun starts at 6 p.m. at 536 State Street.