News
Los Angeles County Fair, Pomona, 1950s
Twitter Tweeters Might Be Chirping Commercials
My father and I stood outside one of the main exhibit halls watching a man in a white chef's jacket and hat demonstrate a product called, to the best of my memory, the "Magic Chopomatic."
"It dices, it splices, it chops, and I mean chops," he proclaimed as he stuffed a large carrot into the top of the machine, and we all watched it emerge from the other end in tiny slivers, which he held up for all to see.
"My gosh, that's great. I'll take three of them right now," a woman of uncertain age yelled out, holding a handful of money high in the air.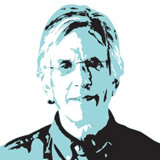 "Why'd she buy three of them?" I asked.
"Because she's a shill."
I raised my hands and shrugged my shoulders to indicate that I had no idea what my father meant.
"A shill is someone being paid to say she likes something. If we stayed for another show, she'd buy three more, at least."
"Do shills only work at the fair?"
He laughed. "You got a lot to learn, kid."
And did I. And I'm still learning about shilling in the brave new world of the Internet.
I always assume that celebrities and people I don't know who email or write me about some great new product — for example, one that allows me to lose 10 pounds in three days while eating only their new brand of ice cream — to be company shills. But I never imagined that a friend or relative could be a shill. And I still don't, but it could happen — to any of us. Companies such as Twitter have provided a reason to be a modern-day shill — money.
Is it ethical for someone that I should reasonably be able to trust to act as a shill? Not in my book.
If I hear from someone I trust, for example, that a new headache medicine is great or they forward an advertisement for a product, I expect they have tried it and are just passing on the good news to me. After all, they are not being paid to say it.
Or are they?
There are a number of ways that a regular Joe or Jane, not a celebrity (except in their own minds), can become a paid shill on Twitter.
Twitter allows a user to set his own price-per-click for ads he Tweets forward to people on his mailing list. A Tweeter (or "one who Tweets") can select available ads from Twitter, which are updated on a regular basis, to use as his selling vehicle. Apparently a Tweeter can also sell banner ads on his profile page or send a personal message to his list. And there are other companies that offer to buy people's Twitter list to promote products. PaidPerTweet has the following ad on its web page:
"Get paid to create buzz for companies! You can set your price to Tweet. PaidPerTweet allows you to monetize your social network accounts."
The Federal Trade Commission (FTC) has passed some warnings that must be placed on certain sites, but they are hardly sufficient warning to the consumer. As far as strong consumer protection warnings go, the Internet is still the Wild West. It has few quality- or integrity-protection mechanisms.
Advertisers, for example, paying for ads on Twitter only have to add "#spon" to the post to satisfy the law.
There are numerous other companies that feed off Twitter, in which a person deals directly with potential advertisers and sets her own cost-per-click. The biggest player, besides Twitter itself, is IZEA. What that company actually does and how it does it is beyond a brief explanation (or even understanding) by me — the curious can see the company's web page here.
As one Internet expert (anonymity requested) said to me, "People need to realize that the minute they go online they are entering a medium that is largely unregulated and is too big and dispersed to control. So take everything with a grain of salt."
That's exactly what I'm going to do now that I have joined Twitter, for research purposes only. If I receive a Tweet trying to promote anything — even from a friend, or should I say, a former friend — I'm clicking the special key* that I have had installed on my computer that sends such messages to my "Unethical! Obliterate now!" file.
* This special key is now available for the amazing low price of $9.95 plus shipping. Get yours today at benbycel@independent.com.
Benjamin Bycel is an attorney and writer. He was the founding executive director of the Los Angeles Ethics Commission and of the newly reconstituted Connecticut Ethics office. He serves as an expert witness in cases dealing with political and legal ethics. If you have an ethics question, send it to streetethics@independent.com.