Theater
A Midsummer Night's Dream at UCSB
Aerial Silks and Rough Magic Presented in the Round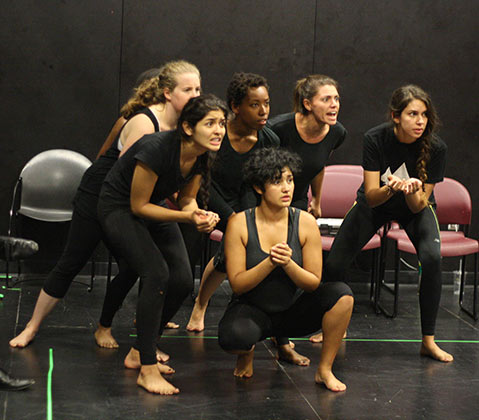 Considered by many to be Shakespeare's greatest achievement in comedy, A Midsummer Night's Dream contains both a play within a play and a dream within its Dream. The play within is the hilariously incompetent and "tediously brief" scene of Pyramus and Thisbe, and the dream inside Shakespeare's Dream belongs to Pyramus and Thisbe's star performer, a working-class everyman known as Bottom the weaver. In the play's signature metamorphosis, the fairy Puck changes Bottom's head to that of a donkey, and it is while he remains in this awkward, part-man, part-ass state that Puck also causes the goddess Titania to fall in love with him. It's a great setup, as the gorgeous Titania can't seem to get anywhere with the guy in the horse head — a part which ordinarily went to the troupe's top funny man. In the words of C. L. Barber's classic study Shakespeare's Festive Comedy, "Clownish oblivion to languishing beauty is sure-fire comedy on any vaudeville stage."
As I was speaking last week with Irwin Appel, the irrepressible UCSB professor of drama and director of such recent triumphs as Bill Cain's Equivocation and Shakespeare's Macbeth, it became clear that Bottom's dream, or more properly his reaction to it, is at the core of this production's interpretation of the play.
"When he awakens, Bottom has this impulse about what to do about what has happened to him. He acknowledges that his dream was 'a most rare vision, past the wit of man to say what dream it was,' and he reiterates this idea in a series of very funny malapropisms, but then he concludes by saying, 'I will get Peter Quince to write a ballad of this dream; it shall be called Bottom's Dream because it hath no bottom,' and it is to me just the most perfect statement of purpose for the play, which is to take the unexplained and turn it into theater."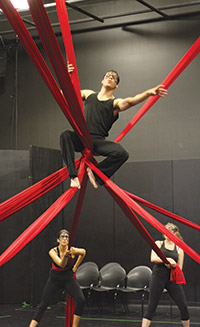 Taking the unexplained and turning it into theater may well apply to more about the UCSB Naked Shakes program than just this show, as the goal of the work has consistently been to use the words of the script to go beyond acting as an illusion and move closer to the living presence of Shakespeare's characters as vehicles for a direct experience of the author's vision. That's why you won't be seeing the kind of elaborate set or costumes that were popular in Victorian versions of the play. Played in the round in UCSB's Movement Studio, a space even more informal than the traditional "black box" of the school's Performing Arts Theater, this Dream will draw the audience into the action through flights rhetorical and actual. Christina McCarthy, UCSB's resident genius on all things involving dance and movement, has designed hanging silk fabric trapezes on which the actors will "fly." At the same time, Appel expects nothing less than imaginative flight from every sentence of Shakespeare's magnificently poetic script. "If an actor invokes an image in the right way," Appel told me, "he or she and the audience should be able to conjure an entire imaginative world just from hearing those words spoken with intelligence and conviction." So see this production, in which the poet's pen will get the help of some outstanding young actors in giving "to airy nothing / A local habitation and a name."
4·1·1
A Midsummer Night's Dream will be at UCSB's Movement Studio TD-West 1507 Friday-Sunday, September 5-7, and Friday-Sunday, October 10-12, with performances at 7 p.m. and matinees at 2 p.m. on Saturday and Sunday. For tickets and information, call (805) 893-7221 or visit www.theaterdance.ucsb.edu. All September performances are free.